 The federal government's mandatory flood insurance program will exhaust its borrowing authority and run out of money to pay claims from Hurricane Sandy sometime next week, Federal Emergency Management Agency officials said Wednesday.
The Senate passed a $60.2 billion storm relief bill last week that included $9.7 billion for federal flood insurance, but House leaders unexpectedly failed to bring the bill to the floor for a vote Tuesday night, saying the bill would be taken up by the new Congress.
"We urge timely congressional action with regard to the pending supplemental to continue to meet survivor needs," Dave Miller, a FEMA official, said in a statement.
FEMA's announcement came as House Republican leaders faced mounting criticism, much of it from within their own party, for their decision to scrap a planned vote on the aid package for states devastated by Hurricane Sandy. Among the fiercest critics of the failure of the Republican-controlled House to take up the aid bill was New Jersey Gov. Chris Christie, who lambasted Congressional leaders for putting politics ahead of storm victims.
"New Jersey deserves better than the duplicity we saw last night," Christie said at a press conference Wednesday afternoon. "Shame on you. Shame on Congress."
But later Wednesday afternoon, Rep. Peter King (R-N.Y.) announced that the House would hold two votes on Sandy relief aid, beginning with a $9 billion flood package on Friday. A second vote will be on a $51 billion package on Jan. 15. The news came after House Speaker John Boehner (R-Ohio) met with concerned members of his caucus on Capitol Hill Wednesday.
House Appropriations Chairman Hal Rogers (R-Ky.) said Wednesday that the Federal Emergency Management Agency had "plenty of money" and that the failure to pass the aid bill would not impact relief and recovery efforts. "There's no immediate needs," Rogers told CNN.
But a FEMA spokesman, who was not authorized to comment on the record, said that Rogers was referring to a federal disaster relief fund, which provides grants to storm victims to address housing and other needs. While the disaster relief program has enough funding to last through the spring, the flood insurance program has only a week's worth of funding left.
"The real critical issue now" is the flood insurance program, the FEMA spokesman said.
Other Republican officials from New Jersey and New York joined Christie in expressing deep frustration with House GOP leaders for their failure to pass the bill after what they said were repeated assurances that the bill would make it to the floor before the end of the year.
"There was a betrayal," said Rep. Michael Grimm (R-N.Y.), who represents Staten Island, where hundreds of homes were totally or partially destroyed, and at least 23 people lost their lives in the storm. "I think it's inexcusable that we did not have this vote and bring help to those that are suffering."
Paul Smith, the Republican mayor of Union Beach, N.J., said it was "disgusting" that the aid bill was prevented from a vote. Union Beach, pop. 6,200, suffered catastrophic damage from the storm and hundreds of residents remain displaced, Smith told The Huffington Post. More than 30,000 New Jersey homes and business were destroyed or severely damaged by Sandy, according to an estimate by Christie's office.
"This is to help people in need. I don't know why it's taking so long," Smith said. "Our representatives have always been there to help the rest of the country. We're hoping all these other states return the favor."
The intra-party outcry over the aid bill came during a week already marked by escalating divisions within the GOP. A deal to avert the so-called "fiscal cliff" put Boehner at odds with the conservative wing of his party, which rejected his compromise with Democrats over taxes and spending.
The aid process would begin from scratch in the new Congress. But it may face a renewed challenge from conservative Republicans, who have in the past sought to block federal disaster relief appropriations without an equal amount of deficit reduction from other programs.
Such an effort would only further open up an intra-party rift and draw the wrath of Republican leaders like Christie, who was openly courted by many influential conservatives to enter the 2012 presidential race. On Wednesday, Christie described the decision Tuesday night to scrap the vote over the disaster relief a "disgraceful" example of political maneuvering.
"I think you've seen a lot of palace intrigue down there. Folks have put politics ahead of their responsibilities," Christie said. "This used to be something that was not political. Disaster relief used to be something that you didn't play games with."
Before You Go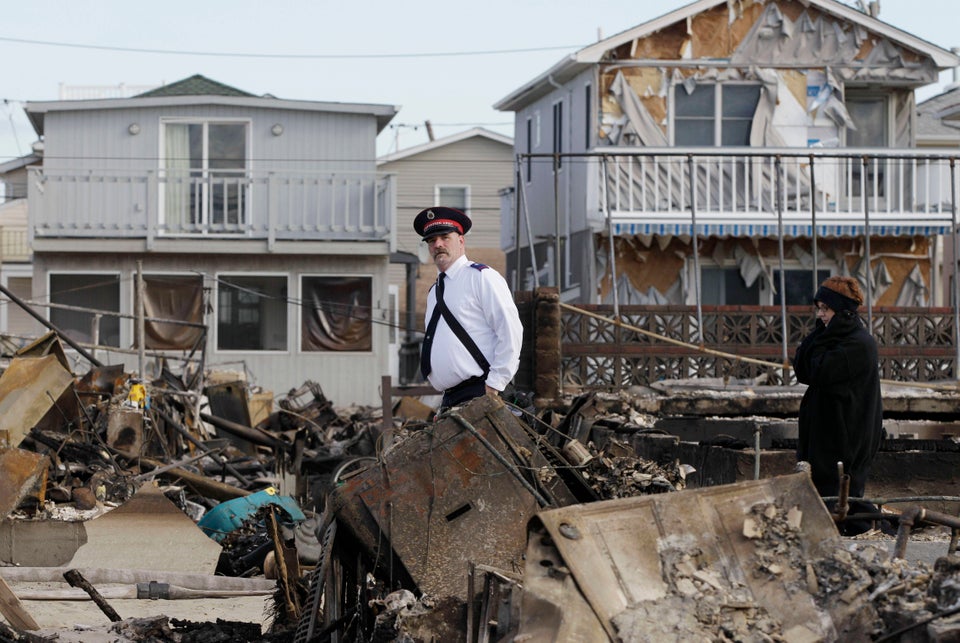 Hurricane Sandy
Popular in the Community