In news that will come as no surprise to Puerto Ricans, the Federal Emergency Management Agency (FEMA) acknowledged Thursday it was ill-prepared to respond to the island in the aftermath of Hurricane Maria.
That's one of many takeaways from FEMA's 2017 Hurricane Season "After-Action Report," a retrospective intended to help FEMA analyze its responses and improve for the future.
2017 presented a particularly difficult set of problems, the report notes, in that hurricanes Harvey, Irma and Maria battered the U.S. in quick succession. Each storm independently ranks among the five costliest hurricanes on record, causing a collective $265 billion in damage.
At the same time, FEMA was also responding to a devastating series of wildfires in California. Altogether, ongoing disasters between Aug. 25 and Nov. 30 "imposed an unprecedented strain on FEMA's disaster workforce," the report reads.
That broad organizational fatigue was compounded by more specific shortcomings in Puerto Rico itself, beginning with failing to having adequate supplies in the area ahead of Maria's landfall in mid-September.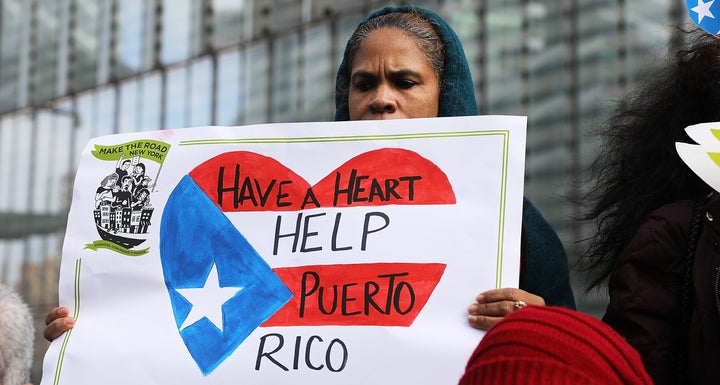 Just weeks before Maria, FEMA emptied 80 percent of its Puerto Rico-based Caribbean Distribution Center while responding to Hurricane Irma, which landed at the end of August. There wasn't enough time to replenish the center in between storms, leading to "an immediate deficit of commodities."
That includes pharmaceutical supplies ― a point underscored by a Harvard study earlier this year that found at least 4,645 people died in Puerto Rico after Hurricane Maria, primarily due to interruption in medical care. (FEMA notes the U.S. government's official death tally of 64 is currently under review).
"FEMA leadership acknowledged that the Agency could have better anticipated that the severity of hurricanes Irma and Maria would cause long-term, significant damage to the territories' infrastructure," the report says, also referring to the U.S. Virgin Islands.
"Leadership also recognized that emergency managers at all levels could have better leveraged existing information to proactively plan for and address such challenges, both before and immediately after the hurricanes," it says.
A month after Hurricane Maria hit, while 80 percent of the island was without power and 30 percent lacked drinking water, President Donald Trump said he'd give his administration "a 10" out of 10 for its response to the disaster.
"I'd say it was a 10," Trump told a reporter at a White House event with Puerto Rico Gov. Ricardo Rosselló. "I give ourselves a 10. … We have provided so much, so fast. We were actually there before the storm hit."
Weather and climate-related disasters cost the U.S. $306 billion in 2017, making it the costliest, most damaging year on record. The effects of climate change will only continue to exacerbate the problem with stronger and more frequent storms. Though that will certainly have a direct impact on FEMA, the agency stripped all mention of climate change from its 2018-2022 "Strategic Plan" earlier this year.
Popular in the Community