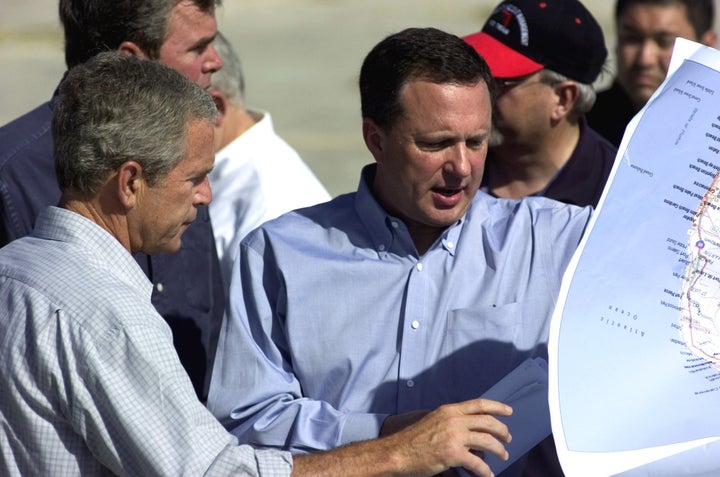 WASHINGTON -- Former Federal Emergency Management Agency (FEMA) director Michael Brown wants federal emergency disaster aid to be offset by spending cuts elsewhere, backing up a position first put forward by House Majority Leader Eric Cantor (R-Va.).
"When there's a disaster, there's an appropriate federal role and we will find the monies," Cantor said after an earthquake hit Mineral, Va., which lies within the congressman's district. "But we've had discussions about these things before and those monies will be offset with appropriate savings or cost-cutting elsewhere in order to meet the priority of the federal government's role in a situation like this."
In an interview with Fox News' Bill Hemmer on Tuesday, Brown agreed.
"We don't have any money," he said, arguing for the offsets and cost-cutting. "Let's say that FEMA needs an additional $1 billion, just for round numbers. Forty-two cents of every dollar that they give FEMA will have to be borrowed, Bill, so we have to start making these choices."
"Let's put it this way," Brown continued. "Let's say there's another tsunami in Japan, and Japan says to the U. S. State Department, 'We want you to send some urban search-and-rescue teams over.' Who's going to pay for that? We don't have the money for right now to do it. We have to start making these hard decisions facing the fiscal reality that the country is broke."
Meeting with reporters at an event sponsored by the Christian Science Monitor on Tuesday, Department of Homeland Security Secretary Janet Napolitano said the public should be prepared that the cost of recovering from Hurricane Irene will be steep.
"We know that Irene is going to be a very expensive storm, that's just the plain fact of it," she said.
She also said offsetting disaster aid should not be the top priority of Congress and expressed confidence that the legislative body would come through with any needed funds.
"That should not be the first concern of the Congress, and I don't think that it is. I think the first concern of Congress is what we need to protect the safety and security of the people," Napolitano said. She added, "Congress knows that this is historically the way that disaster relief funding has been handled. The appropriate leaders have been kept informed."
For example, while FEMA staffers warned Brown that people stranded from the hurricane were dying at the Superdome in New Orleans, his aides were worrying whether Brown had enough time to dine out at a restaurant.
Cantor's proposal to offset disaster aid has been criticized by both Republicans and Democrats. Rep. Cedric Richmond (D-La.) called it "sinful to require us to cut somewhere ... in order to provide emergency disaster assistance for American citizens." Rep. Leonard Lance (R-N.J.) said the federal government should "spend whatever is necessary" after Hurricane Irene.
Elise Foley contributed reporting.
Popular in the Community