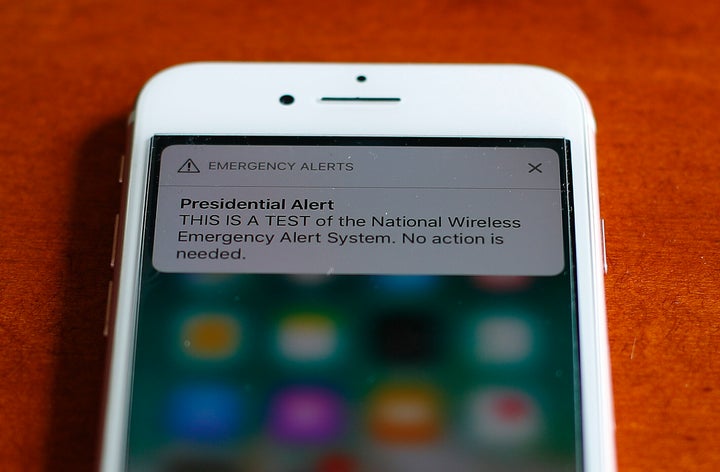 If you preferred not to get a text message from FEMA on Wednesday as part of the national Wireless Emergency Alerts system test, there was an easy way out ― you could have just turned off your phone around 2:20 p.m. ET.
Or you could wrap the phone in literal tinfoil. An instructional video with that advice has been reposted nearly 1,000 times on X, formerly known as Twitter. And that's hardly the only one ― around the web, scores of posts hyped up the test as a significant risk, even though it's harmless, routine, and has gone on for years.
Why fear an automated text message? The reasons are mind-bendingly ludicrous, but surf long-running waves of disinformation around 5G networks, the COVID vaccines, and a nefarious federal government intent on harming its citizens.
"These tests and exercises or drills, if you prefer, are always preceding of, or simultaneous with, an actual created crisis," the Hawaii-based pastor J.D. Farag said in a recent sermon, clips of which spread on X and TikTok.
"The crisis is first simulated and then created," said Farag, who has nearly 300,000 subscribers on his "End Times news and global events" YouTube page, before comparing the impending event to the Sept. 11 attacks and COVID-19.
Jason Shurka, a spirituality influencer with around 170,000 followers each on YouTube and Instagram, warned followers in videos last month that an emergency broadcast, "disguised as a test," would send a high-frequency signal to devices across the country "with the intention of activating graphene oxide and other nanoparticles that have been inserted into billions of human beings around the world through the obvious mediums," presumably a reference to the COVID-19 vaccine.
The videos, which Shurka said were viewed millions of times, appear to have been removed from Shurka's social media channels (he reposted them on his website), but in a follow-up video, Shurka urged his followers not to fear, but rather, to be grateful for the warning.
"It's almost like if somebody had a gun pointed at you from very far and somebody came to you and said, 'Hey, you're in the line of that bullet. You may want to take a step to the left so you don't get shot,'" Shurka said. "Imagine you just started freaking out instead of just moving to the left. There's no need to fear."
FEMA has heard this all before: At the end of a Frequently Asked Questions page about the test, the agency highlighted the false claim that "the alerts are harmful due to high frequency signals, activating graphene oxide and nanoparticles."
"The national test and tones will be the same as those sent by more than 1,700 local, state, territorial and tribal authorities who use IPAWS to send alerts. FEMA is not aware of any adverse health effects caused by the audio signal," the agency said, noting that the emergency audio signal slated for testing Wednesday on cellphones, televisions and radios nationwide "is the same combination of audio tones that has been used since 1963 in the original Emergency Broadcast System."
On Truth Social, the Trump-backed social media network, one QAnon influencer noted the emergency test coincided with rumored nuclear evacuation drills in Russia and warned, "You and your body have been continuously assaulted by every poison, bioagent, medication, and criminal warfare device (millimeter, x-rays, and microwaves) conceivable, for your entire lives."
And on TikTok, one since-removed video included the caption, "Y'all get ready. October 4th their [sic] activating Marburg virus through 5 g signal which they are activating on October 4. This will affect anyone who took the shots." The accompanying video featured anti-vaccine activist Todd Callender warning that a 5G broadcast would cause "liquid nanoparticles to swell" and release heretofore contained pathogens into the bodies of COVID-19 vaccine recipients, causing "a Marburg epidemic" as well as, really, a race of human zombies. (The Marburg virus is a dangerous hemorrhagic fever virus.)
That Callender interview was actually recorded 18 months ago, in April 2022, but the clip has been repurposed in recent weeks as commentary on the Emergency Alert Test. Callender, in the original interview, speculated with another guest that the zombie apocalypse might actually have been linked to a New York City subway shooting a few days prior.
Nevertheless, similarly misinformed concerns around Wednesday's test showed up all around the web.
For example, a post on X flagged by the BBC's Shayan Sardarizadeh, warned that the test would "activate the Marburg virus in people who have been vaccinated. And sadly turn some of them into zombies."
On Reddit, one user shared what they claimed was a text message from their landlord, notifying tenants that "we intend to enter your apartment and shut off your power" for two hours because of the supposed fire risk to "all our multiple appliances that we furnish for all of the apartments." The same text message warned tenants of a distinct risk for "the Covid vax'd."
The news wasn't all bad: At least a few conspiracy-theory-minded webizens saw the Wireless Emergency Alerts test as a positive development: One Truth Social user, for example, pointed out that the digits in the military times for the announced start and end to the test, 14:20 and 14:50, added up to 17 ― a supposed reference to Q, the 17th letter in the alphabet and a calling card for the QAnon conspiracy theory.
"PROOF The White Hats Control the 10/4 EAS Test!" the post announced, using a slang term for upstanding patriots.
"According to some, White Hats have full control of communications," another Truth Social user posted separately. "If anything these vibrations will be healing frequencies so I'm told…… I for one am not taking any measures to hide my phone….."
Support HuffPost
The Stakes Have Never Been Higher
Popular in the Community