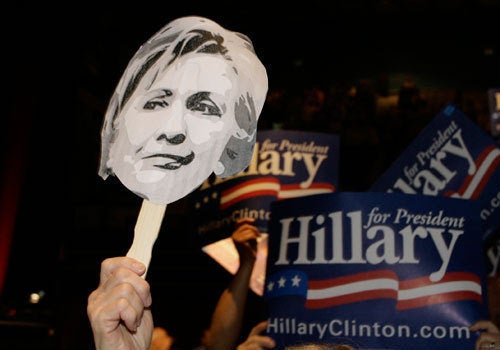 Women's rights activists have the best opportunity in a generation to get a woman on the vice presidential ballot -- and perhaps in the vice president's office -- this fall.
Yet, as I reported in Women's eNews yesterday, women's rights activists have largely ignored this opportunity -- even at a time when a record number of women are considered serious contenders for the job.
Why the collective silence? Lingering pain over the protracted presidential primary, which left Hillary Clinton without what her ardent backers see as her rightful place at the top of the ticket. Clinton, they say, would have won were it not for unfavorable treatment in the media in the Democratic Party establishment.
Obama could salve the wounds by giving Clinton a considerable consolation prize -- her name on the vice presidential ballot -- but political oddsmakers say Clinton is an unlikely choice, partly because of political baggage carried by her husband, ex-President Bill Clinton.
But instead of backing one of the many other women who could take Clinton's place as Obama's right-hand woman, these activists prefer to continue licking their wounds.
"It's not enough to say, 'Oh, whoop-de-do, we'll get somebody else with a vagina,'" Marj Signer, president of the Virginia chapter of the National Organization for Women, said in the Women's eNews story. "We were not doing this because she was a woman. We were doing this because she was fantastic on our issues."
She and other activists are not happy with female alternatives to Clinton such as Kathleen Sebelius of Kansas and Janet Napolitano of Arizona -- two Democratic governors in conservative-tilting states who have expertise managing state budgets, a key experience at a time when voters rate the flagging economy as their top concern. And there's also Sen. Claire McCaskill, a Democrat elected in the battleground state of Missouri.
Female names are also floating around GOP circles, including Secretary of State Condoleezza Rice, former Hewlett-Packard chief exec Carly Fiorina, former eBay head Meg Whitman and Alaska Gov. Sarah Palin.
But despite the record number women being taken seriously this year, activists are not giving these women the same push they gave former Rep. Geraldine Ferraro in 1984.
That year, women's rights activists made a forceful push for a female vice president at the annual conference of the National Organization for Women in Miami Beach, Fla.
Former NOW President Ellie Smeal authored a resolution that threatened to fight the Democratic Party's presidential nomination on the floor of the national party convention in San Francisco if Democrats didn't pick a woman to run alongside the party's presidential nominee, Walter Mondale.
Conference attendees adopted the resolution, and shortly afterward Mondale tapped Ferraro as his runningmate. The pair lost in a landslide to Ronald Reagan, but the campaign served as an inspiration to female political candidates who ran for office in subsequent years -- and a lesson about how to achieve greater political parity in the future.
But activists are ignoring the lesson this year.
Smeal, now head of the Feminist Majority Foundation in Arlington, Va., attended last weekend's annual NOW conference in Bethesda, Md., but offered no such resolution to get a woman on the ticket. Indeed, there was little discussion at all over the possibility of a female vice president during the entire three-day conference, Signer said.
For these women, even a consolation prize as sweet as the vice president's office is not enough to help them get over Clinton's second-place finish.
Allison Stevens is Washington Bureau Chief of Women's eNews.

Calling all HuffPost superfans!
Sign up for membership to become a founding member and help shape HuffPost's next chapter