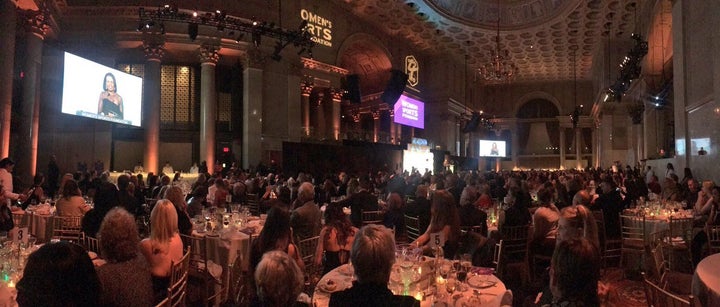 Throughout the United States this week, women have been celebrated and lauded for their significant contributions to humanity and athletic achievements.
"This year marks the 45th anniversary of the landmark legislation, Title IX, and now, more than ever, it is critical for us all to be united in continuing to uphold and support the rights that it provides to all people," Billie Jean King said earlier this week.
At the Women's Sports Foundation (WSF) 38th Annual Salute to Women in Sports awards gala in New York City, the founder of the leading authority on the participation of women and girls in athletics led the presentation of the "biggest night in women's sports."
"As we come together tonight to celebrate the groundbreaking achievements and progress made in women's sports this year, let's continue to look forward and work smarter and harder for women and girls in sports each day," said King, whose life is re-enacted by Emma Stone in the recently released movie, 'Battle Of The Sexes.'
King, Condoleezza Rice (Billie Jean King Leadership Award), Tara VanDerveer and the 2017 U.S. Women's National Hockey Team (Wilma Rudolph Courage Award) were among the leaders honored at the star studded gathering co-presented with Chevrolet, espnW, FOX Networks Group, Gatorade and NBC Sports Group.
Among a host of notable athletes including Gabrielle Douglas, Laurie Hernandez and Ibtihaj Muhammad, 14-time World Championships gold medalist and 14-time USA Swimming national champion, Katie Ledecky, was awarded WSF's 2017 Sportswoman of the Year in the individual sport category.
Two-time Olympic medalist and four-time WNBA champion Maya Moore earned the award in the team sport category.
"The Women's Sports Foundation is dedicated to empowering girls in sports and supporting the community programs doing the ground work to support and create tomorrow's leaders," said Grete Eliassen, WSF President.
"I am immensely proud to be part of such a strong network of female athletes, coaches and businesswomen that has positively impacted the lives of millions of girls and female athletes through research, grants and advocacy."
Documenting achievers like Eliassen and the advancement of women through achievements in sport and society, the Women Sports Film Festival (WSFF) celebrates female athletes and storytellers through the power of documentary film.
"The festival is more timely than ever," WSFF co-founder, Susan Sullivan, told Excelle Sports. "It creates the opportunity to talk about a lot of different topics."
According to Sullivan and festival co-founder, Jennifer Matt, the films shown deal directly with issues that affect female athletes on and off the playing field.
Citing study after study that show women are underrepresented on screen and behind the camera, WSFF highlights only 25% of narrative movies in major film festivals in 2016-17 had a female director with almost twice as many documentaries being directed by men in the same time frame.
There is a similar gap in youth athletics with girls dropping out of sports twice as fast as boys by the time they turn 14 years old.
"From pay equity to religious freedom, our films touch on many of the most urgent issues impacting women and girls today," said Matt.
"I was talking to Billie Jean King and I think the challenge (for WSM Co-Founder and Baseball Hall-of-Famer Sue Parsons Zipay) is that women's sports have a hard time getting noticed and, secondarily, there is a swimming hall of fame, a tennis hall of fame," said Visser.
"But she's right, there is not one just for women's athletics and I really applaud her (Zipay) for going after this."
Popular in the Community