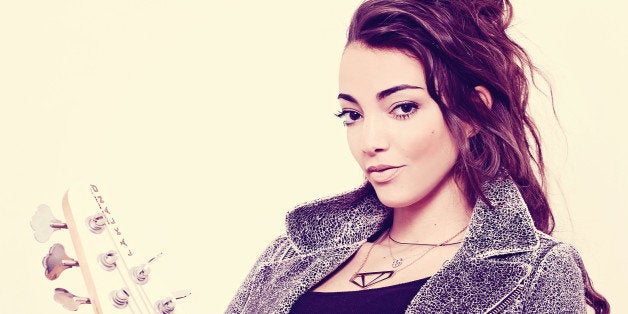 How many female bass players could you name on the spot? There's a pretty good chance your answer would be zero, but there's one name you should be getting to know sooner rather than later.
Alissia Benveniste is a 23-year-old student and bass player at Berklee College of Music in Boston whose attempt to revitalize funk music for the younger generation is starting to get recognized. Her first music video, "Let It Out," has currently racked up over 870,000 views on YouTube, and her band, Alissia and the Funketeers, has big plans in the near future.
Born to an artistic and eclectic family — her brother is in art, sister in fashion and mother in medicine — Alissia was raised in Milan by a Spanish father and German mother who recently moved to London, which she now calls home. After enrolling in a two-week program in Italy at the Umbria Jazz Festival in Perugia, she received a scholarship to go to Berklee in 2010 and is currently in her last semester. Alissia's talents extend beyond the bass -- she's also the songwriter, musical director, arranger and producer for her band.
Their album will debut in 2015 and will feature special guests such as John Blackwell (Prince, Cameo, Justin Timberlake, Patti LaBelle), Louis Cato (Marcus Miller, Stevie Wonder), Jeffrey Lockhart (Brian McKnight, Meshell Ndegeocello), Mike Tucker (George Duke, Christian Scott), Eric Bloom (Diana Ross, Justin Timberlake), and many more.
Alissia has developed a style and tone that is completely her own -- while attracting the attention of her fellow students and making a name for herself in the industry. We sat down with her to discuss her upcoming album, hitting nearly one million YouTube hits and what it's like being a female bassist in the music scene.
It's clear from your videos that you put your heart and soul into all your songs. Where did your passion for music stem from?
AB: I've loved listening to music since I was little. I got more into music when I started going to jazz festivals, like the Umbria Jazz Festival, where I saw Herbie Hancock and all these other masters live. Then I started really listening to more jazz and fusion, but I was always passionate about funk music even before that. I was listening to James Brown, Prince, kind of old school groups. That was always my real passion.
Seeing such a young and modern funk band is so rare nowadays. What drew you to this particular genre of music?
AB: It feels great, first of all. I like that funk always brings a positive message and there's humor behind it. With George Clinton and the P-Funkadelic, there's a whole culture around them and how they dress. I like bringing a positive message and dressing a certain way that establishes that message. I just liked the music, I like how you feel when you put on a James Brown song, the grooving and moving. As a bass player having a groovy bass line is always a good feeling.
Choosing to play funk music is one thing -- but being a female bassist is doubly rare. Why that particular instrument?
AB: That's actually a funny story. I originally played piano and sang a little, but I only started playing bass my second semester at Berklee -- only three years ago. I actually wanted to do the clinics in Italy for piano but since it was all jazz, I thought I would go for classical singing. I got the Berklee scholarship for singing but I never really considered myself a singer. Then when I got to Berklee I decided to switch. I started playing bass my second semester and switched my concentration my third semester, and that's when it became my instrument. I always loved bass lines and whenever I used to hear funk records I was always really listening carefully to bass. I think it was subconsciously the instrument I wanted to play. Being here at Berklee, people always have instruments at their houses. I had a friend with a bass and I picked it up and I borrowed it, then bought my own, and eventually completely went for it. It was a great challenge but definitely not painful -- I just really had a lot of fun. I practiced a lot for a semester and it was truly out of love.
So we could say you're what they mean when they call someone "a natural"?
AB: I think so. When I was younger, I liked piano but it was always just a way for me to let everything go when I was in school. It was always a pleasure, but bass was really different. It was like love at first sight. I remember when I first picked up the bass at my friend's house, I could just play. It felt pretty natural.
Your first video, "Let It Out," has close to one million views on YouTube. Whoa. What's the secret to making such a widely-watched video?
AB: To be honest, it was all made very last minute and was unplanned. I was working on some tunes with my producer, Ben Zecker, who's also producing our upcoming album. I had just finished writing that song and someone called me from Berklee to tell me they had a studio spot to do a video the following week -- and asked if I'd be interested in doing it. I told them I'd get back to them because I didn't have a band or a project and I didn't know what I wanted to do as a writer. Ben said I should do it, even though I had all these doubts. We thought it was just a video for Berklee -- I didn't know it was going to be uploaded on YouTube. I called some friends and musicians I knew, and we didn't even rehearse since it all came together in the five days before the shoot. The musicians and I showed up at the set and they said we could only have four takes, we thought it was going to be a mess. But the first time we played it felt amazing. It was the first time I heard a live band play my song. We ended up using the second or third take and stopped there, we didn't even need a fourth take. When they told me it was going on YouTube, I was nervous because I was so in the moment when we played it so I didn't even know how it sounded. When they sent me the MP3 of the mix I got so emotional and happy, it sounded so great. We had 4,000 views the first day and 100,000 the first month. Everyone was sharing it. The only thing on my Facebook wall was the video. Everything happened so fast, I really didn't expect it would be that big of a thing. Now we have 5,000 or 6,000 views a day. I decided to start doing gigs with my band, start a plan and start writing for an album. We did a lot of festivals and we made the band even bigger, now it's a 13-piece band.
Give us a little insight -- what can we expect on your upcoming album?
AB: So far we released the live version of "Let It Out," not the studio version. We released "Holdin' On" and I'm about to do a video of a new song called "Get Down" that will probably be out in about two months. The album is going to be about either eight or nine songs and everything will be played with live instruments, a lot of great vocals, funky guitars and a great horn section. We have John Blackwell, who was Prince's drummer for many years, and Mike Tucker as special guests, and we have other artists we're trying to collaborate with. We're finishing all the demos and the writing and we're going to start recording everything by next month. Hopefully we'll have it done and ready by the end of the year.
Have you encountered any discrimination when it comes to being a female in the music scene? And if you have, how do you deal with it?
AV: As a female musician I've never really encountered any difficulties or differences. It's clear that it's harder to find female musicians at Berklee, mainly bass players and drummers. It's rare. I think as a bass player in general, when a lot of people don't know you you have to prove yourself, and maybe more if you're female. I wouldn't say no to that. People definitely don't believe I play bass but I don't take it super seriously. Some people think there's discrimination but I've never encountered that stuff. I always just did my thing and didn't listen to whatever negative things people say. But when I met Marcus Miller and asked him to sign my bass, he said "are you sure you play bass?" He looked at my fingers to make sure. It's just something you have to accept, that's how I deal with it.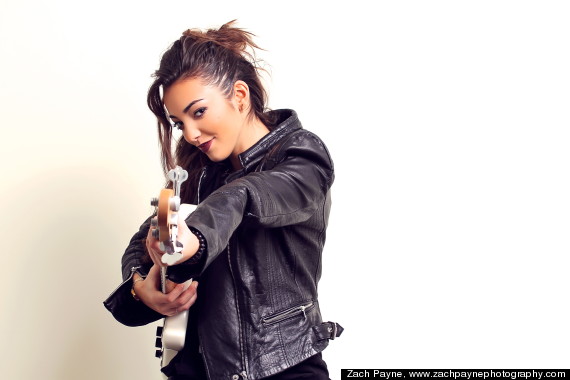 Where do you find the inspiration for your songs and videos?
AB: I listen to a lot of music. I'm listening to funk music all the time, especially older funk stuff. My goal is not to discover new music and new artists but new songs that no one knows about that came out in the '70s. That's really my passion -- to discover old stuff no one knows about and then people who hear it will say "Sick! I've never heard that!" I'm super inspired all the time. It's usually that I start with the bass, I have a bass groove in my head and I just sit down with it and it ends up as a song. It's really about listening. It makes me want to write and bring a modern touch to it. If you saw my voice memos in my phone it's at maximum capacity. I'm always super inspired even when I'm walking down the street, I always have my voice memo up and ready to record. The writing process comes naturally, and then taking the time to really finish the song and arrange it that takes more time. That's where my producer comes in.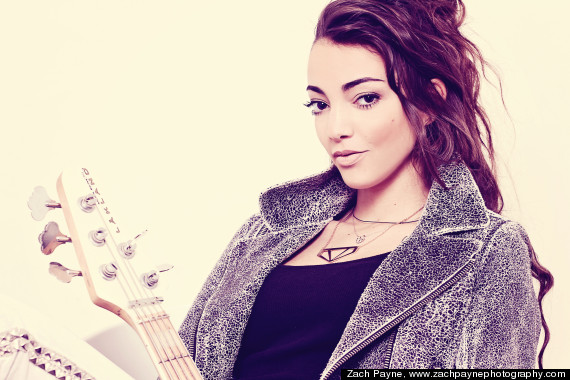 Obviously funk music has had a huge impact on your life. But what role do you see funk playing in the music scene in the next few years?
AV: When I listen to these funk artists it inspires me and it really pushes me to write and it's a goal that I have to bring back that kind of music in the industry. I have really great feedback and everyone seems passionate about it. It really makes me believe in what I wrote and my goal. It empowers me to continue to write and release more music like that.
What are the biggest struggles you've faced with your music? Outside your music?
AB: I definitely had to catch up a lot when I switched to bass, I had to do more than an average bass player. But it wasn't really a struggle it was still such a pleasure. I would say my biggest obstacle was finding my actual self as an artist and what I really wanted to do. Being here at Berklee these three years I realized the music that really spoke to me and that I was good at writing. Some people told me funk is too old and I really shouldn't do it or that it's not famous or a thing nowadays, that it's more about pop. I just really believed in it and ignored that. Yeah, it's super old school and people ask why I write this music, but I realized I was on to something when the video came out.
What are your goals and plans for the next few years?
AB: Hopefully in a few years from now I'll have more albums out. We're doing a tour in Europe next summer and playing some festivals. I've had a lot of messages from people from all over the world, not just the American people, from Brazil, Germany, France, Switzerland, Asia, and so many countries and cities. I hope to be able to continue with my project, and I'd also love to play for an artist. But first I'll continue with my project. It's my number one goal, but as a writer and music director I'd love to play for someone I like. And of course make funk come back in the industry, whether through my music or other people's music.
What do you hope your listeners take away from your music?
AB: To just feel good, and changed. If you feel down I hope it brings a positive message to just be happy, like Pharrell said. That's the goal. It's just so important. At the end of the day, there's so much going on in our lives, but that's the deeper message, that they feel good about whatever they're doing and that it changes their mood.
Do you have any advice for students pursuing a nontraditional passion like yours?
AB: To really believe in whatever your vision is and to just be positive. That's the most important thing, to believe 100 percent in whatever you are and whatever you do and pursue it with passion. Disregard whatever negative vibes come through, walk your way, do your thing and don't try to be someone else. Everyone is trying to imitate some other artists, be you and do it with passion. That's the secret.
Look out for Alissia's album coming out in spring 2015.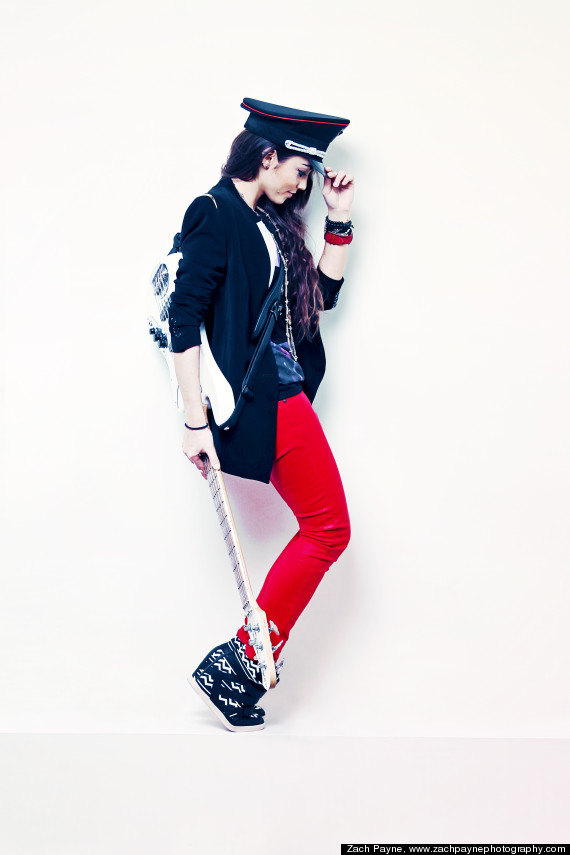 REAL LIFE. REAL NEWS. REAL VOICES.
Help us tell more of the stories that matter from voices that too often remain unheard.