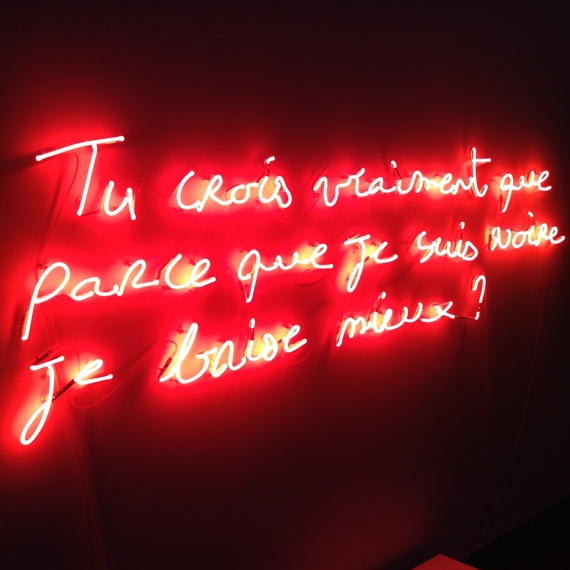 Bodies are everywhere this fall in France--particularly women's bodies. Suffering and Delight of 19th Century prostitution at the impressionist Musée d'Orsay. Licentious landscapes at the Luxembourg Museum. Mme Pompadour aristocratic kisses and embraces at the Louvre Lens. The first major show of Georgia O'Keefe's vaginal lilies and desert landscapes at Grenoble. Still most provocative are the six African painters who came together under the title "Body Talk: Women, Bodies and Sex" in Brussels that has now moved to the Regional Contemporary Art Center in Metz in eastern France.
France after all is where the idealization of the female form has been a hallmark of painting and sculpture for centuries. But what is striking in these light failing months of 2015 is how many French art museums have decided to look more intensely not just at women's bodies but at how female flesh has been and is being used to fulfill male fantasies, to satisfy male longing and to enrich the mostly male world of body, cosmetics and fashion marketing.
The program at the Musée Luxembourg (also the home of France's crusty, old-guard, non-elected Senate) focuses on the works of Jean-Honoré Fragonard who worked at the height of the pre-revolutionary royalty under Louis XVI and Marie Antoinette (who was guillotined following numerous charges including bedding her son). Until the knives began to fall, love and libertinism were in flower in the salons of France. Every king and noble of course had a wife and several mistresses and very often an official First Mistress recognized by the church. Fragonard captured the era in passionate pastels--be it the union of fair milk maids and lusty shepherds, ancient mythological obsessions or illustrations of the steamy novels of La Fontaine that were then sweeping the nation and corrupting, according to the Church, women's morels.
The women were all blond, the men irresistible, fierce-eyed seducers and the consequences passingly sublime as the libertines swaddled themselves in rose petals, silks and pastoral delight. The men of course moved on to new libertine conquests as the ruined women were quietly banished. The stories were not new even on the eve of the Revolution but the shameless portrayal of a passion condemned by a Church that was itself about to have all its properties seized was unprecedented, just as in many ways the intensity of the lust is even now rarely captured so clearly.
Fragonard's licentious lovers were, as it happens, conterminous with the high point in the trade of African slaves deported to the booming New World economy, and those slave men and women bore their own licentious dimensions--at least in the eyes of their white masters. Hardly a slave wife or slave daughter was born in the American south who had not at least been accosted by her white master. The mulatto offspring, also treated as slaves, are ample testament to the thousands of rapes perpetrated on black women by white men who regarded the black vagina as simply one of their physical favors, or in today's terms "perks" of slave ownership.
The six African women represented now in Body Talk at the Regional Center for Contemporary Art at Metz do not explicitly address the American culture of slave rape. Rather the most famous example in the show, re-imagined by Malawian Billie Zangewa is "The Rebirth of Black Venus," a feminist version the so-called Venus Hottentot, Saartje Baartman. Baartman, born into slavery in what is now South Africa, was famous for her enormous buttocks and voluminous breasts, whose amplitude brought her to be paraded around the U.S. and Europe in cages, like a monkey, for the lascivious amusement of British and European men who both feared and longed for the imagined all-consuming sex they might have with her or any other black woman.
What is most startling in the Metz organization of the exposition that first appeared in Brussels is how fierce it is in confronting the ongoing attacks on all women, and especially black women both in the white world and in Africa. Where once "Christian" colonists ran the jails and rape sheds, they have now been replaced with a new generation of Jihadists males who do not hesitate to shoot and behead African women who dare to campaign for women's rights and freedoms. One of the most famous victims was Salwa Buigaighis who helped overthrow Libyan dictator Mohamar Khadaffi while in South African an average of three women--usually black women--are murdered daily.
Curator Koyo Kouoh, who put the show together does not consider herself a "political activist," but she says the backlash against the gains women made 25 years ago is now unprecedented. "The black body has been a political issue since forever... since white people discovered the black body to make it their object of desire, their object of fear. The white man has projected so many things on the black body, it is very difficult to disentangle that an black people have also internalized that.
These are among the themes addressed with subtlety and passion in these women's works--and they do not hesitate to confront the icons of African liberation movements, including Nelson Mandela, who is widely credited with negotiating the end of Apartheid in South Africa. For many one of the most shocking pieces by Johannesburg sculptor and street performer Tracey Rose cast of Belgian chocolate and entitled Mandela Ball--a direct criticism of what she sees Nelson Mandela's weakness in negotiating the end of apartheid.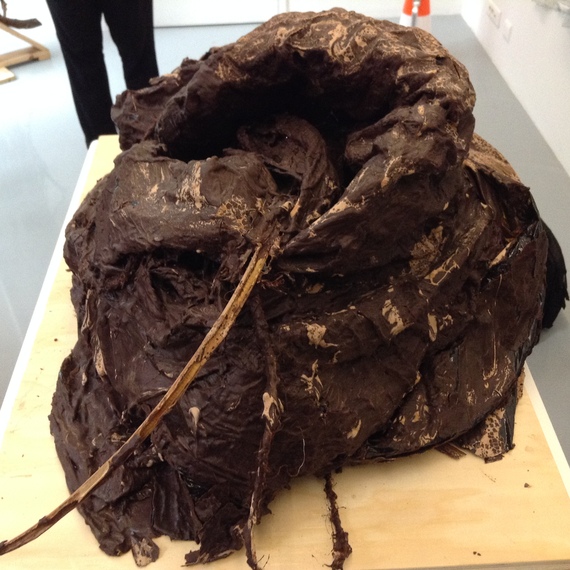 Another installation that sometimes contains the artist as nude performer comes from Valérie Oka, who grew up in the French dominated Ivory Coast. Oka places herself in an empty cage where the door is always open but she somehow is unable to escape the world she has created, or that has been created for her, within the cage. On another wall of the same room she has hung a neon-illuminated tube phrase: Tu crois vraiment que parce que je suis noire je baise mieux (You really believe that because I'm black I fuck better)
Curator Kouoh sees the cage as metaphor for the ongoing traps that women around the world face and that she fears are only growing stronger. She compares the feminist battles as parallel to the battle against AIDS, which continues to be a major scourge in Africa. "The fight was so organized, so successful to get a cure--for some people--that now people think they can relax, and the same is happening with feminism. You see women's achievements in various fields of life, people think that the process of women's liberation is accomplished. It is NOT accomplished at all."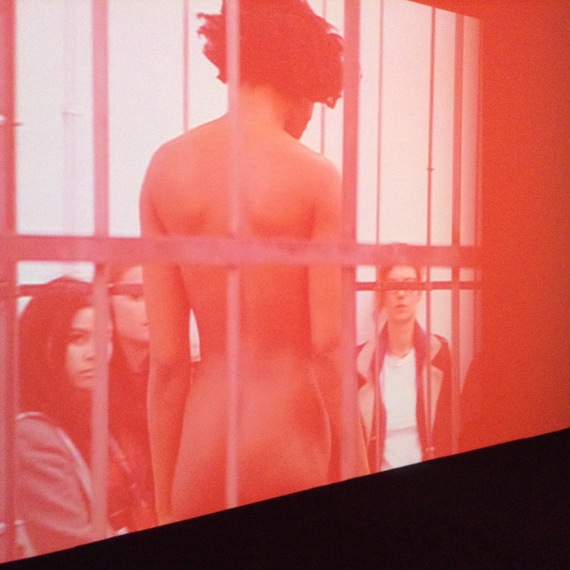 All photos by Frank Browning unless otherwise credited
REAL LIFE. REAL NEWS. REAL VOICES.
Help us tell more of the stories that matter from voices that too often remain unheard.