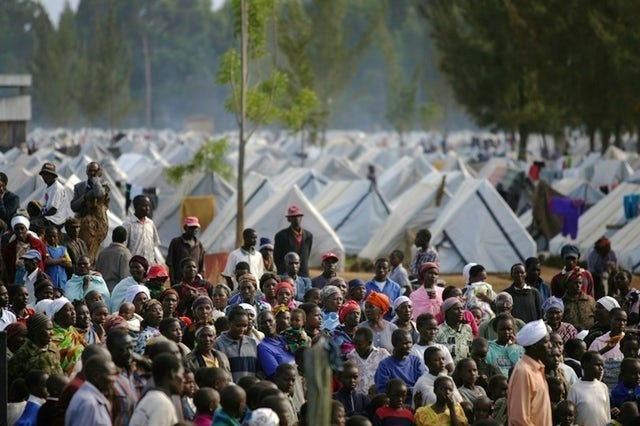 Kenyan women running for election on August 8 face harassment, abuse and even violence. But they say they won't be intimidated in their campaign to see women elected to all levels of power.
NAIROBI, KENYA – Kenyans will vote for their new government on August 8, amid fears that violence will flare up around polling day, as it has in the past.
But across the country, women candidates are already facing harassment, intimidation and abuse, both in person and online.
During party primaries in April, Millie Odhiambo, Kenya's most vocal female parliamentarian, had her house burnt down. Her bodyguard had been run over and killed by a man driving an opposition campaign vehicle just days before.
In February, Eunice Wambui, an aspiring MP for Embakasi South, was attacked while on a voter registration drive in Mukuru Kwa Reuben, one of Nairobi's sprawling slums.
And in May, Esther Passaris, a Nairobi entrepreneur and politician running to be Nairobi County representative, was held hostage at the University of Nairobi by a group of male students. The students demanded that she give them 150,000 Kenyan shillings (US$ 1,500) before she managed to escape. She was at the university to address a women's welfare association.
Speaking at a conference in Nairobi this May, Sicily Kariuki, the cabinet secretary for gender affairs, assured women candidates of their security, saying they have a right to ask for protection when they feel their lives are in danger.
But Kenya's Federation of Women Lawyers (FIDA-Kenya) say the authorities have not done enough to protect candidates, nor have security agencies responded quickly enough to incidents of violence. They say the inaction increases intimidation of women candidates and their supporters.
"In the past, we have had cases of women attacked or abused during political activities," Josephine Mong'are, the chair of FIDA-Kenya, said. "But reported cases rarely get the proper response from concerned authorities, mainly the police."
FIDA-Kenya has launched a toll-free SMS hotline for victims, called Sema Usikike (Speak and Be Heard), to make it easier to report incidences of violence against women candidates and their supporters.
"Victims and or witnesses send a brief text to 21661, describing the violence and providing the location of the incident," Mong'are said.
"FIDA lawyers immediately respond to the text and inform the nearest police station for response."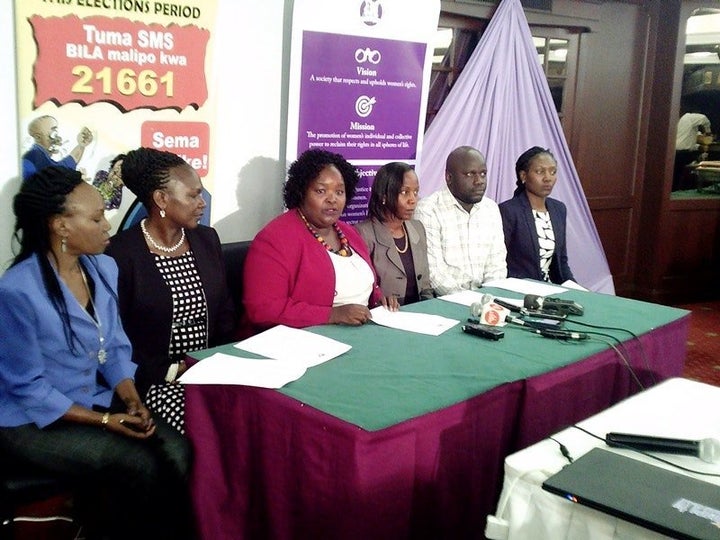 A History of Violence
It's not just candidates who are at risk. Women supporters can also be targets.
Election-related violence is common in Kenya. Following the disputed elections of 2007 and 2008, youth allied with different ethnic groups launched a campaign of violence that left more than 1,000 people dead, and more than half a million people displaced.
In early 2015, President Uhuru Kenyata, who is running for reelection this year, announced a fund to provide "restorative justice" for victims, but a 2016 Human Rights Watch report found the vast majority of this money went to displaced people, not to those who suffered sexual violence.
Climbing the Ladder
Nine women are running for gubernatorial seats in Kenya this year, meaning the country may soon see its first female governor.
Joyce Laboso, the deputy speaker of the last national assembly, is one of them. She is running for governor of Bomet County in Kenya's west.
Laboso says she has faced numerous insults from male political opponents, but they won't stop her from climbing the ladder.
"They have thrown insults on me, to the extent of questioning my marriage status, just because I am married to [someone from] another community," she said at a recent conference on women in politics.
"The patriarchal society we live in is killing women's leadership roles."
Only 16 women were directly elected to Kenya's last parliament, with a further 47 elected to dedicated "women's representation" seats. Together, they comprise 20 percent of all seats in the national assembly.
The government recently missed a deadline to enact a gender law mandating that women make up at least one-third of all elected bodies. Parliament was adjourned before the rule could be enforced.
Priscilla Nyokabi, a women's representative in Central Kenya's Nyeri County, says women who try to climb the political ladder face violence and gendered abuse.
But she says the threats won't prevent her or her peers from running for office.
"As women, we still have a lot of distance to cover in terms of occupying the political spaces and fighting it out with men, because that is what will guarantee us the respect that we deserve."
Related
Popular in the Community