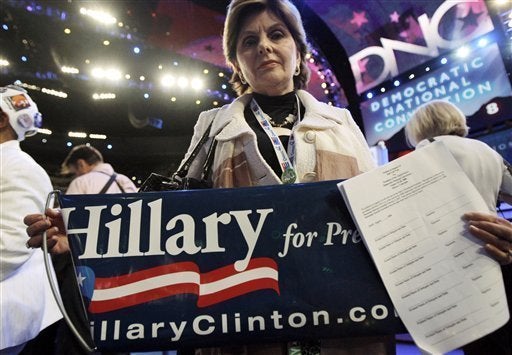 In two different focus groups of Clinton-supporting Nevada women -- married and unmarried -- conducted immediately after Gov. Sarah Palin's Wednesday night speech to the Republican National Convention, a few common reactions quickly took shape.
First, women in both groups were impressed with Palin's speaking ability and poise. But they were hardly convinced that she was qualified to be vice president, or that she truly represented the "change" they were looking for, especially in light of what was deemed an overly harsh "sarcasm" pervading her address.
The (mostly) anonymous proceedings were webcast live to reporters, who were told in a press release that the Nevada focus groups would include "some former Hillary Clinton supporters who are now undecided or are weak supporters of Barack Obama or John McCain." No party identification was made available, though the approximately two dozen women were reportedly between 30 and 60 years old.
In the "married" group, when one attendee kicked off the discussion by saying "she's a good speaker, and a crowd pleaser," the rest of the room articulated their agreement. "I didn't expect to be as impressed as I was," said another respondent. But then another woman added: "Once she started mudslinging, I thought, it's the same old crap as other politicians. McCain used her to get the women's vote. And she's using McCain."
"Thank you," another woman responded. "That really upset me; there was no need for that. It was snippy."
The unmarried group also voiced similar objections to the harsh, partisan edge of Palin's remarks. "I'm not impressed with her at all as a person," one said, citing her "finger pointing" and general sarcasm after the group had generally agreed that she was a talented public speaker.
Still not all focus group members thought Palin came off too harsh. "She didn't seem very aggressive to me at all," said one unmarried participant.
But in both groups, narrow majorities said they held a more negative view of Palin after her speech. "She comes off pretty cutthroat," said one.
On other issues, women in both groups said they wanted to hear more of Palin's own policy views, outside the realm of energy. Education, heath care, the economy and Iraq were all cited as areas in which women were hungry for more information -- especially in light of McCain's age. "I think America is concerned, because of McCain's age, that we're gonna have a female president who's maybe inexperienced. The nation needs to know what her issues are," said one married respondent, which prompted another to add: "I don't think she's got what it takes." An unmarried participant said she had yet to hear enough "in regards to her personal views, which could be implicated on us if McCain was to die."
When prompted to respond to Palin's steadfast opposition to abortion -- even in cases of rape or incest -- no woman in either group stepped forward to defend the Alaskan Republican. "I don't dig that," said one married woman, matter of factly.
But there were other points on which the participants expressed pride in Palin's achievement. "She earned what she's got -- as far as not marrying into it. I like that about her," said one married respondent. "Let's hope she has a good showing," said another who had expressed disappointment over Palin's abortion views.
The groups -- which were coordinated by Anna Greenberg and Stan Greenberg of Greenberg, Quinlan, Rosner Research -- were commissioned by the Women's Voices/Women Vote Action Fund, which describes itself as "dedicated to encouraging unmarried women to bring their voices to our nation's political conversation and to advocate for policies important to them."
Popular in the Community