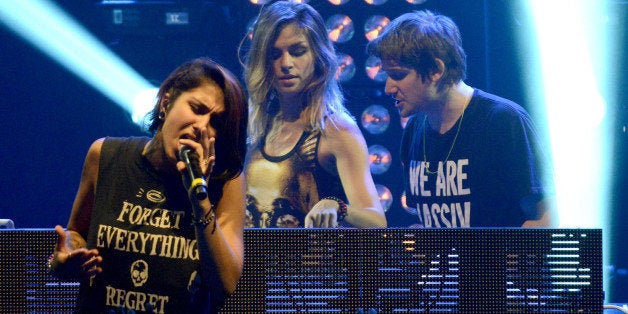 The Yousaf sisters are dressed in black when we meet at the lounge of a hotel on Manhattan's Lower East Side; Yasmine is wearing a tank top and harem pants, Jahan in a skirt with boots and tights. You'd hardly expect them to be mistaken for dudes. But as members of electronic music group Krewella, they actually get that a lot.
Just the other day, when the two were hauling their luggage through security at an airport, an employee noticed the Krewella stickers on Yasmine's bags and thought aloud, "I almost went to go see him."
Without revealing her identity, Yasmine was quick to correct him. "Oh, I thought it was a dude," the security worker replied.
Jahan and Yasmine don't really take offense if people perceive Krewella -- a name that popped into Jahan's head when she was writing lyrics in 2007 -- to be a guy, a girl or a group of guys. Fans who like their metal-influenced, bass-driven music enough to go to a show or watch a music video will see Krewella is a mixed-gender group, or, as Yasmine puts it, "just three kids, hanging out."
They simply hope it's a good surprise when fans realize that Jahan and Yasmine are female DJs who contribute to the group just as much as their third, male, member, Kris Trindl, aka Rain Man.
"I think when we first started DJing, it was a little different. And I feel like people didn't take us seriously," Yasmine said, playing with her now empty to-go cup of tea. "Because the first thing you think about is like oh, girl DJ -- heh -- she's in like a bikini while she DJs, you know, like some stupid shit like that."
"Or like I bet a dude does all the work," Jahan said, jumping in.
"People still say that about Kris," Yasmine added, "which is a bummer because we're all a group and we all put our work in."
For the ladies of Krewella, along with the numerous other female DJs making waves in the electronic dance music (or "EDM") industry, excelling in what is notably a male-dominated world is not without difficulty. Male DJs tend to headline at music festivals and top dance music charts compiled by Billboard, U.K.-based DJ Mag or the more dance music-conscious Resident Advisor. An analysis published by Female Pressure, an international collective of female artists, illustrated the disproportionate showing in its March report: In the past year, 10 percent of performers at music festivals around the world were female, and women comprised only 9.3 percent of artists listed on music label rosters.
While the disparity between men and women in EDM has not hampered female DJs from standing out for their musical talents -- more women are now present on DJ charts than were several years ago -- the music industry standard with men in the upper echelons has bred certain stereotypes.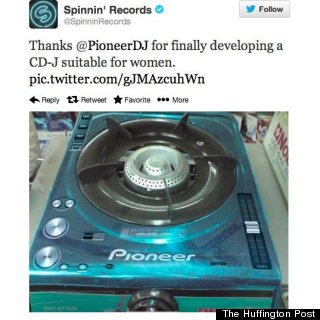 Case in point: Dance music label Spinnin' Records recently sparked outrage after it posted a photo of a CD player that resembled a stovetop on its Facebook and Twitter accounts. The seemingly photoshopped image included a caption that read, "Thanks @PioneerDJ for finally developing a CD-J suitable for women."
Justin Boreta of The Glitch Mob commented:
Spinnin' Records' "joke" may be sexist, but what many took issue with is that this type of message continues to persist in the dance music industry.
"You get the assumption that you're not a real DJ all the time," Brittney Bowles, aka Brazzabelle, said after her set at New York's Electric Zoo music festival in late August. Or, she added, "people will be like, 'Oh, you're good for a girl.'"
The Los Angeles-based DJ, who produced her first track at 22, recalled a particular instance when she experienced the "fake DJ" stereotype firsthand: Shortly after she released one of her first tracks, a friend, who also happened to be a DJ, contacted her manager; he wanted to know who had "made it for her."
However, it seems the presumption that women lack the technical skills to produce their own music is not unique to the EDM industry.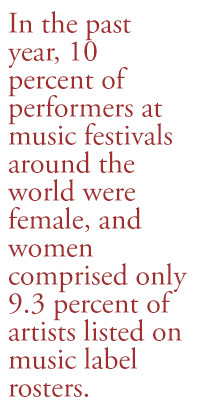 In her research, Farrugia links the "articulation of technology as masculine" with the "masculinization of music technologies," citing early advertisements in trade magazines that specifically marketed complex audio tech to men as a means of escape from domestic life. This portrayal of technology endured with the development of sound reproduction technology, and it did not help that the vast majority of pioneering DJs were men who relied heavily on advanced audio equipment.
"Given the extent to which technology in general and music technologies in particular have been carefully constructed as male since the beginning of the 20th century, it is not surprising that EDM has developed as a male-centric space that mirrors most other popular music genres and the mainstream music industry," Farrugia writes in her book.
While technology is not an inherently masculine concept -- and, if anything, has become more gender-neutral in recent years -- stereotypes surrounding who is best-suited for technical work persist. In EDM, the assumption that women lack the technical capabilities to successfully produce music still endures.
"There's no reason that women can't be as good at DJing as men," Brazzabelle said, adding that men don't have an evolutionary advantage that gives them a leg up.
Brazzabelle is still relatively new on the scene; Electric Zoo is the biggest stage she's played on yet. She started producing on a "very basic level" when she was 15 and picked it up again as a hobby several years ago while studying abroad in Italy during college.
Confessing that she "literally had no friends" after she transferred universities junior year, Braz explained that she stayed cooped up inside her studio apartment and taught herself how to use the mixing equipment and DJ software.
"I've always been a bit of nerd," she said, reflecting on her childhood. "I just get computer programs and so it's kind of common sense to me."
While she's mainly self-taught, Brazzabelle admits there were a few things she needed a critical eye to point out. So after she quit her day job and focused her attention on DJing and producing full time, she took a few classes at a production school in California to polish her skills.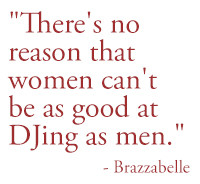 Farrugia views advanced production skills as one way for women to break into the "sort of boys club" she sees in the EDM industry, in which the relatively same lineup of guys headline every music festival.
"There are women out there doing amazing things," Farrugia said. "Still, to crack this upper-crust level, requires being taken more seriously and gaining recognition."
Farrugia said she has noticed more women moving beyond the role of DJ and learning to produce as well, but she added that it's still slow going. However, she expects to see a change in the industry as females move into "more of these upper-level positions" and become decision-makers.
That's why, for 27-year-old Jack Novak, another newcomer based in LA who signed with William Morris Endeavor late last year, the choice to learn how to produce was of the utmost importance.
"I really wanted to be able to run a session, especially being a woman in the industry," Novak -- who goes by her childhood nickname, Jack, instead of Jacqueline -- said during a phone call from the West Coast.
She enlisted a full-time tutor to teach her the ins and outs of every DJing program -- primarily Ableton, the favorite among most DJs -- and holed up in her home studio for six months.
After she mastered the skill set, Novak took every meeting she could and turned down several agents and managers who wanted to enlist someone else to produce.
"That was completely against the grain of everything I'm about," she explained. "I definitely feel like I'm a producer first and a DJ second."

The Difference Between Producing And DJing
For dance music veteran Cassy Britton, who has been DJing across Europe since late 1999, mixing records in front of a crowd is her favorite part of the profession.
"Because that's how you animate, that's doing your job," she explained after her set at Electric Zoo, a slight British accent shaping her words. "It's in the mix. It's in the way you're presenting the music and the way you make people feel the music."
Two hours earlier, Cassy was meticulously tweaking the controls on her mixer as the crowd bounced and writhed to her drum-infused beats. Every so often she looked up from her console and focused her gaze intently on the audience, at times locking eyes with an individual festival-goer. A wide smile would break across her face as she observed the effect of her unique house-techno sound.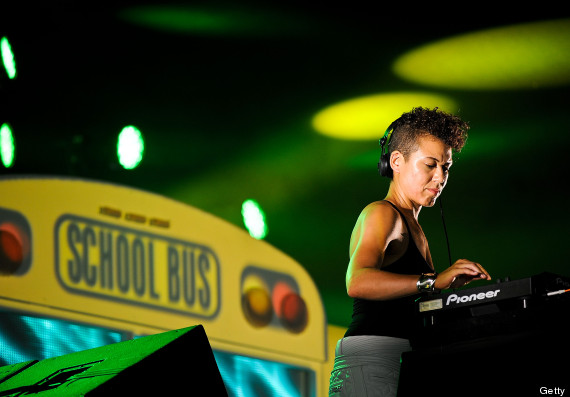 Cassy performs during Electric Zoo 2013 at Randall's Island on Aug. 30, 2013, in New York City. (Photo by Daniel Zuchnik/Getty Images)
The distinction between producer and DJ has become an important one. Producers are responsible for creating tracks, while DJs mix or play music. Oftentimes, EDM artists are both.
"I definitely always play off the crowd," Cassy said. She prefers to play other artists' music since it's "much more fun."
"I like stuff that's very groovy and has a lot of drive. It makes you shake your ass," she added, giggling.
Cassy performs in June 2013 at the Boiler Room in London, one of several clubs around the world that host live streams of DJ sets.
While Cassy wants to DJ as long as she can, she admitted that it's not just about playing music.
"It's a very challenging way of life, and you have to be comfortable with it," she said, mentioning that she's had "a lot of negative experiences" as a female DJ.
"But I guess, it's always how you look at it in the end. All the negative experiences that we have in life, all the mistakes we make or challenges that come up are the ones that are actually going to shape us. In a sense, that's how you become a good DJ, or how you become a better person. It is a male-dominated world and you have to deal with it the same as in relationships with a man and woman," she said. "Sometimes it's just difficult."
Before You Go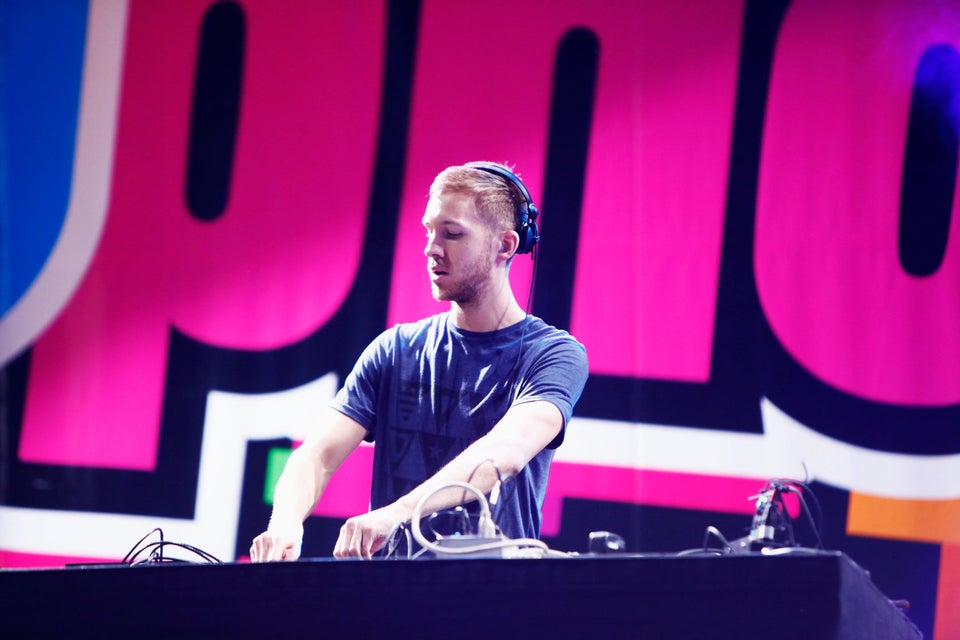 Forbes' Highest-Paid DJs Of 2013
Popular in the Community