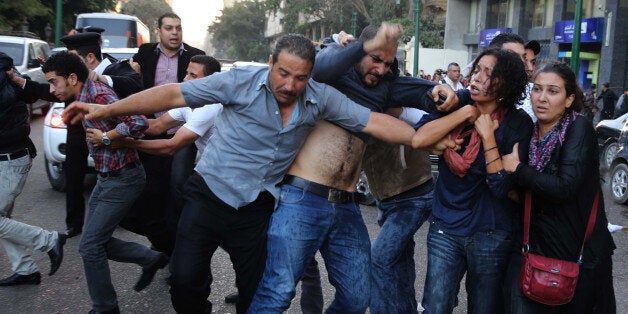 CAIRO -- On Tuesday night, Egyptian security forces arrested, beat and sexually assaulted about a dozen female protesters before leaving them in the desert outside of Cairo, the protesters said. The women, many of whom are high-profile activists, were part of a larger protest against military trials for civilians that was violently dispersed in accordance with a new anti-protest law.
Mona Seif, one of the protesters arrested, said in a video on social media that she and other demonstrators were left in a secluded part of the desert after being "dragged and beaten up," the Associated Press reports.
Rasha Abdulla, a member of the group "No to Military Trials for Civilians," said she drove to pick up the female protesters in the desert Tuesday night. The detained women told her they were beaten and touched in a sexual way, she said.
Many of the men who were arrested are still detained, and on Wednesday night, a thousand or so protesters converged in downtown Cairo chanting against military rule.
But the interim military-backed government, which still maintains a large support base, is not backing down after passing a law Sunday banning unapproved demonstrations of more than 10 people. An Egyptian prosecutor has ordered the arrest of activists Ahmed Maher and Alaa Abdel Fattah on charges of inciting protests following their participation in Tuesday's demonstration.
The activists' names resonate among Egyptians who participated in the 2011 revolution. Maher, co-founder of the April 6 Youth Movement, played a large role in the revolt that toppled decades-long dictator Hosni Mubarak. Fattah is a well-known activist and Seif's brother. Both Maher and Fattah have been detained and arrested in the past for protesting against previous regimes.
There is little sympathy for the protesters among many Egyptians who took to the streets in support of the military's ousting of controversial Islamist President Mohammed Morsi earlier this year. Gen. Abdel Fattah Al-Sisi, commander in chief of the Egyptian Armed Forces, has been widely praised as Egypt's symbolic leader.
"People were looking for a hero, a savior," Abdulla said.
"But I sense that this blind support for the interim government is lessening a bit," she said with a sigh over the phone. "The government should know by now that these tactics won't work."
Hazem El-Beblawi, Egypt's interim prime minister, said Tuesday that a committee would be formed to discuss controversial parts of the anti-protest law. But few critics see this as a serious step in the right direction. The Interior Ministry said Wednesday that it granted a permit for the planned evening protest, even though protesters did not submit an official request, apparently trying to avoid another outbreak of chaos.
It remains to be seen if the interim government will change its tune as dissent grows. Splashed across Wednesday's front page of the leading state-owned newspaper Al-Ahram, big red letters read: "The Interior Ministry succeeds on the first test of the protest law."
Calling all HuffPost superfans!
Sign up for membership to become a founding member and help shape HuffPost's next chapter