 Sixteen years ago Anita Lal opened a beautiful, tiny home wares shop called Good Earth in tony South Bombay with absolutely no business knowledge or experience. What began as a passion project for a housewife who simply wanted to sell beautiful things has since grown into a fabulous and formidable global brand that boasts gorgeous shops in four different Indian cities. Good Earth stores are veritable treasure troves teeming with sumptuous bedding, giant silk pillows, glowing lanterns, elegant and sometimes eclectic furniture, inspired dinnerware and just about everything you would ever want in your home. Though this is no rags-to-riches success story -- Lal admits she was lucky to have had (and still have) the financial backing of her husband -- it is a story about the passion and perseverance of a woman who had a vision and brought it to life. No easy feat for a woman, in a country like India, who knew nothing about business.
Her first store at Kemp's Corner has since shut; due to overwhelming demand it moved into a cavernous, two-story building in Mumbai's Lower Parel, which is where we meet to talk about the Good Earth story. Outfitted in a sage green and cream kurta from the store, Lal is as much the physical embodiment of the brand as the spiritual, and appears to be Indian earth mother incarnate: warm, nurturing and won't let me leave until I eat something. Over delicious small plates from the store's restaurant The Tasting Room, she takes me through the ups and downs, the exploration and experimentation that has brought her, finally, to today's glorious chapter in the story. She is lively and jovial, she speaks with an exuberance that belies her age and a passion that's infectious. She laughs often and tells it like it is -- there is no artifice, she displays none of the unfortunate trappings of success so common with people who run places frequented by the country's top socialites and Bollywood stars. She speaks candidly about the difficulties she's faced and is genuinely uninterested in expanding Good Earth for the sake of pure financial imperative.
It's been an uphill battle for the matriarch but her ascension was hard-won and well-deserved. After 16 years of navigating the trials and tribulations of running the business, she's recently passed the reigns of CEO to her daughter Simran and now proudly wears the mantle of Creative Head.
It's clear she's having the time of her life.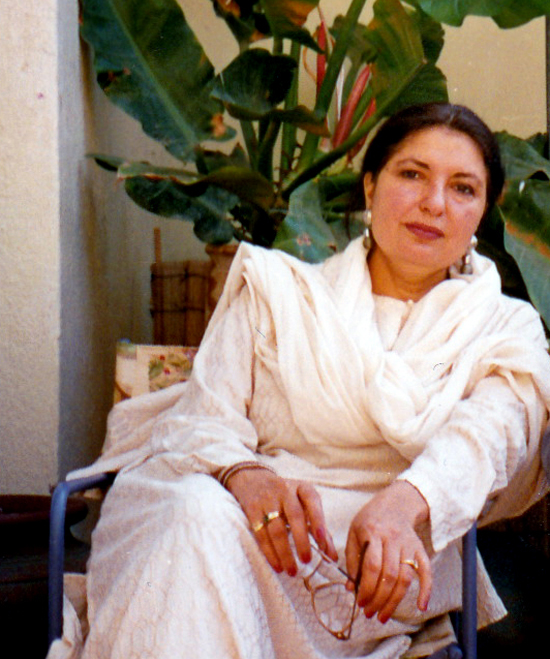 Anita Lal at her first store in Kemp's Corner
How did you start Good Earth without any background in business?
I had no clue what business was all about. I majored in psychology and I always thought that was what I was going to do. I just wanted to do something special, something fun. Imagine sitting in Delhi and starting a shop in Bombay -- I had no idea what I was into.
In those days India was so closed, we couldn't access beautiful things. When I used to go abroad I saw beautiful things, charming things -- and I always felt bad. Why can't we have the things and the atmosphere in India? That's when I started trying to paint a little bit of crockery in my own little place with one or two other people. Crockery those days in India was very dull and boring, so we started with fun colors. For me it was always about color -- I always thought in color, loved color, been conscious of color. I just thought, let me have some fun! I didn't know that we were going to be into serious business, not at all. My husband just indulged me. I said, "Vikram, can I have this shop? I'd like to do some nice home things," and he said, "Okay, why not?" That was 16 years ago!
It's been quite the adventure!
It's been an adventure -- a rollercoaster. It was very easy to start, but to maintain it? That's when all the problems started. I didn't even know we needed a warehouse! I didn't know what a merchandiser should do. I didn't know anything! I just thought we'd buy beautiful things, and sell them! So I learned everything about retail the hard way: backwards. But I was very clear -- I will never compromise on either the design or the quality.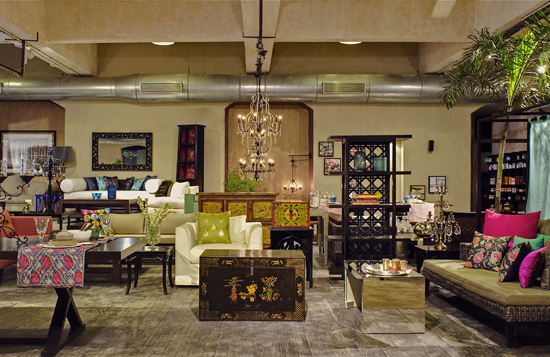 Inside a Good Earth store
How did you go about learning how to run a business?
I used to read up, surf the 'Net, read books on management -- one step at a time. In a way I reinvented the wheel. You have to be interested, you have know what's going on in the world. Again I'm feeling very inadequate because the bricks-and-mortar business I can understand but now the whole business is moving onto the Web. I'm again at sea! But this time I'm not going to do it, I'm going to let someone else do it!
In an interview with The Hindu, you said that had you known more about business you may not have started Good Earth, that you "almost drowned."
Yes, I was overwhelmed. I didn't realize what running a business entailed and at that time there was no separation between creative, business or buying -- it was all one, amorphous mass. I was too small to even hire people of any great caliber so it was just me and a couple of other people -- and we struggled. Many a time I thought, "Why am I doing this? I don't need the money, I don't need anything." But I couldn't give it up either. You fall in love with your own product or brand -- it's like a child -- you don't give up. It was a very tough time. [Her husband Vikram] was one of the reasons I hung on, he supported me in every way.
I'm trying to picture how a woman, with no background in business...
... How did a woman like me, with a masters in psychology...
Maybe it's thanks to psychology that you knew what people wanted to buy!
That's true! I did one thing. A dear friend of mine who's a psychoanalyst made me go through a course at INSEAD in France on leadership and it was very useful for me emotionally. In the end, business is to do with people. How do you handle people? How to do you motivate people? How do you allow people to do what they should be doing? What I learned was to know myself better. A good leader should be like a teddy bear -- people can put their arms around you -- but also like a dentist -- so you can pull out the rotten tooth. You have to be strong, firm, but you also have to be approachable. That's how I do it. I learned that if I want to keep this company going, if a tough decision has to be taken, take it as nicely as possible, as humanely as possible, but take it. Otherwise eventually everything will fall apart.
If you want to be on top of things, you have to be interested, you have to be reading a lot. I read six newspapers a day on the 'Net -- and that's an interest! I'm naturally curious, I'm naturally interested. I think it's very important -- a lot of women my age don't bother to do that. I'm 64! This is what keeps me young. I'm working with young people, I'm working with young people, I'm interested in everything around me... so there's no time to feel anything else.
Where do you get your inspiration for Good Earth products?
It's by instinct. I just pick an area where there are crafts -- cultural heritage, craft heritage -- and we start exploring it, we get deeper into it.
I picked up things in Kashmir this year. I was getting signals that things were calming down in Kashmir and I thought, "My God, it's India's most beautiful state -- this time why don't we celebrate the crafts, the craftsmanship and the patterns that come from the beautiful shawls of Kashmir?" For next year I'm already thinking of the Silk Route and of starting from China. I wanted to challenge myself because I don't know a lot about China.
In India, there are a lot of Indians who are not really aware of so many nuances of the cultural traditions, design traditions, of different parts of India and Asia -- the world actually. I try and bring that depth to a collection -- we don't do it superficially.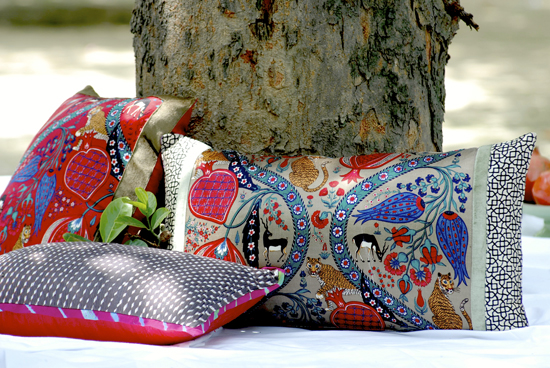 So travel is a huge part of your life!
It's travel -- travel with the design team, reading and a lot of it is the good, old 'Net -- I love it! I hate only the selling part; I love the knowledge part! There's nothing you can't find, nothing. Everyone teases me: "This is not work!" It's not. It's fun. Running the business is the work, which now I'm slowly giving over to Simran, so I'm now moving onto the Creative Head and she's the CEO.
How did you know when the time was right to expand with more stores?
Initially it was just Bombay and Delhi -- the expansion only took place five years ago. The first 10 years I didn't expand, we were just keeping our heads above water, figuring things out. Then we decided to expand because the economy opened up, people seemed to have more money, suddenly our customers could afford a lot more and sales were good, sales were up.
[I ask about the Good Earth store in Singapore and Lal tells me it's not an official store, but Good Earth products are sold there.]
Will this be a model for future expansion?
Yes, I think so. We're working on a very interesting model, which we're calling The Jewel Box. It's the jewels out of Good Earth, a giftable model. Beautifully packaged products that you can just pick up. That's the model we'll take abroad, Good Earth in other spaces. For us, that's good enough. We get an inquiry every single day from somewhere in the world saying, "I want to wholesale your products," but growth has its own dangers; I always wanted to keep it very personalized. Fortunately or unfortunately, I don't have an investor sitting here on my head telling me what to do, so we are free in that sense [her husband supports Good Earth financially and this is their first year of being profitable]. We're very comfortable -- we'll do it our own way, at our pace. That's why we're not stressed, we continue to be joyful.
To date, I've never put an ad. I've never liked to advertise myself. It's a natural instinct of not wanting to push myself out there, or push anything. I prefer the quieter way. To be, to give beautiful things and let people discover it. It may not be the best model but frankly, we've done very well with it.
Because we're very focused on our customers! The events are a way to meet our customers, to have a party. I open the whole shop,; we never say, "You can't sit here." It's like my home that day. You trust people and people keep the trust. But socially I keep myself quite aloof, I've become focused only on the product, the atmosphere, the shop.
Why incorporate restaurants into your stores?
When people come in, it just completes the experience. The idea is you can linger, it becomes a destination, a place you can come to eat, buy nice things, look around. And I'm very particular about the music, I love music! I mix all the music for the store. Wherever I go in the world, the first thing I do is go and buy stacks of CDs.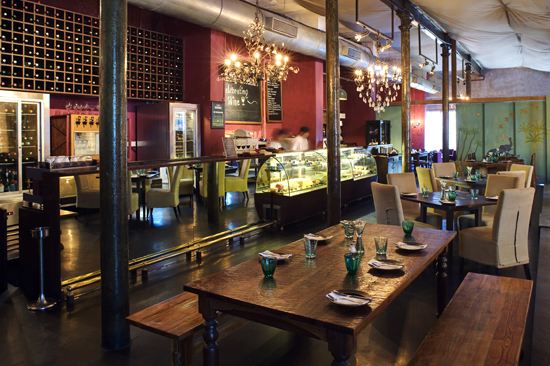 The Tasting Room in Good Earth at Lower Parel (Mumbai)
Good Earth places a lot of importance on sustainability...
And also traditions! I felt that unless what I'm doing is meaningful, I could not go on endlessly making product and selling to people. It was never to make money that I did Good Earth. Of course a business has to be profitable, but that's not why I'm doing it. Initially I had none of these thoughts [about sustainability] at that time it was just the excitement of creating a beautiful space. As time went by, I felt that unless it gives me more meaning and addresses things that we all feel strongly about, I won't go on wasting my time making pretty things for people.
The environment is a concern to every thinking person. We try and use a lot of natural dyes, minimize the use of styrofoam and plastics in packaging, we only use natural materials in our products -- even the backing of a cushion will be silk -- and I don't use polyester in anything at Good Earth.
India seems to be losing its traditions and crafts, Indians are caring less and less about the loss. Do you think Good Earth is reeducating people somewhat?
I think so. Surprisingly, I find a lot of expats are more interested and involved in what I'm doing. My aim is to keep these things going. Now a lot of Indians are telling me very proudly that they don't see why they should buy French design if they can buy ours. They feel it gives them the same feeling of richness but they understand the connection of the design with their lives.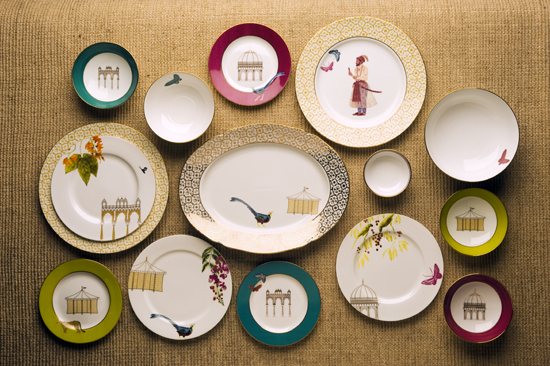 Dinnerware set from Good Earth
What kind of impact has Good Earth had on craftspeople? Has their business improved?
Of course! That's my aim, I'll do it even more and more as we go along. We started using bronze vessels, called kansa. The Ayurvedic tradition is to eat out of kansa vessels. So I'm working with a tribal craftsman who makes these vessels for us and they're completely handmade. He started with one workshop and now he has eight! I work with a handblock printer who now begs me not to give him anymore work, he can't handle it.
For me, relationships are very critical. Whether its relationships within the company, relationships with the people with whom we work -- I value those and make sure they're looked after.
When things are made in India there tends to be problems with quality and efficiency -- is that something you struggle with?
Yes, yes, yes! It is a very difficult task. Even my famous printer -- his quality is impeccable but deliveries, schedules, times... it's tough. And quality is very, very tough. So we do spend a lot of our time and energy chasing quality and schedules.
To do business and to do it well? Let me tell you, if I can do it well here -- I can do it well everywhere!
What does the future have in store for Good Earth?
I don't want to have 40 retail stores in India. Naturally, if you're in every mall you'll increase your turnover but we're very, very clear about what we don't want to do. We're not going to grow in that way, wont have more than our seven shops, but we'll keep growing what we have to offer our customers. We started by doing clothes, which are doing brilliantly well -- in fact, people have started copying them! Natural skincare, gumdrops -- the children's division -- which is also growing very fast. And we have the Jewel Box. So we are stretching ourselves -- that's where the growth will come.
What advice would you give women who want to start a business but don't know how to start?
They definitely need to see their finances, because that's one thing I didn't have to worry about.
You've got to be passionate. If you truly want to do something, if it truly makes you happy, then you will succeed.
Young, Indian women today [she later clarifies that she's talking about upper-middle-class women] are more empowered than any other women anywhere in the world -- I see that. Now, all the top positions at Good Earth -- from retail, HR, to the CEO and Creative Head -- are helmed by women! Even our finance head is now a woman! Indians are used to having women on top, starting with Indira Ghandi! Indian women are even more fortunate than their Western counterparts because we have the family support -- there's a lot of support here.
Good Earth recently launched Charbagh, a bespoke interior design service. International customers can now see 3D renderings of their spaces from Good Earth's design team.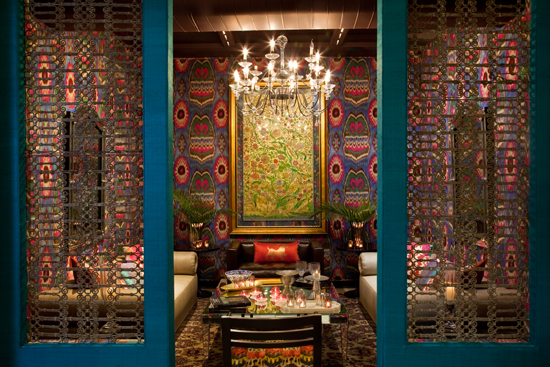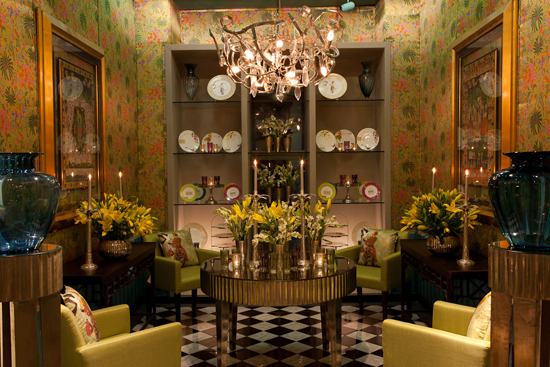 To find out more about Good Earth and Charbagh visit their website. All images courtesy of Good Earth.
Click here to read more from Marissa Bronfman.
Related
Popular in the Community