Maria, a farmworker from Guatemala, says never again will she look at any supervisor with the same trust she once had.
The 40-year-old mother of three was hired last November to pick pomegranates near Huron. Her supervisor told her he would pick her up an hour earlier than the rest of the crew. She was puzzled, but needed the work.
But the early pick-up turned into a sexual assault when the supervisor drove to an alley in Huron and attempted to rape her in the back of the van, putting his hand over her mouth and holding her wrists while trying to take her pants off.
She was able to fend him off, and a few days later -- at the urging of her husband and with the help of legal aid staffers -- she reported it to the Huron Police Department.
Maria, who spoke on condition that her last name not be used, said the supervisor was not arrested and she has seen him around Huron numerous times. Huron police Lt. Chad McMullen said Sunday that the department takes all sexual assault cases seriously. He said he didn't have information on Maria's case and couldn't comment on it.
Legal aid workers and experts who have studied the issue say Maria's case is not unusual.
Every year in the central San Joaquin Valley, thousands of farmworkers are harvesting fruits and vegetables to feed the nation and the world. Yet, underneath this massive multibillion-dollar industry is an environment that advocates say makes it ripe for sexual abuse.
Female workers have been the victims of sexual attacks, harassment and intimidation by supervisors and fellow workers. Many have suffered in silence, afraid to tell authorities for fear of losing their jobs -- or being deported.
That veil of secrecy, however, may be lifting.
Several studies have shined a national spotlight on the issue, and on Tuesday the Public Broadcasting System's Frontline news program will feature a report on the subject titled "Rape in the Fields." The program will be rebroadcast Saturday in Spanish on Univision's television stations.
The program -- produced in partnership with Univision, the Center for Investigative Reporting and the investigative reporting program at the University of California at Berkeley -- delves into the painful price some women are paying for providing for their families. As part of the program, dozens of women -- from the Valley's almond orchards to Florida's tomato fields -- shared their stories about being victims of sexual abuse.
Experts say the problem is widespread and complicated by the fact that a majority of farmworkers -- at least 60% -- are undocumented. Nationally, women make up 24% of the agricultural work force, according to federal statistics.
It's very hard to know the actual number of cases, experts say, since many go unreported.
Those who do come forward are subject to retaliation, according to a 2012 report by Human Rights Watch in New York.
The report interviewed 50 women working a variety of crops in three states -- California, North Carolina and New York. Researchers found that women who resisted their supervisor's advances were fired or not rehired the following year.
In the Central Valley, a 2010 survey of 150 farmworker women by a researcher from the University of California at Santa Cruz found that 80% had experienced some form of sexual harassment.
Felicia Espinosa, directing attorney for California Rural Legal Assistance in Fresno, says her office has handled many cases of abuse -- including Maria's -- over the last several years.
Women have reported being fondled, sexually harassed and intimidated.
Espinosa said women in farm work, such as Maria, are particularly vulnerable to sexual attacks because of the isolation that takes place on some job sites and the control supervisors have over the workers.
Espinosa said Maria's case, since she reported it right away to authorities, is an anomaly.
"Women are usually afraid to tell anyone about their attacks or the harassment," Espinosa said.
In Maria's case, harassment began on her first day working with the supervisor. She recalls him telling her: "Take that bandana off; all the women who work with me don't cover their faces. I want to see your face."
Two days later, she was assaulted. After Maria fended off the supervisor, she kept quiet while he picked up the rest of the crew. She began seeking help the next day. A few days later, she made contact with the legal aid lawyers and then called her husband, who was in Mexico.
"He supported me and encouraged me to report it to the police," Maria said in Spanish.
Maria has worked in agriculture with different crops, depending on the season, since she first came to the United States in 2008. She sends nearly all her income to her three daughters -- ages 18, 11 and 8 -- who live in Guatemala. In all the years working, this is the first time she has been assaulted.
Maria continues to work in agriculture, but now in an onion field with different supervisors.
"It still affects me. Every time I see a new supervisor, I get worried it's going to happen again," she said.
It is not unusual for a supervisor to be with the workers from the time he picks them up to the time he drops them off. He may also be the one who drives them to the neighborhood market to cash their paycheck.
"In many cases, there is no one supervising the supervisor," said Espinosa, the California Rural Legal Assistance attorney. "So if that person has this tendency to prey on women, who does the employee go to? The only person they may know is the supervisor."
Espinosa has heard of cases where the female worker is asked to move to a remote area, away from the other employees, and then she is attacked.
William Tamayo, regional attorney for the U.S. Equal Employment Opportunity Commission, said it is difficult enough for women in non-farm work places to come forward.
"Women don't report because they don't want their careers killed or be ostracized within their companies," Tamayo said. "Can you imagine what it must be like for women in farm work?"
Monte Jewell, executive director of the Fresno-based Resource Center for Survivors of Sexual Assault, said his organization's counselors have dealt with several victims who are farmworkers. What concerns Jewell and other advocates is how many victims don't come forward.
"There is a real fear out there," Jewell said. "Women are afraid that if they say anything they risk retaliation, losing their job or being turned into the Immigration and Customs Enforcement."
Organizations that provide anti-sexual harassment training say the agriculture industry is paying close attention to the issue.
Although California already requires employers with 50 or more workers to provide at least two hours of sexual harassment training for supervisory employees, many farming companies are asking for more comprehensive anti-harassment policies.
Amy Wolfe, executive director of AgSafe, a nonprofit group focused on reducing injuries and illness in agriculture, has helped provide some of that added training.
"There is a greater awareness out there, and employers are acting on that," Wolfe said. "We have seen a tremendous number of requests for additional training."
Researchers say that educating workers and supervisors about sexual harassment is important but is only part of the solution. Also needed is immigration reform and greater enforcement by regulating agencies.
But educating consumers who buy the food also should play a part, said Grace Meng, a researcher who helped produce the 2012 farmworker report for Human Rights Watch.
"There is so much attention being paid to where our food comes from and how animals are treated," Meng said, "that this might be a good place for consumers to start asking 'How are the workers being treated?' "
"Rape in the Fields," 10 p.m. Tuesday, KVPT (Channel 18.1) and 7 p.m. Saturday Univision KFTV (Channel 21.1)
The reporters can be reached at (559) 441-6330, brodriguez@fresnobee.com or daguilera@fresnobee.com.
(c)2013 The Fresno Bee (Fresno, Calif.)
Distributed by MCT Information Services
Before You Go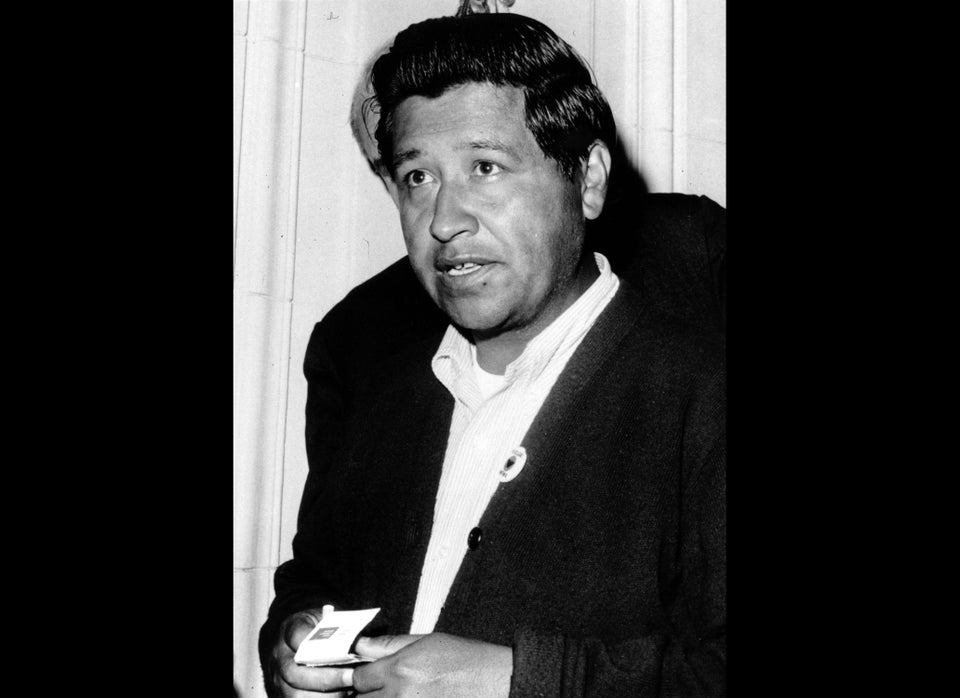 Latino Activists
Popular in the Community