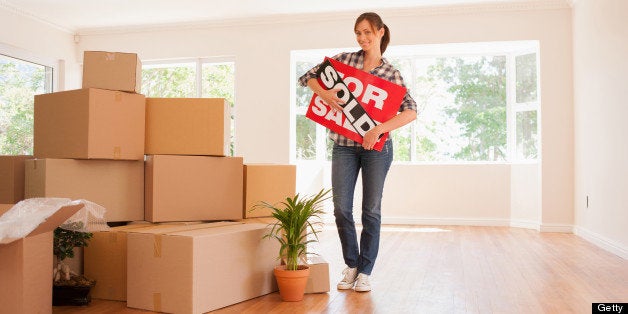 When you read the latest buzz about the rise in single female homeowners in America, what kind of woman did you picture?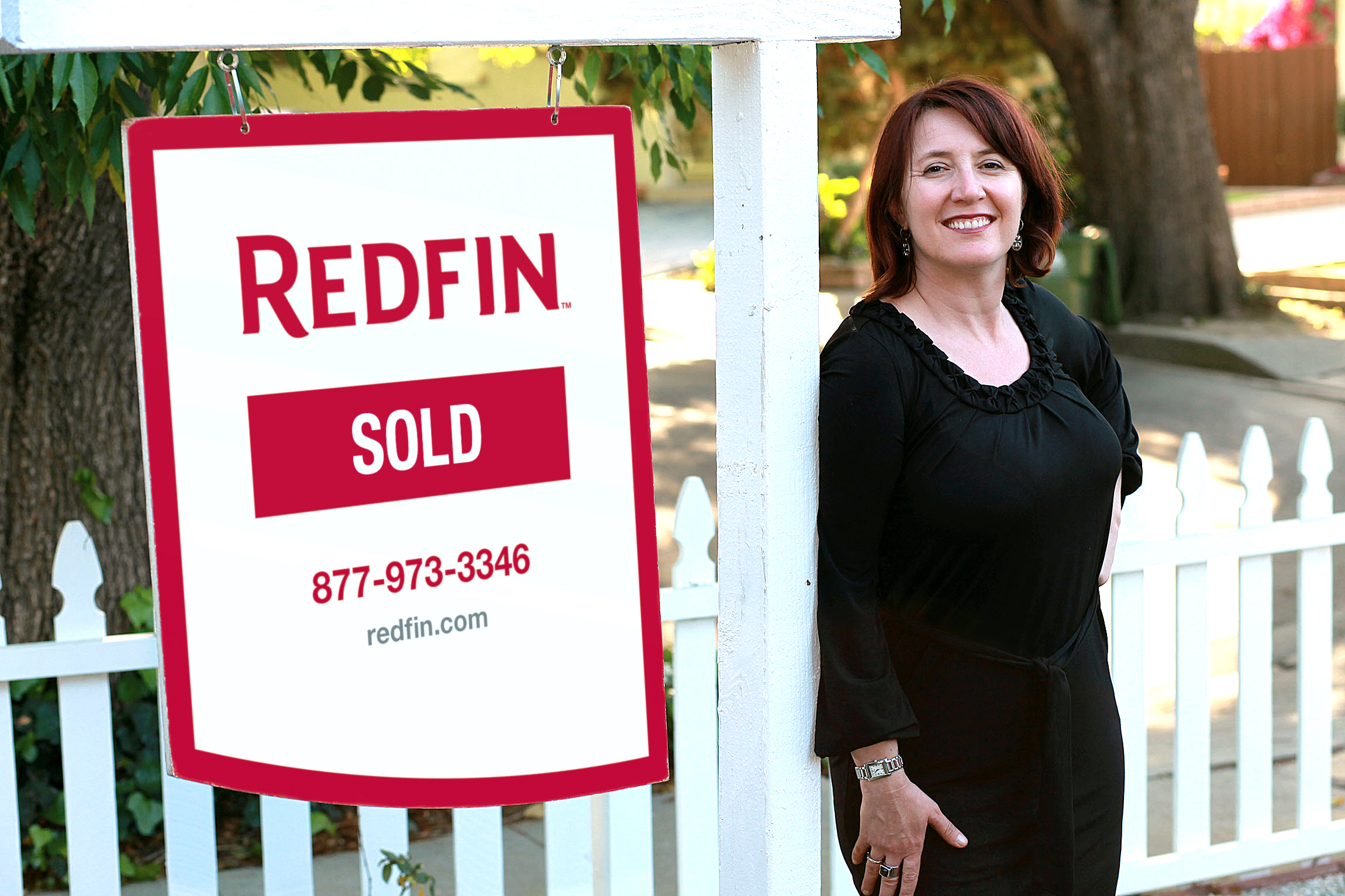 If you said "successful, educated twenty-something," you would be wrong. According to research by Redfin, a real estate brokerage, the average single female homeowner, as it turns out, isn't even close to 20. She is over 65. Moreover, homeownership among single women is no recent feat; single women have outnumbered single men in homeownership every single year since 1982, the earliest date of available U.S. Census data. Poof. There goes your stereotype.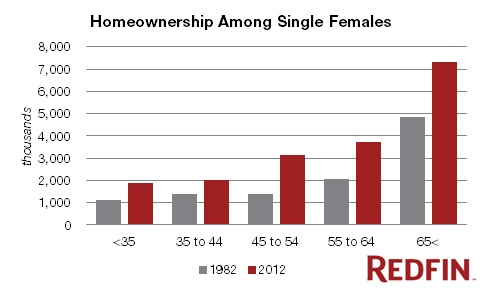 Source: U.S. Census Bureau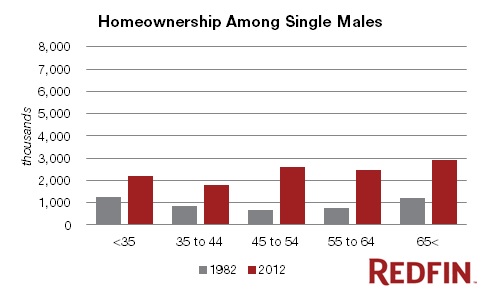 Source: U.S. Census Bureau
Both in 1982 and in 2012, the largest proportion of homeowning single females were aged 65 and older -- a fact probably attributable to the longer lifespan that women enjoy. As of 2008, American women lived on average 80.5 years compared with men at 75.5 years, according to U.S. Census data. This age group's home-owning dominance is falling, however; their total share of female homeownership dropped from 45 percent to 40 percent from 1982 to 2012.
So which age group is leading the increase in single female homeownership we've been hearing so much about? No, it's still not the twenty-somethings. Over the last three decades, women in the 45 to 54 age group saw the strongest growth in single female homeownership, growing 120 percent, followed by the 55 to 64 age group, which grew 82 percent. The sheer size of the baby boomer generation, all of whom entered their mid-forties over the past 30 years, probably skews the statistics, at least partially, in their favor.
But there is more to this story. As we all know, women in recent decades have made enormous social and economic strides. American women today are attending colleges and universities in increasing numbers, waiting longer to get married, and closing the income gap. Without question, single women today are far better equipped to afford a home than their mothers. (Go ladies!) Now more than ever, single women are benefiting from the hard-won advances their mothers' generation made.
Looking even deeper, child custody data from the Census Bureau suggests that newly divorced or single mothers establishing homes with their children is also a significant subset of single female homeowners. While accurate divorce statistics are difficult to nail down, as of 2009, 5 out of every 6 parents with child custody were mothers. Furthermore, in a May 2013 survey by Redfin among 1,353 buyers, female respondents identified a life event, such as divorce or the birth of a child, as the second most important factor in their decision to buy a home behind the current level of interest rates. The same was true for Cassie Peterson, a 40-year-old single mom who used Redfin's brokerage services to buy her Chicago home in April. "I decided to buy because interest rates were low and I chose a home based on what felt right for myself and my daughter."
These statistics bring to mind the findings of Muhammad Yunus, the Bangladeshi economist and Nobel Prize winner who sparked the microcredit movement. Yunus, in his work loaning money to poor women, found that women not only have a higher loan repayment rate than men but are more likely to spend money on their families' basic needs. As Yunus said in his book Banker to the Poor: Micro-Lending and the Battle Against World Poverty:
When a destitute mother starts earning an income, her dreams of success invariably center around her children. A woman's second priority is the household. She wants to buy utensils, build a stronger roof, or find a bed for herself and her family.
Given what Yunus uncovered about the practical way that women spend money, it seems no surprise that single women, and particularly mothers, would be more likely than single men to make a pragmatic investment such as buying a home.
So what about those twenty-somethings? It turns out these ladies are the outliers. Contrary to their more mature counterparts, single women under 35 are the only group to register fewer homeowners than single men. While the number of single female homeowners has grown over the past three decades, in both 1982 and 2012 there were 15% more single male homeowners under age 35 than single females. Perhaps this group's relative lag in homeownership also reflects the growing social and economic opportunities that previous generations fought so hard for. For New York City resident Rachel Musiker, a 28-year old Cornell graduate and Senior Public Relations Specialist at Redfin, her focus is on building her career and staying flexible. "I have already relocated several times for my career and am considering going back to school, so buying a home just doesn't make sense right now."
Taken as a whole, the outlook is positive for women, as well as American society as a whole. Facebook exec Sheryl Sandberg rightly pointed out in her book, Lean In, that women lag far behind men in top corporate jobs. While this figure will surely take time to dent, the growing rate of female homeownership, particularly among middle-aged women, is proof that women over the past three decades have become more independent, financially and otherwise. As former Secretary of State Hillary Clinton put in April, "empirical research shows that when women participate in the economy, everyone benefits." Greater numbers of single female homeowners mean more financially secure women, which points to increased spillover benefits for their children and the broader U.S. economy. Now, that is a statistic to be proud of.
Related