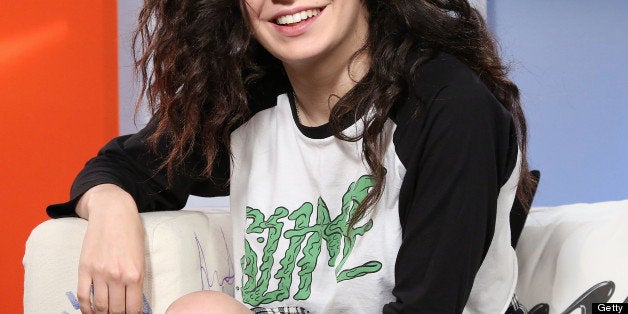 Pop music has never been cooler, yet it's still hard out there for an up-and-coming female pop artist. There's the pressure of always having to stay current without becoming a copy, along with the scrutiny of proving your authenticity to the discerning audiences of the 21st century. Even carefree, dance music has to come from a genuine, artistic place nowadays.
"You have to trust yourself," Victoria Hesketh, you know her as Little Boots, told me. Her new album, Nocturnes, came out on May 6 via On Repeat, the record label she started. "It can be very difficult when there is a lot of pressure and expectations on you and you want so badly to do well. If you have good ideas and write good songs and work hard people will have respect for you."
As the year when Grimes played at Coachella and Little Boots self-released her sophomore album, it's ripe to talk about how emerging female musicians used the Internet and live shows to prove themselves in the music industry while retaining their artistic edge.
Featuring this trend, Grimes and seven other women individually grace the cover of HUNGER's Spring/Summer issue. "I had begun to notice a pattern emerging in film and fashion, but most notably in music; where people (most obviously, young women) were taking control of their creative lives and output in a way I hadn't seen before," editor-in-chief Rankin told MTV Style.
Little Boots was inspired to start her record label after Robyn self-released three hit records in one year. "People are doing this differently," she said, noting major changes since her debut in 2009, "setting up their own labels, making their own videos, self producing. It seems like major labels have less and less of a role to play for an artist with strong creative vision and focus."
Yet women artists who choose to take a corporate paycheck can't do so without being dismissed as totally manufactured. If a male artist goes from YouTube sensation to being courted by every major label, there is no questioning he is in charge. But if an emerging female artist gets asked to contribute to the Girls soundtrack, she must be a sell-out, a puppet, mangled to sell something the corporations already own.
"Being a female performer in an industry that is utterly dominated by men and gender invites tons of criticism about your appearance and morals and role in the creative process that men would never be subject to," wrote Claire Boucher, the woman known as Grimes, in a now-deleted Tumblr post.
That Grimes -- the poster girl for edgy, unstructured, noncommercial pop -- described her self-released Visions as "post-Internet" is a little ironic considering the artist made the brash move to delete a majority of her Tumblr posts this past February. But as we all know, the Internet lives forever, and Grimes' gender commentary can be traced back as a response to her boyfriend 's harsh take on a Pitchfork piece about the highs and lows of pop.
Charli XCX, whose debut album True Romance came out on April 16, took Brooks's comments personally. How could she not? Her music video with Brooke Candy (the provocative rapper who previously co-starred in Grimes's video for "Genesis") was linked to the phrase, "mangled, grotesque approximation." Charlie went on Tumblr to defend her decision to sign a deal with Atlantic Records.
"I have earned the right to be recognized as a credible artist amongst a crop of other credible artists who each create their own music," she wrote shutting down the accusation that she was pieced together by greedy execs. "I don't think there's any shame in signing a deal."
It's easy to make the men behind the music industry seem like sinister sexists, but did Atlantic Records sign Charli XCX only to sell a "mangled, grotesque approximation" of Grimes? This assumption does a disservice to a woman who has been working on her craft since she was 14: writing songs, making videos, preparing visuals for her live shows on a zero dollar budget and managing to get on my radar. I still remember the first time I heard the upbeat "You'll Never Know." At the end of the day, does it matter that the song was released as part of a Redbull promotion, perhaps in conjunction with Atlantic Records planting the seeds of online hype for their new artist a year before her first album?
Yes, it's a little nefarious for record labels to keep new artists disguised as Internet-bred, indie darlings, marketing them as DIY even after they've already been put down the well-timed, chain of exposure -- energy drink corporate sponsorship, TV show soundtrack inclusion, live performance on Jimmy Fallon. This is the major criticism that Grimes and Brooks wanted to address.
"So many artists who are interesting initially seem to become a caricature of all the things you liked about them by the end of an album campaign," Little Boots echoed similar concerns. "I think that's often what happens with record companies getting involved -- they just want to reduce everything to the essence they think they can sell."
But let's take a look at the positive that can come of this. Not necessarily a deceitful way to create "indie hype" in a mainstream way, but a way to nurture a new era of major label female artists, women like Lana Del Rey, whose self-made creative vision proved strong enough to generate an online following. The underground success shared by Lana and Charli XCX led to a record contract, sure, but it also gave them the artistic credibility to have their creative input be heard. Instead of selling out, female artists are increasingly taking charge of their work even under a corporate entity.
I'd rather have it be artists like Charli XCX than the likes of Carly Jae Repsen. I'd rather have it be Chvrches, MNDR, Zola Jesus, Niki and the Dove, defining the state of pop. Listen to their songs below. "Doing a great live show definitely makes you credible, having a good creative vision and seeing it through in every element of what you do," Little Boots advised on how other female artists can be creatively empowered.
If anything, that female indie artists are being given the chance to write for major label artists and influence their sound is exciting news for audiences who like their pop music with a punch. Just imagine: Britney Spears songs written by Icona Pop.
"I'm starting to do more writing in pop camps. Yes, they really happen," Little Boots said of the collaboration process. "This year I've worked with some great new British female artists like A*M*E (who also appears in one of the HUNGER covers) and Syron, and wrote a song with Richard X for Swedish pop star Annie which will hopefully be out soon."
Sky Ferreira, who was also name-dropped in Brooks's rant, also went on the defensive by stating that she was in charge of choosing all her collaborators. "I don't believe that any of us (Sky, Charli and Grimes have been paired together such much in the media that they might as well be a girl group) are being marketed different than what we are," she wrote on her official Facebook page. "Throwing bags of money at people didn't get me to where I am."
In fact, Sky got to where she is today by coming face-to-face with the pop star-making complex and running the other way. She had a major label contract at the age of 15 but grew disgruntled and bored of waiting her turn to become the next Katy Perry. So Sky went rogue and signed a deal with Polydor, trading commercial expectations for creative freedom. "I might not have the million-dollar record deal, but the album is something I'm actually proud of," she told the Guardian last week.
Little Boots, whose debut album was released on the Atlantic imprint Elektra Records, shared a similarly complicated relationship with her major label. "I was never really specifically told that I could or couldn't do anything, but made it clear that certain directions or ideas just wouldn't have support," she said. "I know what kind of artist I am and what I do best now and I'm comfortable with that."
In another one of her now-deleted Tumblr posts, Grimes gave credit to Sky and Charli for changing "the way that that mainstream pop and DIY culture interact." But that it was important to acknowledge "the 'bottom up' route, not just the 'top down' one." Every artist has his or her own route with different roadblocks and finish lines. It's impossible to judge whether one way is easier or more genuine than another. What we can do is respect the hard work and hope for the best. Robyn, Little Boots, Grimes, Sky Ferreira, Charli XCX and Lana Del Rey have certainly kept their cool. Will they keep their newfound power?
REAL LIFE. REAL NEWS. REAL VOICES.
Help us tell more of the stories that matter from voices that too often remain unheard.