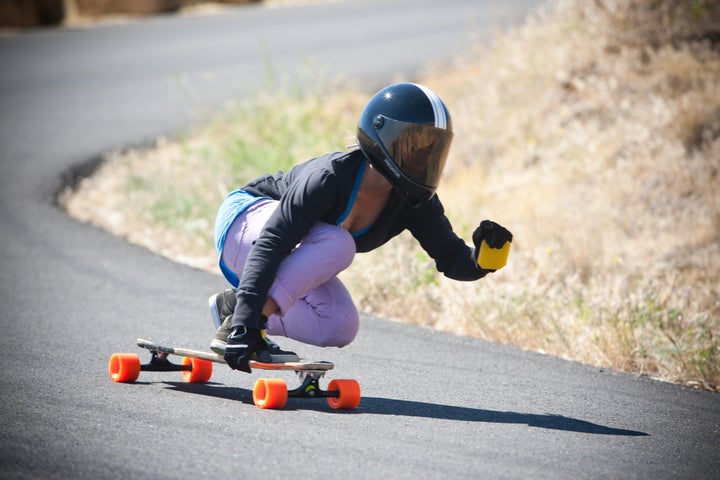 I've wanted to be a badass for as long as I can remember. But the closest I ever came was in college, when I got my belly button pierced. Sadly, I had to remove the belly ring after only one day because it got infected. Three pregnancies later, my scar has stretched so that it now looks like a small, upside-down question mark, as if asking me, "What were you thinking?"
Things looked up for me again a couple weeks ago. My husband, who runs Daddies Board Shop, was watching a YouTube video of some of his longboard company's team riders.
The riders, who are women, are four of the fastest downhill skaters in the world. They travel continent to continent with just backpacks and boards -- camping out, sleeping on floors and stuffing into motel rooms -- to compete in races.
This is not the popular form of longboarding you might have seen where skaters push around streets and sidewalks to get from place to place. This is downhill. This is downhill at more than 40 miles per hour.
The longboarders -- Pam Diaz from the Dominican Republic, Ishtar Bäcklund from Sweden, Amanda Powell from southern California and Marisa Nuñez who was born in Peru and raised in Miami -- had been documenting their road trip to the Maryhill She-Ride in Washington. Even though I watched their video through a small YouTube rectangle, I could see that these women were total badasses.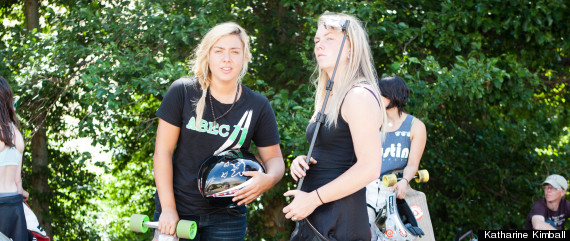 Ishtar Bäcklund and Amanda Powell at Maryhill Loops Road.


They were going to be two hours from my house. I needed to go. I needed to learn from them. I needed to ask them questions. I needed to cut locks of their hair and put all of it in a Ziploc baggie and then keep the baggie under my pillow so that their badassness could seep into my being while I slept. Sorry. Scratch that last part.
And so, to Washington I went. The rural road where the ride took place looked like something a toddler scribbled. It was 2.2 miles of 22 curves and a dead end. Dozens of cows grazed at the bottom, windmills turned overhead and bales of hay dotted the landscape.
I found the four riders and their friend and fellow skater, Daisy Johannes, standing by their white minivan. When I walked over to the badass skaters, they did something I didn't expect. They greeted me with hugs. They were huggers! They were friendly! They were super stoked that I was there! And -- I have to say it one more time -- they drove a minivan! I drive a minivan! I loved them instantly!
After we chatted, they went back to skating, and I was asked by the organizer if I wanted to help "work a corner," which I am happy to report does not involve having sex with strangers for money. I was to sit at one of the road's corners to watch when someone "ate hay." If a rider "ate hay" while I "worked a corner," I needed to call for help on a Walkie Talkie if she (or he, some men ended up skating, too) couldn't get up.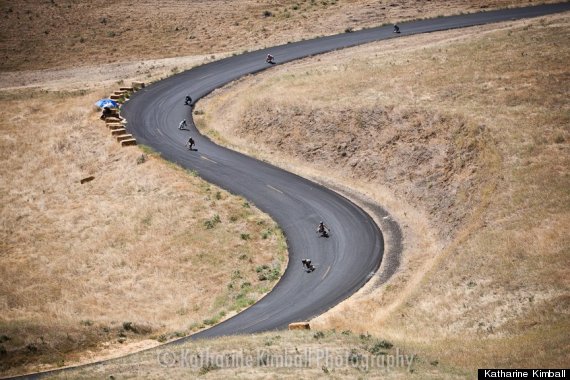 Maryhill Loops Road
Eating hay's a euphemism, as if you didn't know. It means crashing into one of the bales of hay (hopefully) lining the perimeter. There were about 60 longboarders, bikers, drift trikers and buttboarders who zipped past me at the ride, and I saw four people eat hay. The worst of the injuries only required stitches. It was Molly, 17, from North Carolina.
Marisa -- who I was told was the best female downhill skater in the world by other riders -- accompanied Molly to the hospital and I drove. (There are a lot of longboarders at She-Ride, but not a lot of cars.)
While we sat in the waiting room, I finally had a chance to ask Marisa the question that had been on my mind since I first saw her on YouTube: Wasn't she scared?
When I had watched her, I was scared. But, truthfully, a lot of things scare me. As I get closer to 40 (I'm 38 next month) and as my three children get older, I wish I were less scared. I wish I tried more new things. Not skating down hills. I will never skate down a hill. But I do wish I took more risks. And more chances. And took on more adventures. Why couldn't I be more of a badass?
When I asked Marisa if she was scared when she skated, she responded, "I let the excitement take over the fear."
"What would you tell someone who was afraid?" I asked.
Marisa paused. "Go slowly. Go at your own pace. Don't think you have to prove anything to anybody."
After two hours at the hospital, we joined Ishtar, Amanda, Pam, Daisy and Ysabel from Florida at a diner located in the corner of a gas station in Biggs Junction, Oregon.
We crowded around two small tables and ate a lot of food. I don't usually comment about how much someone else eats because 1) I don't think it's polite and 2) I have about as much interest in other people's food as I do in looking at nail art on Pinterest.
But we chowed. Steak. Giant sandwiches. Hamburgers. French toast. French fries. Half hot chocolates and half coffees. They ate and laughed and interrupted each other. And at no time did I hear anyone say, "I can't believe how much I'm eating," or "I'm going to get so fat," or my least favorite, "Wow. I can't believe how many calories that must have." It was very badass.
After dinner, the now seven women, ages 17 to 26, crammed into their small motel room. People sat on beds and chairs and lay on the floor and talked and texted and checked Facebook and updated their Tumblrs.
Amanda's blog is one of the most popular. She updates it regularly, answering fan mail, posting photos, and sharing favorite quotes.
"If you want something you've never had, you must be willing to do something you've never done."
She didn't say who the author was. I looked it up online later and many attribute it to Thomas Jefferson. But, of course, it's the Internet. It could have been Oprah or Yogi Berra or Garfield the Cat.
"If you want something you've never had, you must be willing to do something you've never done."
And that's what the She-Riders taught me about being a badass. You don't have to skate fast down a hill to be one. But you do have to get out of bed. You do have to try new things. You do have to take some risks.
I'm almost done writing this story, and then I'm going to post it on the Internet for everyone to see. And some people won't like it. And some people will. And I now realize that just the act of putting it out there makes me a badass, too.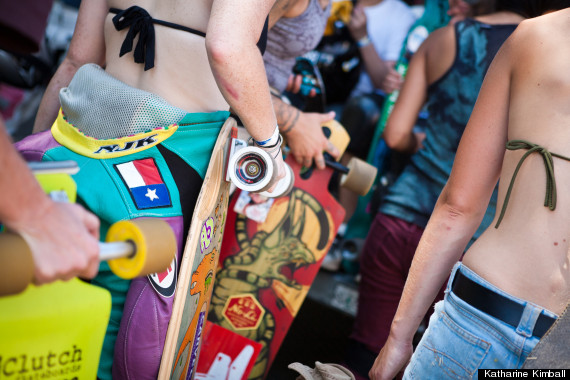 Popular in the Community