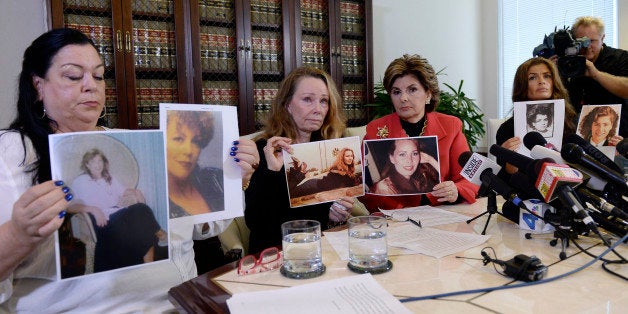 Mr. Cosby, you owe every woman in America an apology. As a minority woman and a physician please hear my request.
On behalf of my sisters, I ask you to utter these three simple words, "I am sorry." Why? When you violate the mind and body of even one sister, you violate the collective soul of our entire sisterhood.
I am a child of the 1980s, and I was one of the millions of viewers that believed in the magic of the Huxtable family. Our family household revolved around "The Cosby Show" every Thursday evening. The television show not only provided laughter but also made us feel empowered to see a successful minority family portrayed on television. When the allegations of Cosby's actions of drugging and raping women first started to surface, a part of our childhood innocence was permanently erased.
Transcripts of court records from 2005 revealed that Mr. Cosby admitted obtaining Quaaludes to give to young women without their knowledge to pursue sexual relations. Quaalude (brand name for methaqualone) is a central nervous system depressant and sedative. The known side effects of this medication are dizziness, mental confusion, and sedation. The negative side effects are potentiated when combined with alcohol and increase the risk of seizures, coma, and death. Under the influence of Quaaludes, it would prove challenging or nearly impossible for a woman to maintain a level of alertness required to consent in sexual relations.
Mr. Cosby, please stop standing behind the carefully crafted comments that your high-priced legal team has crafted, and just apologize. First apologize to the over 40 women who have been brave enough to come forward and tell the world you drugged and raped them. Then I ask you to apologize to every woman in America. Apologize to every woman who watched your television show. Apologize to every woman who supported the corporate sponsors aligned your name. Apologize to every woman who supported your charities.
The systematic rape of women is a public health crisis in the United States. The public needs to be educated about the long-lasting negative effects of rape and the meaning of consensual sex. We also need to create a healing environment to support women who are victims of sexual violence.
The number of women who are victims of sexual violence is not only shocking, but underestimated.

According to Center for Disease Control and Prevention (CDC), in the United States, an estimated 19.3 percent of women have been raped during their lifetimes. An estimated 43.9 percent of women experienced other forms of sexual violence during their lifetimes, including being made to penetrate, sexual coercion, unwanted sexual contact, and unwanted sexual experiences.
This CDC survey performed in 2011 cannot account for the number of women who fail to report sexual abuse or sexual assault because they fear the consequences. More than one of Cosby's alleged victims has undergone public shaming for coming forward. We as the public owe an apology to these women who had to endure the ridicule and insult of the public.
What Message is Bill Cosby Sending to Other Men?
Cosby is using his money, fame, and power to systematically violate women, and this could potentially set a harmful precedence for other men. The message sent to men should be the critical importance of consensual response from another woman during a sexual encounter. Simply put, "no means NO."
At this time, Mr. Bill Cosby denies his accusers' assault accusations and has not been charged with a crime. Most of the allegations were made long after the statute of limitations had expired. Cosby has not been charged with any crimes though he is the subject of a criminal investigation in California and a pending civil lawsuit in Massachusetts.
There are serious long-term mental health ramifications of sexual violence.
The National Women's Study highlights the staggering mental and emotional issues women face long after the physical assault. Women who are victims of sexual assault are more likely to suffer from post-traumatic stress disorder (PTSD) and depression. Also, rape victims are more likely than non-victims to have substance abuse of alcohol and other drugs. The stigma of rape also persists. Victims are greatly concerned about others discovering they were raped, whether it is family members or reporting in the media.
In rape treatment outcome research study, concerns are raised that a woman may present to her physician with symptoms of post-traumatic stress disorder. If the woman does not reveal a history of sexual assault, the PTSD may go unrecognized, under-treated or misdiagnosed.
Shame on Dr. Huxtable's and Mr. Cosby's team of spin doctors.
I am equally dismayed by Mr. Cosby's team of lawyers, public relations experts, and celebrity supporters trying to spin the story away from the important topic of sexual assault. I celebrate the enormous amount of courage for all the women who were allegedly assaulted by Cosby to come forward.
Mr. Cosby's advocates have asked us to respect his legacy of television, comedy, and charitable acts. I refuse to be brainwashed into the modern-day paradigm of Dr. Huxtable and Mr. Hyde. No one will deny Cosby's gifts of entertainment, however it is difficult to continue to respect a legacy built on the alleged crimes of drugs, lies and rape.
Everyone does wrong in their life, either consciously or unconsciously. When another human is harmed by our actions, an apology is warranted.
Mr. Cosby, at the age of 78, perhaps your final act should be to seek forgiveness from your victims.
Romila "Dr. Romie" Mushtaq, MD, ABIHM is a traditionally trained neurologist with additional board certification in Integrative Medicine. She helps audiences and individual clients heal from stress-based illnesses and career burnout with her program Mindset Matters which is based in neuroscience, positive psychology, and mindfulness.
Dr. Romie writes at www.brainbodybeauty.com, where you can sign up to join her mindful living community and learn more about the medicine behind mindfulness. As a board certified physician in Integrative Medicine, She heals clients at the Center for Natural and Integrative Medicine in Orlando, Florida. You can follow Dr. Romie on Twitter, Facebook and connect with her on LinkedIn.
Calling all HuffPost superfans!
Sign up for membership to become a founding member and help shape HuffPost's next chapter