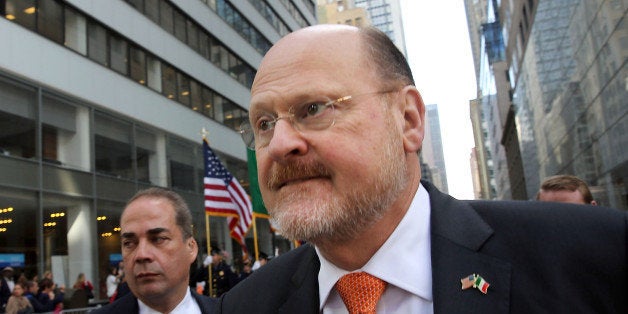 During a walking tour of the Borough Park section of Brooklyn Tuesday, Republican mayoral candidate Joe Lhota took some time to stop at the orthodox Shomer Shabbos synagogue, during a service, with reporters and members of his staff tagging along. Upon arrival, however, the women following Lhota at the event-- a reporter, a campaign aide, and a member of Lhota's security team-- were all asked by members of the synagogue to leave.
Male reporters were allowed to stay.
Reportedly, Lhota did not object and stayed to make a charitable donation. When later asked about the incident, he defended the rights of the synagogue officials. "Throughout the orthodox world, the orthodox Jewish world as well as the orthodox Muslim world, there are certain places that women are not involved in," Lhota said according to a New York Daily News report. "I will not as mayor violate their First Amendment constitutional rights for their religious practices."
The brief visit was not planned, according to Yeshiva World News reporter Jacob Kornbluh, and the uncomfortable situation was simply a case of poor timing. Orthodox synagogues can have separate services for men and women and Lhota's campaign happened to stop in during the men's service.
Jessica Proud, Lhota's spokesperson, confirmed the situation to WNYC reporter Andrea Bernstein. "This was not a planned stop on the schedule, but they were walking through the neighborhood and Joe was invited into a synagogue to look inside," said Proud. "They were having a service and he just popped in to see. He only stayed for a minute along the way to the next event."
It is not uncommon for candidates for public office to meet with members of the influential orthodox community, but these events are usually kept private and press is generally not invited to attend. There was one exception: during Tea Party candidate Carl Paladino's 2010 campaign for governor, female reporters were banned from a campaign-sponsored orthodox Jewish community event.
Democratic mayoral candidate Bill de Blasio's spokesperson, Dan Levitan, said de Blasio has never invited press to an event where some reporters might not be granted access.
REAL LIFE. REAL NEWS. REAL VOICES.
Help us tell more of the stories that matter from voices that too often remain unheard.
BEFORE YOU GO
PHOTO GALLERY
NYC Primary Day 2013