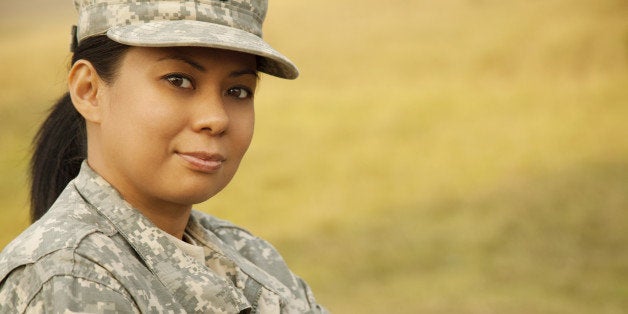 Over the past decade, the aftermath of military combat in Iraq and Afghanistan has seen an increase in the number of veteran amputees. Female veterans face additional challenges as standard prosthetics tend to be ill suited for their bodies, which are naturally narrower at the shoulder and wider at the hips.
Men and women also have different functional uses they require from their prosthetics. Daily tasks such as fastening a bra, putting on lipstick, holding a curling iron or wearing beautiful fashion forward shoes, are important to reserving a sense of independence and femininity.
Veteran Lisa Marie, a leg amputee, climbs mountains, runs marathons and scuba dives, however, she says she doesn't feel like a woman. She is "reluctant to be a mother, because I can't protect my child...reluctant to wear a wedding dress, because I won't be the most beautiful bride. It would be nice to have something that just made me feel normal again, even though this is my new normal."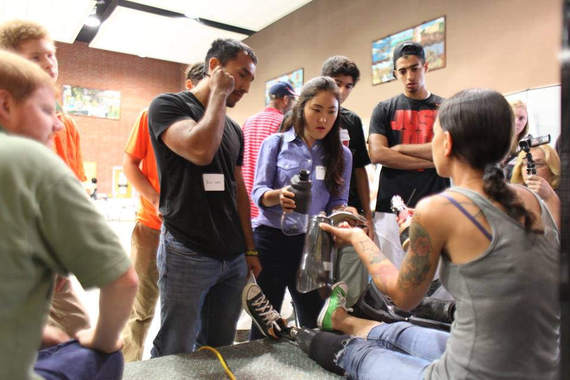 Prosthetics can be beautiful and should be beautiful. The Girls' Lounge aims to help all women live more confidently, and to support veterans like Lisa Marie. We joined forces with the Voices of Veterans Tour to bring visibility to the needs of female veterans, and how the integration of technology to develop personalized and customized prosthetics is essential to the acceptance of their new normal.
"A lot of the prosthetics right now are designed one-size-fits-all, and unfortunately that's geared more towards males. We're thinking how can we re-imagine them, and better fit and personalize them, so that our female veterans can feel confident and beautiful in them," shared Andrea Ippolito, VA Center for Innovation, and spokeswoman for the Tour.
What evolved last summer was the VA Innovation Creation Series, an intensive six-week program designed to accelerate development of technologies and personalized services to improve the quality of life for disabled veterans. The Girls' Lounge and its partners, including Google, GE, Toyota and Hino, in partnership with the VA, produced the live experience segment for the Series. The Girls' Lounge traveled to the following locations to fuel collaboration and celebrate our heroes and sheroes: Palo Alto VA Medical Center, National Maker Faire in Washington, D.C., and the Richmond VA Medical Center.
This series culminated in a two-day live "Make-a-thon" event at the Richmond VA Medical Center where online designs were built and tested to showcase how they met the specific needs of veterans and service members.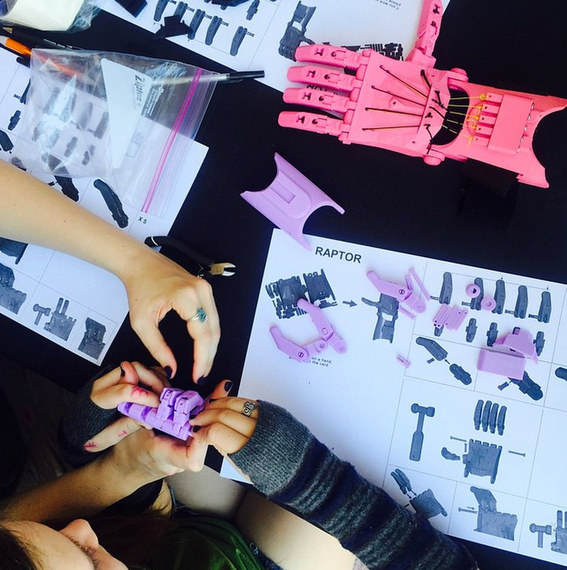 The Series illustrated the effectiveness of an open ecosystem of prosthetic design and assistive technologies. By demonstrating the value of rapid prototyping and collaboration, the hope is that there will be a day when anyone can download the design, go to a local tech shop and 3D print a customized prosthetic -- affordably.
Within our setup at the Maker Faire, we also showcased the airbrushed prosthetic designs of Dan Horkey who said once he chucked his skin colored prosthetic and wore something that was more him, he immediately felt better. Instead of people asking him how he lost his leg, they would admire the design on his prosthetic.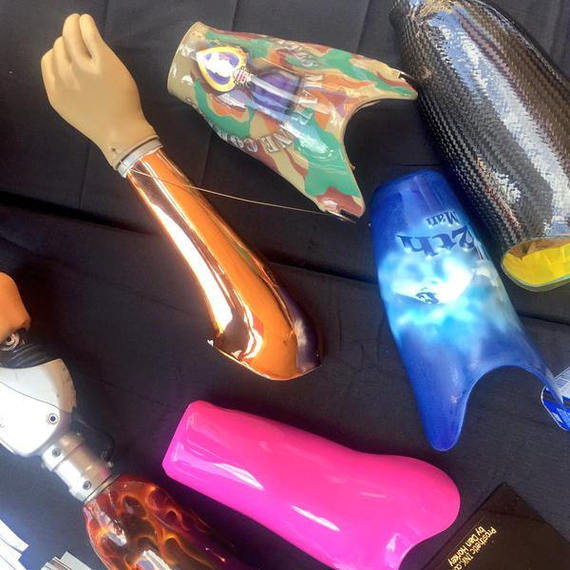 I was first introduced to the advances in prosthetics in January at CES, where I was inspired by two technological female-fueled whirlwinds -- Megan Smith, Chief Technology Officer of the United States, and high school girls from Genesis, who had committed themselves to creating prosthetic hands for young people who had lost their own.
As the founder and CEO of The Girls' Lounge, one of our initiatives is to empower young women and professionals in STEAM (Science, Technology, Engineering, Arts and Math), and when I witnessed this evolution, I immediately asked, "How can we help?"
Together, the VA, The Girls' Lounge and our partners will continue to spread awareness of the challenges our nation's disabled veterans face on a daily basis and teach participants how to utilize prototyping equipment to develop transformative technologies. I know anything is possible when we come together with compassion and purpose.
Related
Popular in the Community