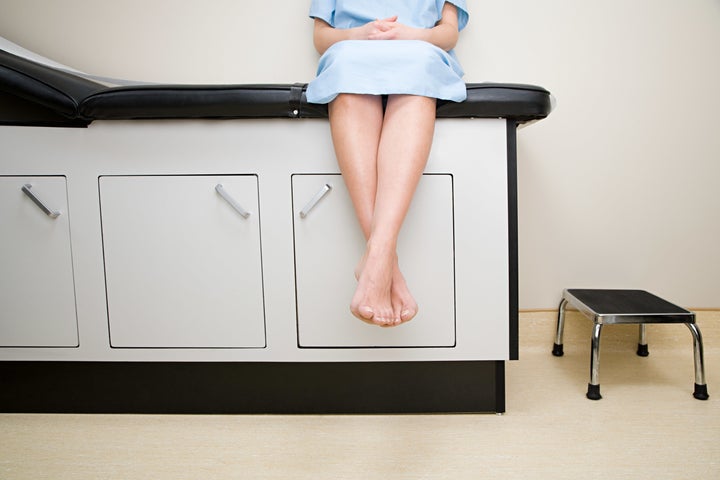 Women applying to join the Nebraska State Patrol were required to undergo vaginal and rectal exams that their male counterparts generally were not, according to a federal lawsuit that has prompted a criminal investigation.
For at least three years, female candidates were subjected to the sexually invasive exams by a male physician that was selected by the state patrol, State Trooper Brienne Splittgerber alleges in her suit filed on Tuesday.
Splittgerber underwent the procedure in September of 2014 before being hired. She accuses the state of Nebraska, the Nebraska State Patrol and various other individuals of discrimination and creating a hostile and dangerous work environment for women.
The suit, obtained by HuffPost, describes recruits as having to remove their pants, lie on their backs and expose their genitalia. They are then instructed to lie on their stomachs and lift their buttocks to expose their anus.
"With the possible exception of one," male candidates were not required to do this, according to the lawsuit.
Gov. Pete Ricketts (R) addressed the suit's allegations against the state patrol through a spokesperson on Wednesday.
"Immediately upon learning of these allegations in June, the Governor instructed his Chief Human Resources Officer to review this matter, which has subsequently resulted in a criminal investigation by the State Patrol," said spokesman Taylor Gage in a statement.
The state patrol had said the physical examination, which was allegedly performed by Dr. Stephen Haudrich of Lincoln, checked for hernias in the women, according to the lawsuit.
Slittgerber later questioned her personal physician about the examination and was told that there is "no legitimate medical purpose" for the procedure during pre-employment physicals.
She reported this information to her sergeant and to supervisors in the fall of 2014 and was told that an investigation would take place. She attempted to follow up with them on their investigation in February of 2017. It wasn't until she retained an attorney the following month that she said her concerns were internally addressed, according to an email exchange, attached in her lawsuit, between state patrol's legal counsel and an attorney who represents the State Troopers Association of Nebraska. In the time after her first complaint, other women had been sent to Haudrich to have the screening performed, her suit claims.
"At that point, it became clear the plaintiff's concerns were being dismissed and the events covered up," the suit states.
A spokesperson for Nebraska State Patrol declined to comment when reached by HuffPost on Thursday, citing the pending litigation. A request for comment left with the office of Dr. Haudrich was not immediately returned.
Outside doctors have also said that the examination procedure is unnecessary to check for hernias.
"There would be no reason to look in the genital or anal area," Dr. Karen Carlson, an OB-GYN with Nebraska Medicine in Omaha, told The AP. "We might have them loosen their pants, but I wouldn't think there would be any need to disrobe."
Dr. David Hoelting, a family physician in Pender, Nebraska, and a board member of the Nebraska Academy of Family Physicians, expressed a similar opinion.
One of the officials named as a defendant in the suit is Col. Brad Rice, who Splittgerber said she reported her concerns to without success. He was later fired by Ricketts in late June after the results of a preliminary personnel review found that he had interfered in internal investigations, the Omaha World-Herald reported. Ricketts had declined to go into detail of the allegations against Rice but mentioned that it involved "use of force," including a high-speed police chase that left a driver dead.
Splittgerber's lawsuit seeks a jury trial and compensation for economic damages, mental pain and suffering ― past and future ― as well as attorney's fees, punitive damages and any other relief deemed appropriate by the court.
Splittgerber's attorney, Tom White of Omaha, told the Omaha World-Herald that he has spoken with other female troopers who underwent the exams and that at least one more lawsuit over the exam is expected.
Popular in the Community