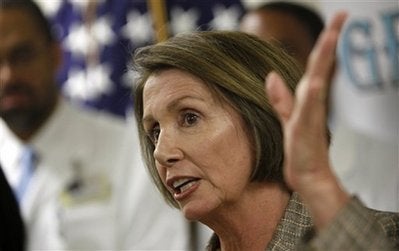 With Reporting By Jenna Staul and Julian Hattem
In the two days since the National Republican Congressional Committee said that House Speaker Nancy Pelosi (D-CA) should be "put in her place" for her comments on Afghanistan, not a single Republican female lawmaker has weighed in on the matter.
The Huffington Post on Wednesday contacted fifteen female lawmakers (fourteen from the House or Representatives) as well as two Republican women's issues groups to see if they were concerned by the sexist undertone of the statement. Not a single office offered to provide a statement. Several said they would not comment on the matter. Others promised to get back to us and didn't. So, on Thursday, we tried again, making follow-up calls to those very same offices. Again, there was silence.
"We don't comment on stuff like this," emailed Alex Cruz a spokesman for Rep. Ileana Ros-Lehtinen (R-FL). "Thank you."
Likewise, an aide to Rep. Mary Bono Mack's (R-CA) said: "there has not been a comment issued. And if there were one it wouldn't come from her official office... it would come from the campaign office." The campaign office never sent word.
A spokesperson for Rep. Sue Myrick's (R-N.C.) office thanked the Huffington Post for its call. "Rep. Myrick has no comment on the release the NRCC sent out re: Speaker Pelosi," wrote Taylor Stanford in an email.
An aide to Rep. Jean Schmidt (R-Ohio) said, "No, no comment."
Approached in the House of Representatives by a Huffington Post reporter, Rep. Marsha Blackburn (R-Tenn.) declined a chance to weigh in on the remarks.
An aide at the California Federation of Republican Women replied to a request for comment by saying: "I haven't heard, haven't looked at it, no comment." She told the Huffington Post to contact the president of the federation. We did. The email wasn't returned.
The National Federation of Republican Women, meanwhile, was contacted on Wednesday or comment. On Thursday, the Huffington Post called back and was told that their president was traveling and was unreachable at the time. "If I hear back from her and she gives me a statement, I will be in touch," said Lisa Ziriax, the group's communications director.
Voicemails were left at the offices of Rep. Cathy McMorris Rodgers (R-Wash.), Rep Candice Miller (R-Mich.), Rep. Michelle Bachmann (R-Minn), and Rep. Mary Fallin (R-Okl.) -- all members of the Congressional Caucus for Women's Issues. Not one office returned the call.
An email was sent to an aide to former Alaska Governor Sarah Palin as well. It, likewise, was not returned.
The silence reflects the tough political bind that female Republicans have been put in by their own party. In the past few weeks and months, several GOP figures have tripped over themselves with comments or actions rife with sexist implications.
Virginia Republican gubernatorial candidate Bob McDonnell has watched his campaign tighten after it was revealed that he authored a college thesis that argued it was better for women to stay at home rather than pursue professional careers. New Jersey GOP gubernatorial candidate Chris Christie, meanwhile, has seen a precipitous drop in the polls, in part because he defended an insurance company's right to deny mammograms to young women.
Back in Washington, Sen. Jon Kyl (R-Ariz.) said insurance companies should not be required to cover maternity care because he, as a male, didn't need it. He was ridiculed by Democrats across the aisle and skewered in the press.
Earlier in the week, 30 Republican senators voted against an amendment that would have stopped federal funding for defense contractors who deny victims of assault the right to bring their cases to court.
And, on Tuesday, the NRCC's criticized Pelosi for suggesting that Gen. Stanley McChrystal should send his recommendations for a 40,000 troop increase in Afghanistan "up the line of command" and not in public forums.
"If Nancy Pelosi's failed economic policies are any indicator of the effect she may have on Afghanistan, taxpayers can only hope McChrystal is able to put her in her place," a spokesman for the campaign committee said.
Sensing a growing disconnect between women voters and GOP lawmakers, Democrats quickly jumped on the NRCC's remark, calling it deeply offensive to the first female speaker of the House and someone who stands third in line for the presidency.
In a conference call on Wednesday, Rep. Debbie Wasserman Schultz (D-FL) called the comment "demeaning" and said that it was an example where "the Republican Party showed their lack of respect for women." Sen. Debbie Stabenow (D-MI), said the GOP deeply out of touch with the state of women in America.
"[In the GOP there is] an outdated view -- in many cases an extreme view -- a lack of understanding of what women's lives are like today and the role of women in America, certainly. The Speaker of the House of the U.S. Congress being a woman, 17 women in the U.S. Senate. When I hear these comments there's just a total lack of understanding of what the lives are like for women, coupled with a very distorted view in terms of what's happening on health care. You put it all together and its extreme and it's backward"