The world of sneakers has long been dominated by male athletic culture. The professional athletes who have signature sneakers are mostly men (with a handful of exceptions) and their shoe lines are overwhelmingly designed by men. The sneakers are sold by companies in which men sit in the CEO chairs. Oftentimes, they're only made available in men's sizes. 
Not surprisingly, sneaker culture is far from inclusive of women who get down with the hype and love their kicks. Yet female sneakerheads -- women who seriously love and collect sneakers --  are a large and passionate base. They undoubtedly account for a large percentage of the sneakerhead culture that spent $1.1 billion on shoes last year, as Matt Powell of The NPD Group recently estimated. And they're a driving force behind what has become an estimated $5 billion market cap for women's sneakers. 
Nevertheless, they remain underserved. One simply needs to take a look at social media, like that of sneaker influencer Anna Bendiones' dope Instagram or writer and stylist Megan Ann Wilson's editorial and stylistic choices to get the sense that women sneakerheads are here and they're spending money -- even without products and companies catering specifically to them. The way the culture stands, there's an extra layer of effort needed on the part of female sneakerheads that simply doesn't exist for men.
"Women's participation in sneaker culture is a not-yet-resolved issue," said Elizabeth Semmelhack, Senior Curator at Toronto's Bata Shoe Museum and the woman responsible for the traveling exhibition, "Out of the Box: The Rise of Sneaker Culture," which covers over 200 years of sneaker history and is now on view at the Brooklyn Museum through October. 
150 of the most important pairs of kicks in the history of sneaker culture are viewable at the Brooklyn Museum through October.
"Many women," she added, "stand on the edges of sneaker culture and want to be fully integrated into it, but can't get the shoes in their size and they're often criticized for it."
Semmelhack, a shoe historian who, in previous work, extensively studied the high heel as an icon of femininity, originally came up with the idea for a sneaker culture exhibition after people started to ask her why she only studied shoes in relation to women -- a question that was both peculiar and inspiring to her.
The absence of women from sneaker culture is partially why Semmelheck began looking at the trend in the first place. "It is so important to constructions of masculinity and so essential to male culture," she said. "I thought that was odd, given that we don't construct gender in society by men not wearing shoes and women wearing shoes." Sneakers, unlike traditionally gendered articles of clothing like neckties or skirts, are worn by all.
"I was also very interested in having people moving away from 'women are shoe crazy' and [instead] look at how sneakers have been important specifically within men's culture," she said.
The exhibition contains approximately 150 pairs of sneakers ranging from OG Air Jordans, to the original 1917 Converse All-Star, to Kanye West's adidas Yeezy Boost 750.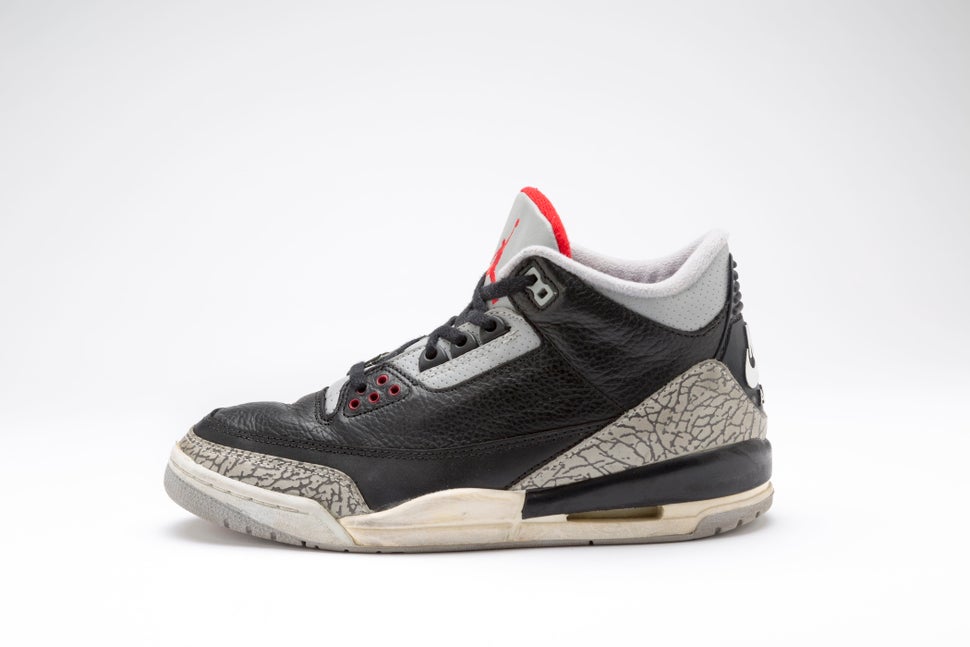 Nike. Air Jordan III, 1988. Kosow Sneaker Museum (Electric Purple Chameleon, LLC). 
But only two of the sneakers on show at the exhibition were designed by women. Just one placard was dedicated to history of women's sneakers. 
The exhibition was purposefully set up that way, as dictated by Semmelhack's expert viewing and gathering plan to present an accurate, if albeit unfortunate, reflection of not only sneaker history, but also athletic history in the U.S.
"Women and athleticism in the 20th century was very fraught," Semmelhack noted to HuffPost. Lisa Small, curator of exhibitions at the Brooklyn Museum, agreed. "Women weren't allowed to participate in athletics for a long time -- it was seen as not feminine," she said.
"Even in the 1920s, when women were starting to get involved in athletics, they were given a sneaker so that no one would mistake their femininity -- it had to have a high heel on it," said Small.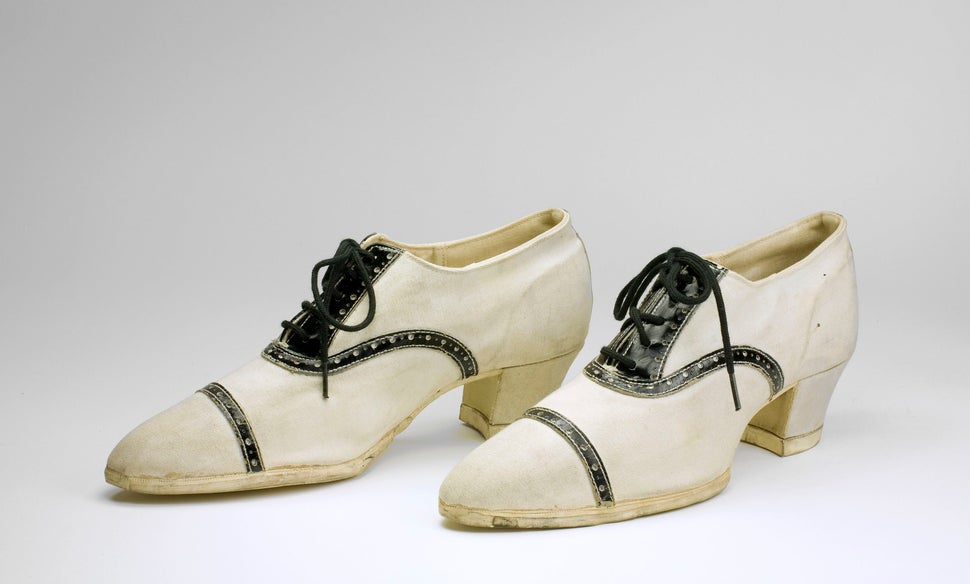 Dominon Rubber Company. Fleet Foot, circa 1925. Collection of the Bata Shoe Museum, Toronto 
But now more than ever, there are female designers and artists are making waves in the industry. Sophia Chang, a New York graphic artist whose 2014 line with Puma made her the first Asian-American woman to do an entire collection with a major sportswear brand, was one of the two female designers whose work was featured in the exhibition. 
Chang, however, didn't fully realize the gender and race roles within sneaker culture until her own success emphasized how few women were standing alongside her.
"Growing up as a consumer and sneaker collector, yes, I noticed that more guys were into it and maybe I was more so a minority, but it wasn't something that stood out to me," she said at the exhibition's preview. 
"It doesn't bother me or irk me in any way. Overall, I think as a consumer and a designer, it's exciting to see more women being highlighted," Chang added, noting the work of artists like Vashtie, the only woman to design an Air Jordan, and Shantell Martin, who also has a sneaker featured in the exhibition.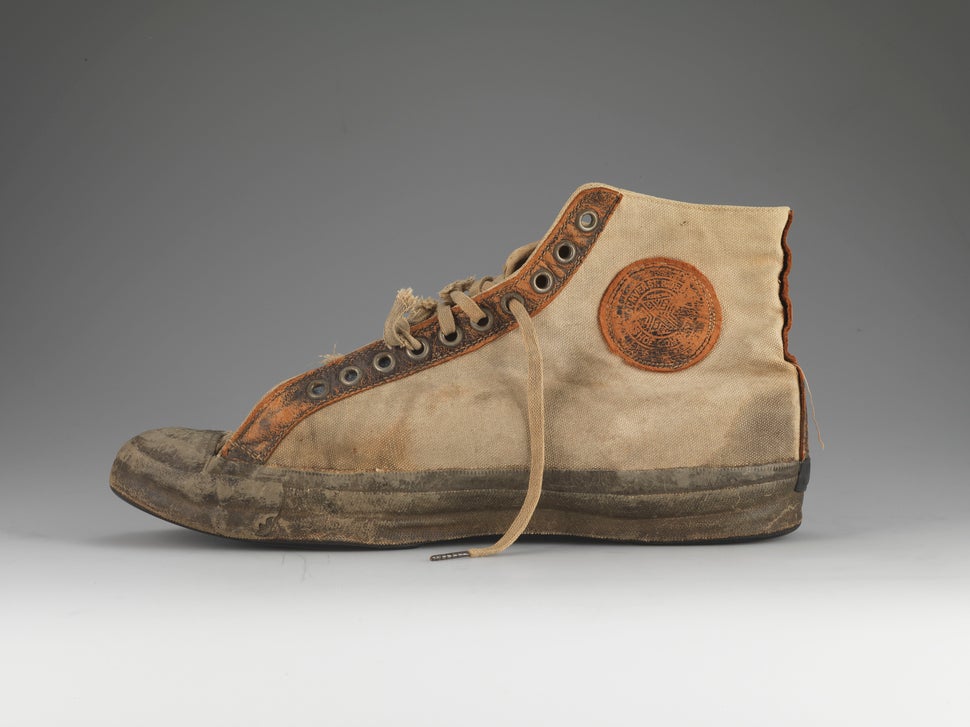 Converse Rubber Shoe Company. All Star/Non Ski, 1917. Converse Archives.
From a design perspective, Chang stressed the importance of functionality and aesthetics over gender roles.
"It's important to figure out what the shoe is designed for -- walking, running, whatever -- and then to capture that movement and study that with research and development. It's not like, 'I think this will look cute on your shoe,'" she said. 
As more women sneaker designers receive deserved attention, the difficulties female sneakerheads face has been covered with increasing frequency. But like many other markets, athletic companies cannot ignore 51 percent of the world's population as potential consumers. Powell's 2014 Forbes article noted that many women "buy boys' shoes for their own wear," just like sneaker influencer Anna Bediones and her smaller-sized pair of Air Jordan "Concord" XIs:
If you do the math between the lines, Powell estimates the women's sneakerhead market at more than $200 million, which brings the total market cap to $5 billion. The funny thing about that number is, well, it should be even larger, but sneaker companies are blind to their own problem. Powell writes that women's U.S. sneaker sales have not grown in the last three years, largely due to "lack of women's specific products."
There's no shortage of star female athletes to sustain signature lines either, which begs the question: Can the Nike-signed Serena Williams get her own signature sneaker already? Or can Nike re-release the Air Swoopes and make them available to men this time as well? Or how about, rather than giving Skylar Diggins a signature headband, we actually have a Diggins basketball shoe? 
Nike Air Swoopes, first released in 1996, marked the first time a female basketball player was given a signature shoe. (Credit: Nike) 
Women have deep reverence for sneakers, even if they haven't always been a part of its etymology. 
Whether it's in Chang's true-to-home, true-to-New York designs or Bediones' taste-making Instagram photos, the impact of female sneakerheads echoes throughout the sneaker world in deference to the current state of the culture. 
"Every single shoe in ["The Rise Of Sneaker Culture"] was chosen because it tells an important part of the story of the history of sneakers," Semmelheck said.
It's an incomplete history, but yes, a history nonetheless.
PHOTO GALLERY
Pictures From "The Rise Of Sneaker Culture"
Calling all HuffPost superfans!
Sign up for membership to become a founding member and help shape HuffPost's next chapter