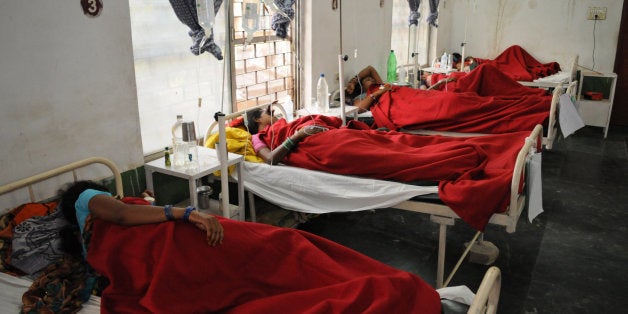 An Indian surgeon sterilized 83 young women in just six hours on Saturday. Dozens of them later fell sick, and by Wednesday, 13 of them had died, according to Reuters.
Officials told Reuters that the victims appeared to be suffering from toxic shock, possibly as a result of contaminated medicines or rusty surgical equipment. The tragedy at the mass sterilization camp, in the central Indian state of Chhattisgarh, saw the highest death toll from a sterilization campaign in recent history, according to The New York Times.
The deaths have put a spotlight on the prevalence of sterilization as a method of contraception in India, and whether the operations can really be regarded as voluntary.
In fact, female sterilization is the most common form of contraception globally, the 2013 U.N. report on contraceptive patterns found. The United Nations notes that female sterilization is most popular in developing nations, while the contraceptive pill is most commonly used in developed countries. Rates are highest in the Dominican Republic, where 47 percent of women use sterilization as contraception, followed by Puerto Rico at 39 percent and India with 36 percent.
"Women are not informed about the choices in contraception they have. It's their right to know that other methods exist," Sona Sharma, joint director for advocacy at the New Delhi-based Population Foundation of India, told The Associated Press. But men are unlikely to opt for vasectomies because "they're worried about losing their virility," she said.
Women also come under subtle and not-so-subtle forms of pressure to get sterilized, activists say.
The women sterilized on Saturday, all from poor villages, were paid between $10 and $23 to get sterilized, according to various media reports. A 2012 Human Rights Watch report on India's mass sterilization camps found some received even more elaborate gifts for having the surgery, including cars and gold coins.
There are also implicit penalties. Some Indian states deny government services to people who reject sterilization, or refuse government jobs to people with more than two children, Quartz notes.
Human rights groups also report overt pressure on women to undergo sterilization. Health workers are penalized for not meeting government quotas for female sterilization, and often resort to intimidation tactics, the 2012 Human Right Watch report said.
While India officially ended female sterilization quotas in 1996, there have been consistent allegations that states still require health workers to meet targets.
The chief medical officer in Chhattisgarh, the state where Saturday's botched sterilizations were carried out, said the surgeon who performed them was under pressure to meet a government target. A spokesman for the federal health ministry told The Associated Press she was not aware of any quotas in the states.
India has a long and troubled history with forced sterilizations. In the early 1970s, Prime Minister Indira Gandhi introduced a mass sterilization program for Indian men who had two or more children. Amid widespread accusations of coercion, the program sparked violent protests, and was dropped when Gandhi was ousted from office in 1977.
Related
Popular in the Community