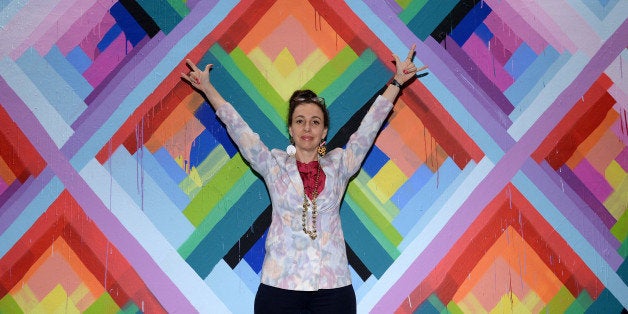 Don't get us wrong, we like Banksy just fine. We followed his every move last year as he turned the entire city of New York into an outdoor exhibition. There are many reasons to love the anonymous street art king, from his social crusades to his innovative use of the internet as gallery space. He's just far from the only street artist to be utilizing these tools, even on a massive scale.
Last month The Guardian covered Bambi, a woman street artist they dubbed "the female Banksy." However, after looking at Bambi's portfolio, comprised mostly of renderings of celebrities like Kim Kardashian, Amy Winehouse and Cara Delevingne, we have to say, we can do better. Just because Bambi sounds (sort of) like Banksy, doesn't mean she's the automatic heir to the street art throne.
On that note, allow us to introduce 10 badass female artists we'd choose over Banksy any day.
Kashink is a Paris-based graffiti artist who specializes in depicting fat, hairy, four-eyed men, playing roles of all kinds from gangster to shaman. The artist challenges gender on and off the walls; she's rarely seen without her penciled on mustache. "My name 'Kashink' is an onomatopoeic word," she explained in an interview with Global Street Art. "It comes from comic books I read when I was a kid. It's a sound of action."
Miss Van is a France-born, Barcelona-based artist, and one of the original women of street art. Her iconic walls feature romantic renderings of Baroque-era ladies in pearls and furs. Often donning "Eyes Wide Shut"-style animal masks, the femme fatale protagonists are as seductive as they are dangerous. "Men are naturally attracted and women identify themselves," Miss Van told Juxtapoz of her particular breed of subject matter.
Rojas is a San Francisco-based artist who crafts nostalgic yet subversive visual folktales that challenge gender roles while harnessing a sense of balance and calm. Her more recent work has become far more abstract, channeling her creative energy into stunning geometric collisions. "I was once told the only way to get out of your head is to get into your body," Rojas told The Huffington Post in an interview. "I do this by running, for example. Feeling my breath, my heart beat, my feet pound. That's how I feel about abstract work. It's instinctual. A way of seeing that is more about feeling than over intellectualizing."
Lady Pink, born in Ecuador and raised in NYC, began painting subway cars in 1979 and had her first solo exhibition at 21 years old. For years she was one of the only female graffiti artists in the game, and, for a while, a fierce young feminist without even realizing it. "We defend our artworks with our fists and our crazy courage," she told the Brooklyn Art Museum. "When you have guys that disrespect you you're gonna have to teach them a lesson, otherwise they are going to keep walking all over you."
Hayuk is a Brooklyn-based artist known for channeling Ukrainian crafts into her psychedelic and geometric visions. Somewhere between a flattened rave and a traditional quilt, Hayuk's murals are as intoxicating as they are comforting. "As a small child, my grandmothers would teach me crafts like embroidery, batik egg dying and reciting poetry," the artist explained. "This was probably the first and most impactful influence in my life. I learned not only to have a very steady hand and determination, but they taught me about the richness of the meaning of all of these geometric symbols."
Olek is a Poland-born, New York-based crochet master, constantly transforming new spaces, objects and people into canvases for her wild knits. Combining punk zeal, pop imagery and political messages, Olek creates crocheted artworks that tickle both the eye and the mind. "For me it is crucial to create pieces that work on two levels: the conceptual and the visual," she told The Huffington Post. "The common passerby might see just the pink camo on the bull. But intellectually, we know the story and meaning behind the action. It relates to all my interventions."
Lady Aiko is a Tokyo-born, New York-based artist who incorporates elements of Pop Art, abstraction, graffiti and traditional Japanese imagery into her playful depictions. "I think I represent female energy through my work," she explained to The Telegraph. "While at the beginning it was tough, I like the fact I am a woman in a boy's world. I might need an extra step on the ladder but I can still do it."
Faith47 is a South African artist whose textured imagery brings spirituality and nature to the foreground of urban environments, resembling storybook illustrations in real life. "I love the way that the work you do is so temporary," she said in an interview with Senses Lost. "Nothing lasts forever… The wind and sun gets it or the buff… It's a flicker that someone might see and then it's gone. And did anyone see it."
Hassani is one of the first female graffiti artists working in Afghanistan, incorporating thematic elements like the burqa into her works. "I believe there are many who forget all the tragedy women face in Afghanistan," she explained in an interview with Street Art Bio. "That is why I use my paintings as a means to remind the people. I want to highlight the matter in the society, with paintings reflecting women in burqas everywhere. And I try to show them bigger than what they are in reality, and in modern forms, in shaped in happiness, movement, maybe stronger. I try to make people look at them differently."
Mizrahi is a New York-based artist who creates emotive and empowering images of women and girls as "sacred archetypes." She also, along with Toofly, founded Younite, a forum for female street artists. "To me there is no divide," Mizrahi told Street Art NYC when discussing her work on the streets and in the gallery. "My work is my work, whether it's on a wall or a canvas or wood or sculpture. I like to express myself, have fun and explore. I dislike labels."
There are certainly more women street artists to know and love. Let us know your favorites in the comments.
Related
Before You Go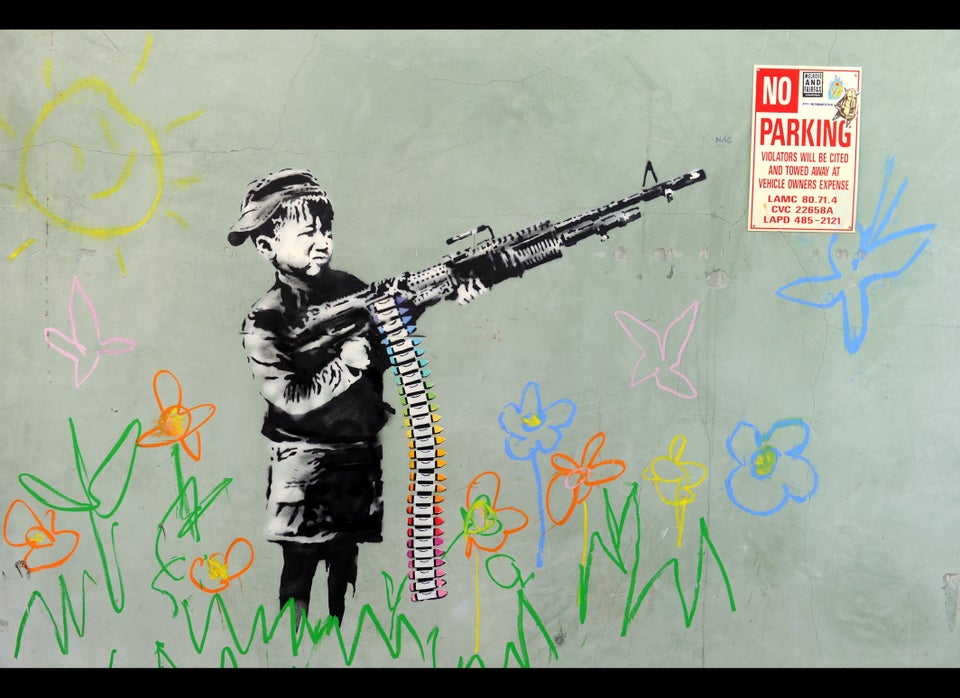 Banksy Street Art
Popular in the Community