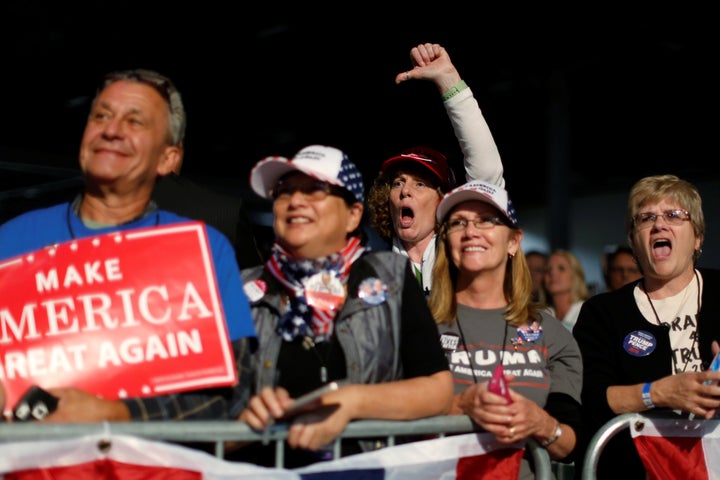 NOVI, Mich. ― Republican presidential nominee Donald Trump has done just about everything he can to alienate female voters: fat-shamed women, booted a mom with a crying baby out of his rally, made sexually suggestive comments about his own daughter and reportedly referred to a Latina Miss Universe as "Miss Housekeeping."
For the most part, it's working. Hillary Clinton is walloping Trump among female voters, and Republican women with college degrees are defecting from the GOP in droves. But the women we spoke to at Trump's rally outside Detroit last week ― a sampling of the 34 percent of female voters who still support him ― said his sexist comments don't really bother them at all.
"I like the fact he doesn't appear to be partisan," Karen Lane of Plymouth, Mich., told The Huffington Post. "He's all-inclusive. He will offend everybody equally. He just seems genuine."
"I think people make mountains out of molehills," Cindy Korol of Livonia, Mich., told HuffPost at the rally. "He may have said some things, but look at what [Clinton's] done. She's a liar. ... For him to call somebody 'fat,' big deal."
Trump has a long, storied history of body-shaming women. In 1996, when he owned the Miss Universe pageant, he reportedly called Venezuelan contestant Alicia Machado "Miss Piggy" because he thought she'd gained too much weight after winning the crown. He said in 2013 that celebrity Kim Kardashian had gotten "a little bit large" and shouldn't dress like she's 120 pounds. He speculated that Fox News host Megyn Kelly had "blood coming out of her wherever" when she was tough on him during a primary debate. And during last month's presidential debate, he defended having called comedian Rosie O'Donnell "fat" and a "slob."
"Somebody who has been very vicious to me, Rosie O'Donnell ― I said very tough things to her, and I think everybody would agree that she deserves it and nobody feels sorry for her," Trump said.
Trump is now trailing Clinton in the polls among just about every demographic of women: women of color, unmarried women, married women and white women with college degrees. The only group of female voters leaning toward Trump is white women without college degrees, who favor Trump over Clinton by a comfortable margin of 52 percent to 40 percent.
This group is apparently unmoved by Trump's sexism. The women at his Detroit rally, for the most part, either assumed the media has taken Trump's comments out of context or applauded him for being willing to speak his mind rather than rehearse every statement.
"He's upfront, he says it ― doesn't need anybody prepping him," said Cathleen Rondo of Whitmore Lake, Mich. "And I think he's very transparent. He isn't a phony. I think they take a lot of stuff out of context."
"You're supposed to be skinny for a competition," Christina Papahatzis, from Detroit, said of the Machado controversy. "I don't care. I like his honesty."
Krista Alexander, of South Lyon, Mich., also applauded Trump's candor.
"They're just words, and sometimes they get thrown out of context," she said. "I think he'd be fair to women, pretty much."
Only one woman we spoke to at the rally, Marylynne Tice of White Lake, Mich., said Trump's sexist rhetoric makes her "concerned with how he will be seen by the rest of the world." But she's still inclined to vote for him because "he's a good businessman."
"I don't know that these comments preclude him running the country," she said.
Laura Bassett reported from Washington. Jonathan Cohn reported from Novi.
Popular in the Community