One veteran just posted a "subtle and polite message" to Facebook to remind people that women serve in the military too.
On Memorial Day this Monday, JoAnn Ortloff, 54, posted a powerful message to a Facebook group called Pantsuit Nation. A former Navy service member, she took a moment to address the everyday sexism she encounters as a female veteran.
"I was getting tired after 36 years of being asked for my husband's ID, or having retailers etc thank my husband for his service even though I was the one who showed my retired Military ID card," she wrote. "I appreciate our public support of our military, I hope some day soon the minority who always assume it is a male, gets educated."
In her post, Ortloff included a photo of herself wearing a shirt that reads, "I'm the veteran not the veteran's wife."
Although Pantsuit Nation is a closed Facebook group, her post received over 39,000 likes.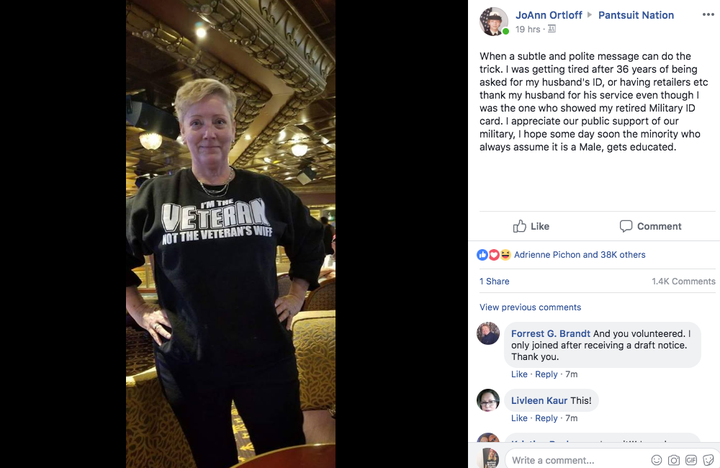 Ortloff told HuffPost that she was inspired to write the post because she has dealt with sexist assumptions since she joined the Navy in 1982. She said women are still encountering the same frustrations.
"It can be deflating for some young women who work hard and fight harder as military in some very tough assignments, only to return home and be asked for their husband's military ID card and info to receive their own benefits that they themselves earned," she said. "I have spent a career and into my retirement encouraging these brave women to stand up professionally and correct on the spot, to not let the ignorance slide by."
Ortloff served in the Navy for 33 years ― first as an air traffic controller, then as a command master chief on a destroyer and later at a naval hospital. She was a fleet master chief for naval forces in Europe and Africa and was the first female command master chief of a numbered fleet operational command.
"It has been one of the hardest parts of being a woman in the military during my active duty time, from 1982 to 2015, not being an equal recognition as a military member by a large part of society," she said. "Even still today, my husband is thanked when we are together, regardless, when it is me who shows my military ID card. I am not alone. This is such a common occurrence to women in all branches, of all decades and all ages."
Her husband served as a draftee during the Vietnam war, left service after two years and went on to become a firefighter, Ortloff said. She added that he always takes the opportunity to correct people when they assume he's the veteran.
"It's OK to turn the insult into an educational moment," she said. "I want the work that women have been doing for 101 years in the military to not be in vain."
CORRECTION: An earlier version of this story incorrectly identified Monday as as Veterans Day instead of Memorial Day.