If you only met Holley Mangold on the phone and based your perceptions of her just on a conversation, you'd think she was like any other 21-year-old girl.
She likes makeup, having fun and is interested in getting a degree in either philosophy, theology or sociology -- or maybe all three.
But if you meet her face-to-face, it's obvious she stands out in a crowd.
Of course, that will happen when you're a 323-pound woman in perfect physical shape, who is highly favored to compete on the 2012 U.S. Olympic weightlifting team.
Being in the Olympics is the dream of millions. It's Mangold's dream now, but it wasn't her first.
Nope, all things being equal, Mangold would like to follow in the footsteps of her brother, New York Jets center Nick Mangold. Except she thinks he'd be doing the following.
"I always tell my brother, that if I was born a boy, I'd be playing right there with him -- and I'd better than him," she told AOL Weird News. "I took football as far as I could."
That path, and how it led her to weightlifting, is documented in "True Life: I'm The Big Girl," a program debuting June 30 on MTV.
It's a project that has been in the works since Mangold was a junior in high school, according to executive producer Karen Jackovich.
"I've always been fascinated by ordinary women doing extraordinary things," Jackovich said. "My son is a sports nut and when I told him I was looking for a woman who plays football, but isn't a kicker, he immediately told me about Holley."
At the time, Mangold was playing offensive line for a Catholic High School team in Dayton, Ohio -- and was a hit on and off the field.
"At first, the coach didn't want her -- or any girl -- on the team, but he said if she could take the two-a-day practices and could handle being hit, she could stay on the team," Jackovich said. "She was hazed until she proved she could take a hit and give a hit as good as any man."
"In fact, she went to the Woody Hayes football camp at Ohio State one summer and was chosen top offensive lineman of the camp -- and they did not want to give that award to a girl."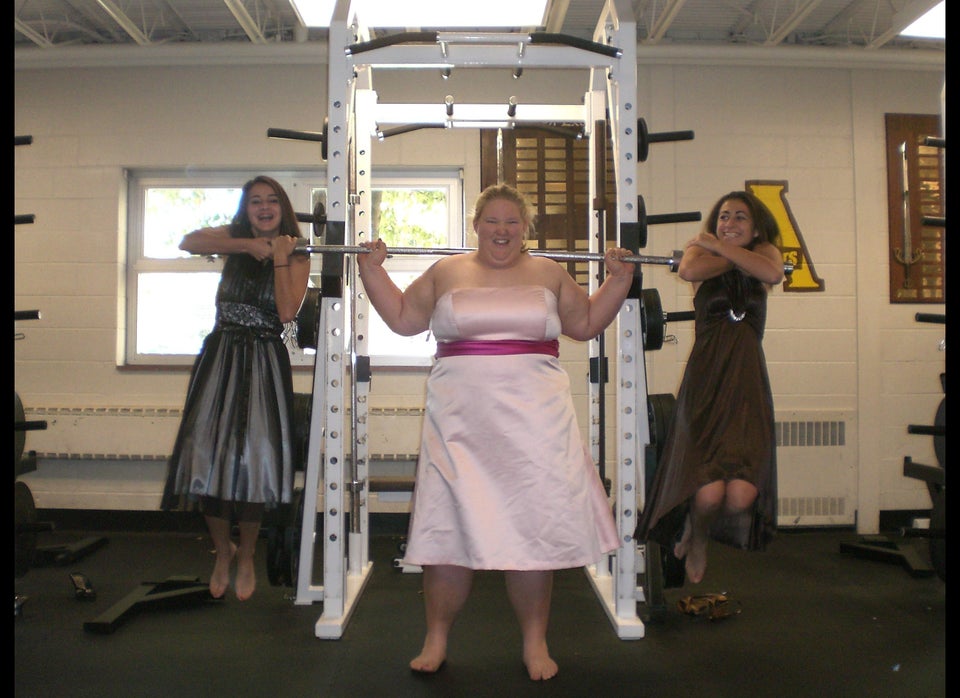 Amazing Feats
Mangold was actually recruited by small colleges to play football, but figured if she couldn't play with the big boys, she'd pursue something else. At first, she took a track and field scholarship at Ursuline College, an all-girls school in Pepper Pike, Ohio.
"She's a true athlete," Jackovich said. "She's a great swimmer and she's very flexible -- she can do the splits. She's like a sumo wrestler -- her fat is on top of her muscle, not mixed in."
Eventually, Mangold took up weightlifting, and despite not being as experienced as other women in the sport, her sheer strength immediately made her a contender.
"There were two other weightlifters who saw her lift and they were blown away by her sheer strength," Jackovich said. "They knew their careers were over. She was considered an interloper at first, but that has changed since the Olympic Training Center declared her an elite athlete."
For her part, Mangold enjoys weightlifting and says it's more mentally challenging than she expected.
"There is some strategy," she said. "Ninety percent of it is mental and doing football helped with that because football is a very mental sport."
Despite the fact that Mangold has the potential to be a champion in the next three Olympics, she insists that she's still very much in touch with her feminine side.
"I'm a girly-girl who just happens to be in a manly sport," she said. "I still get freaked out by insects."
Mangold hasn't seen Jackovich's film yet, but she figures she will see how she has changed in the last five years. Some of it is physical; most of it is mental.
"I'm now comfortable with me," she said. "I have the attitude that I'm going to be me and if you like it, awesome. In high school, I tried to change to be like everyone else."
It hasn't all been easy. Jackovich, who, by this point considers herself to be like Mangold's aunt, says there have been some boys in her life who were happy to hook up in private -- but didn't want to be seen publicly with her.
"She was actually smart," Jackovich said proudly. "She said, 'If they don't want to be seen with me in public, I don't want anything to do with them.' "
For now, Mangold's rigorous training regimen has put her normal life on hold -- and that includes romance. Well, except maybe for one guy.
"At a few competitions, there's been this Russian athlete who has a crush on her," Jackovich said. "It's funny, you can tell his coaches don't want him to be distracted, but there's still a little flirting."
Although Mangold has a great chance of competing in London at next year's Olympics, her chances of winning an individual medal look better for 2016 and 2020.
After that, she has another goal in mind.
"I think I'd like to try sumo wrestling," she said. "Good thing I like Japanese food."
CORRECTION: A previous version of this story misspelled the name of Ursuline College.
Popular in the Community