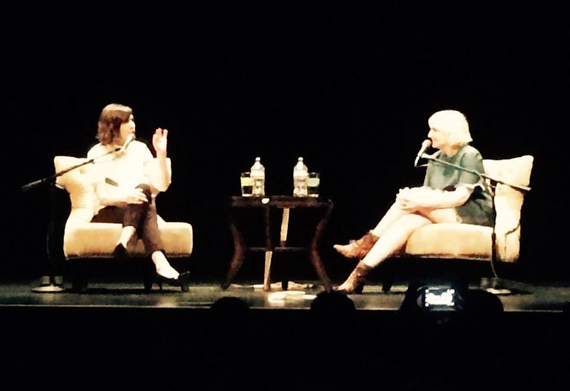 Sponsored by Powell's Books, the event sold out in just six hours -- and it's no wonder. Both of these smart, funny, talented women are at the top of their game right now, each with hit TV shows, and each having just finished books; Carrie's book, as revealed by Lena during the conversation, is en route.
Local Portland comedian JoAnn Schinderle opened the evening with a hilarious set. Dunham called her "fucking hilarious" when she took the stage, and then proceeded to read two essays from her new book, which is currently enjoying the #1 position on the New York Times Indie Bestsellers List (no big deal).
After talking about her many physical ailments while on tour, asking the audience if we could see her underwear (adding "Not that I care, I just want to know"), Dunham boldly read her strange, brave, beautiful truth to the crowd of (mostly) strangers, eventually inviting Brownstein to join her on stage.
The two are close friends -- texting each other frequently in the midst of hypochondria-induced moments of irrational panic, apparently -- and they were a delight to watch together. Quick-witted, sharp-tongued, and each holding a special place at the heart of our culture, Lena and Carrie talked to one another as though no one was watching... and it was glorious.
Conversation topics over the course of the evening included, but were not limited to, feminism, humanism, the underground railroad, the Ebola Virus, the ethics around murdering abandoned baby squirrels you find on the side of the road, challenging authority, surviving sexual assault, marrying internet trolls, taking Adderal recreationally, the journey toward self-esteem, current literary obsessions, old school music, their parents, donuts, sex, love, virginity, the perils of college and, of course, Portland.
I was lucky enough to have a spot on the guest list for the evening (thanks Carrie, Lena and Powell's!) and I managed to capture a few special moment during the conversation on video.
Watch Lena Dunham and Carrie Brownstein LIVE in Portland:
Here are some shots from the event as well, all lifted from social media:
Popular in the Community