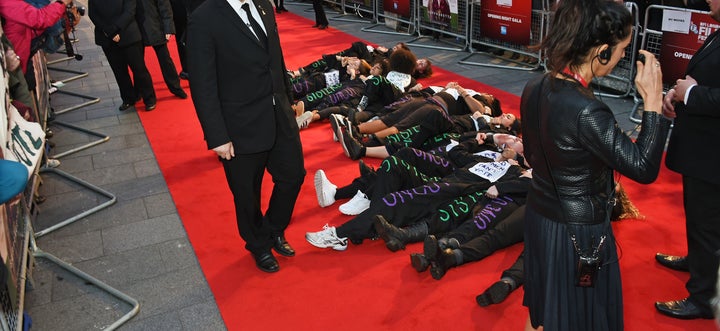 A group of feminist activists staged a sit in at the "Suffragette" UK premiere this past Wednesday to speak up for all of the women who can't because they've died at the hands of an abuser. 
The UK-based activist group called Sisters Uncut chanted the words "Dead women can't vote," while laying on the red carpet during the Oct. 7 premiere in London. The film tells the story of the British women's suffragette movement and the women who led it in the early 1900s. 
Sisters Uncut was protesting the recent defunding of domestic violence services in the UK. 
"We stand united with all self-defining women who live under the threat of domestic violence, and those who experience violence in their daily lives," Sisters Uncut website reads. "We stand against the life-threatening cuts to domestic violence services."
In the spirit of the protest captured in the film itself, dozens of demonstrators stood outside the premiere chanting words of protest and holding signs. They even fired purple and green smoke, the official colors of the Suffragette's Women's Social And Political Union.
"We aren't going to move, we're the modern suffragettes and domestic violence cuts are demonstrating that little has changed for us 97 years later," one protestor told The Independent.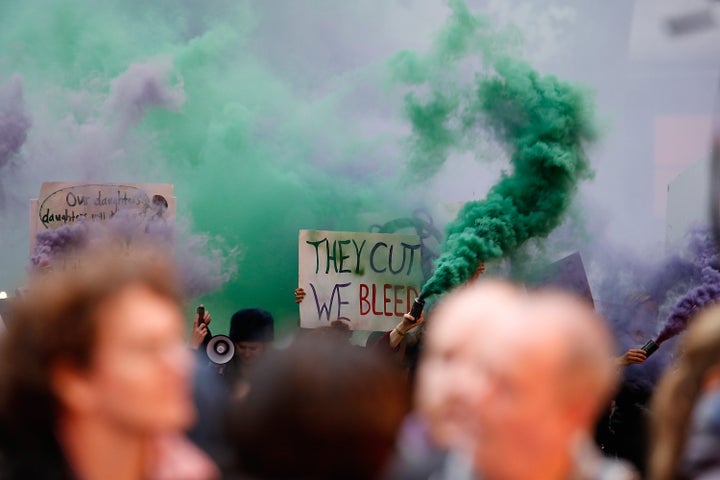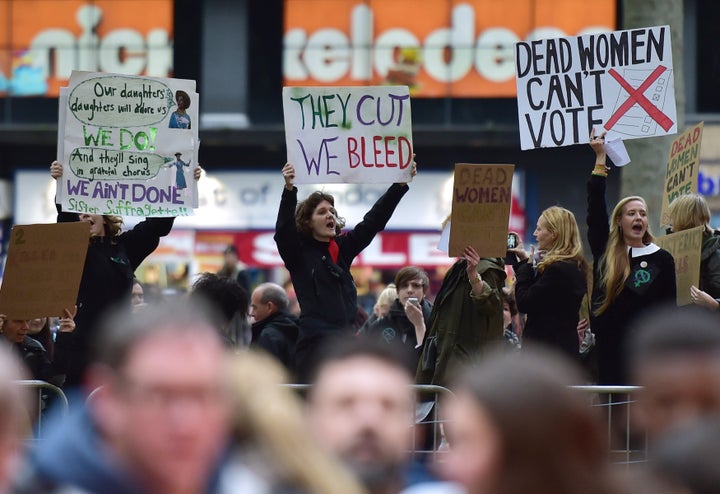 "Suffragette" actresses Carey Mulligan and Helena Bonham Carter told Sky News that they fully support and admire the protestors. "If you feel strongly enough about something and there's an injustice there you can speak out and try to get something changed," Bonham Carter told Sky News. "It's the perfect response to our film. This is exactly what our characters would do."
Mulligan added that she "would like to be as brave." "For these women to do that tonight, I think that's awesome."
Sarah Kwei, a protestor at the premiere, explained the motivation to demonstrate at the premiere in an Oct. 8 article for The Independent. 

"We wanted to use the publicity of the night to remind the world that the fight is far from over," she wrote. "We [organize] in the spirit of the Suffragettes themselves and feel certain that had they been alive today, they would have been down there with us. These were their tactics, and we feel proud and humble to be carrying the flame in the continued fight for liberation." 
The suffragettes definitely would have been proud. Well done, ladies. 
PHOTO GALLERY
Shocking Domestic Violence Statistics
REAL LIFE. REAL NEWS. REAL VOICES.
Help us tell more of the stories that matter from voices that too often remain unheard.