Have you ever fallen asleep watching TV, inviting the characters on screen to slip seamlessly into your dreams? Looking at a Nancy Davidson sculpture feels like nodding off during a rerun of "The Smurfs," only to get simultaneously bombarded and seduced by Mama Smurf's whopping ass, floating untethered through space like a beach ball in a G-string.
Davidson creates massive inflatable sculptures that resemble an unbridled body, ballooned and bulging. Combining pop culture kitsch with a feminist spirit and carnivalesque sense of humor, the artist specializes in a visceral language of bellies, bumps and lovely lady lumps, harnessing the bodily force of the human form in a minimalist range of colors and shapes.
In her show "Ridin' High," at Lord Ludd in Philadelphia, Davidson invites her biomorphic forms to bump and grind above viewers, at once drawing us closer, turning us on, and freaking us out. Many of the sculptures begin with a weather balloon that the artist blows up with a nozzle. Then she goes to work, squeezing and binding and smushing the round orbs into various bodacious configurations.
For example, "Blue Moon" (below) resembles a belly and butt bursting from a corset trying desperately to restrain them, while another recalls fishnet stockings winding their way up impossibly long legs. Through abstraction, Davidson creates images so physical you may find yourself needing to swallow, as sometimes perusing erotic materials makes one forget to breathe.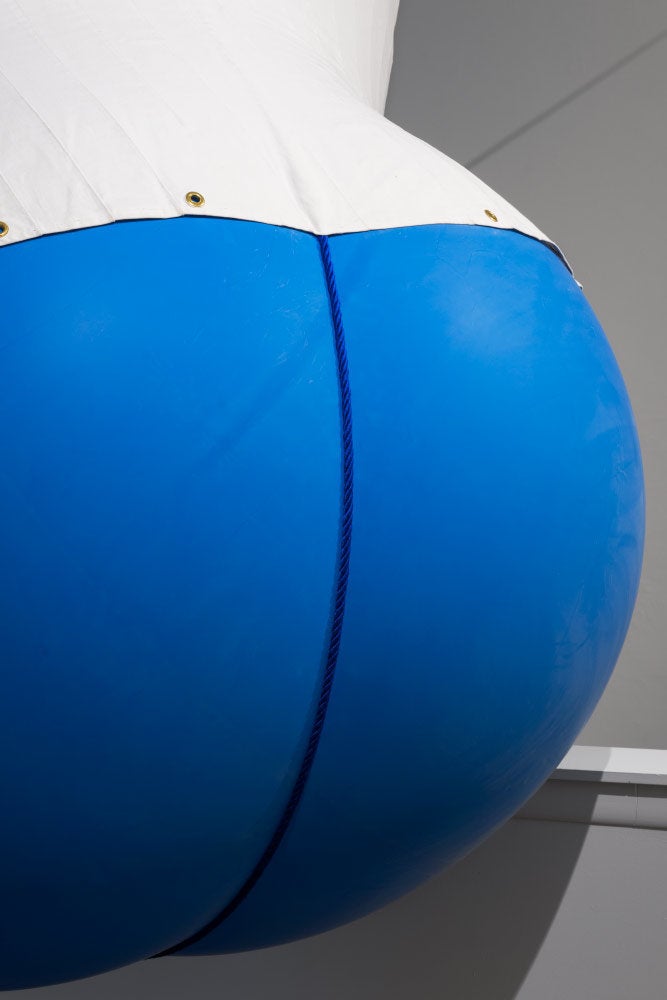 "Everybody has a different creation story," Davidson said in an interview with The Huffington Post. "For me, I always knew I wanted to be an artist."
Born in Chicago in 1943, Davidson was interested in art since the age of 5. Growing up, she would venture outside the city limits with her father, whom she described as a "Sunday painter," to watch as he replicated the landscape with pigment. She attended classes at Chicago's Junior Art Institute, where she enjoyed working with clay, struck by the intensity of touching the material.
In 1961, when Davidson became pregnant, she temporarily placed her art school dreams on hold to get married, work as a teacher and raise her son. In 1970 she returned to the Art Institute of Chicago to get her bachelor's degree in art, and a master's right after. During that time, feminist icons like Joyce Kozloff, Barbara Kruger and Judy Rifka served as visiting artists, tempting Davidson and her fellow students with tales of the New York art world.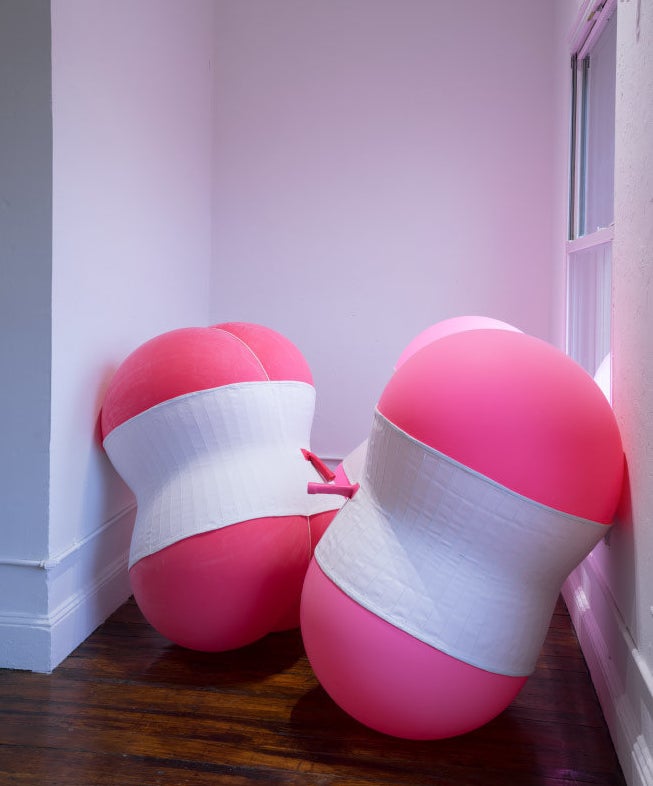 Davidson was most enchanted with the work of artist Eva Hesse. "Her materials were taking on meaning for her as a woman," she explained. "She held this personal relationship to the materiality of the work, while operating in this conceptual, minimalist language." Working in latex, fiberglass, and plastics, Hesse replaced the rigid geometry of male-dominated minimalism with soft edges and imperfect forms that alluded to nature and the unrefined body.
"The other thing that was so interesting to me was the whole idea of absurdity," Davidson added. "That, I feel like, was something I understood as a woman." Absurdity runs thick throughout Davidson's work, from her sculptures' honking dimensions to their slick, plastic exteriors. The works themselves allude to the absurd demands placed on the contemporary body, always bigger, rounder, sleeker, shinier, smoother, blown up here and pinched back there to create a shape that, despite its random configuration, comes off as desirable.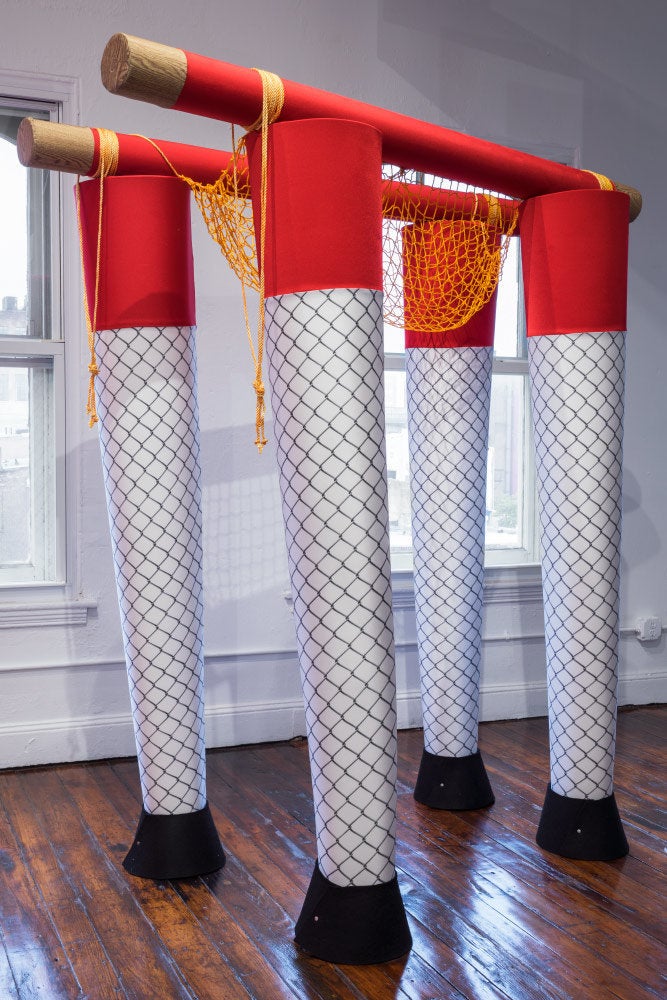 Davidson came to inflatables after doing paper-based works, which explored abstract symbols of female power used in tribal civilizations and rituals. "The work didn't give back," Davidson said. "I wanted my work to reflect my own sense of humor. I wanted it to move off the wall, to step into the space. I wanted to work with popular culture, tropes that broader audiences could really step toward."
She found her inspiration in a variety of pop culture icons known for their bodily excess. Like Elvis Presley, the muse behind "Blue Moon," who had to wear a corset to hold his belly in during a run of Las Vegas shows. Or Mae West, who similarly, as a pop culture spectacle, was forced to maintain her constructed personality and physical shape in tandem. In an essay, Andria Hickey compares the buxom works to Kim Kardashian's rear end, oiled up and trying its best to break the Internet.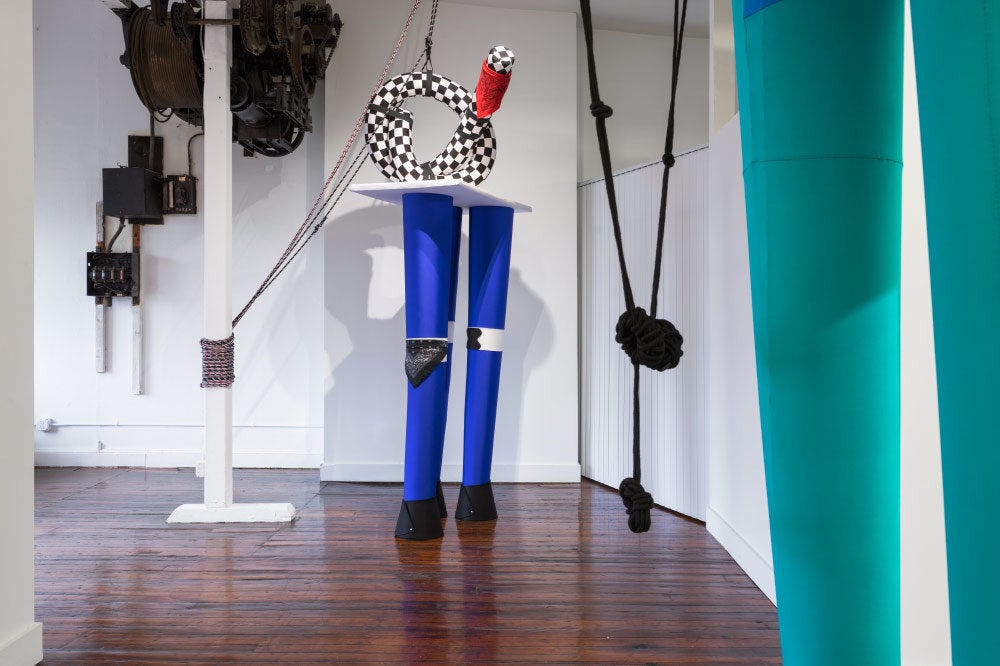 And then came the idea for her fleshy material itself: the balloon. "Who knows how the mind works and how I thought of using a weather balloon!" Davidson exclaimed.
She knew she wanted to work big, but light, and with a material she could handle with her own bare hands. So she ordered a balloon from the yellow pages and got busy, cutting off its circulation to create jarring juxtapositions of restraint and excess. The power dynamics loom largely over Davidson's inflatable playground, with her forms so intensely conducted and controlled. There's almost a whiff of S&M, as if the candy-colored structures at Chuck E. Cheese were remodeled for a sex dungeon.
"All balloons, when you blow them up, are round," Davidson said. "Any shape I make them into has to be engineered. I have to figure out how to make a structure to fit it in, so they do what I want them to do. I really enjoyed manipulating the balloons. I enjoyed squeezing them and making them feel a little uncomfortable."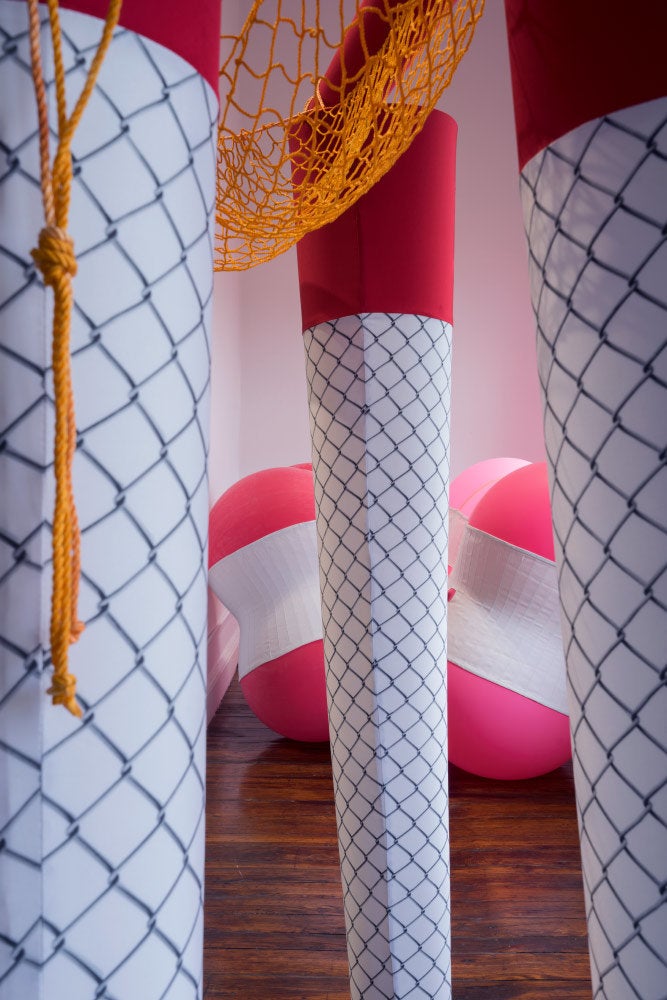 "They're funny, in a very bodily way," Davidson concluded. There's no real punchline, it's just that bodies themselves, so often kept in line and covered up, are dirty jokes in and of themselves. Aside from evoking laughs, bodies, especially bigger bodies, are often the objects of critique. The buxom forms, like the stars of "The Real Housewives of Toy Story," spark conversation on the spectacle and politics all bodies unwittingly encompass -- which are too big, too small, which are worshipped, which are criticized, and how our cultural prejudices and stereotypes govern these ideals.
In "Ridin' High," Davidson combines older works from the 1990s with newer sculptures, arranged like chaperones and amped up adolescents at a school dance. Coquettish lumps in corsets hover in one corner, as if immersed in delicious gossip. The newer works, soaring 11 feet into the air, resemble the raised platforms used to carry royalty through carnival processions. The platforms are supported by humongous legs, the kinds of 11-foot gams that elicit quite the "hubba hubba."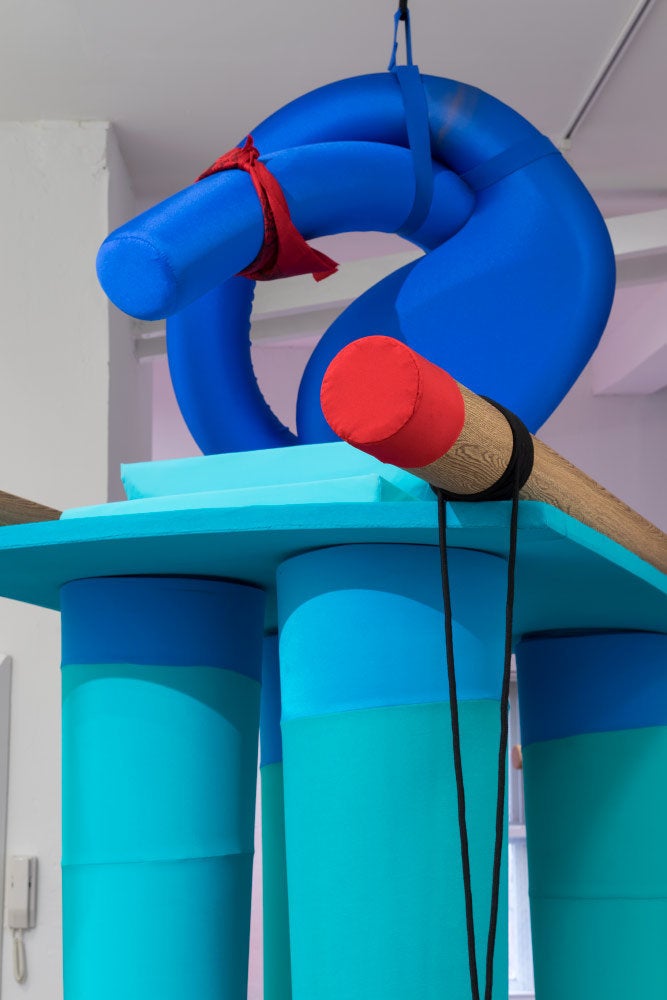 The exhibition both celebrates and criticizes our topsy turvy world where enlarging certain body parts goes in and out of style. "It started with breasts and then it was bulbous lips," Davidson said. "Remember when people put all sorts of stuff into their lips? It looked like they had had assholes on their faces!"
The absurdity and the artificiality is both hyperbolized and exalted in Davidson's seductive forms. What she achieves, through a striking mix of playfulness, humor, carnality and restraint, evokes the essence of bodily oomph that gets the blood pumping.
Nancy Davidson's "Ridin' High" was recently on view at Lord Ludd in Philadelphia.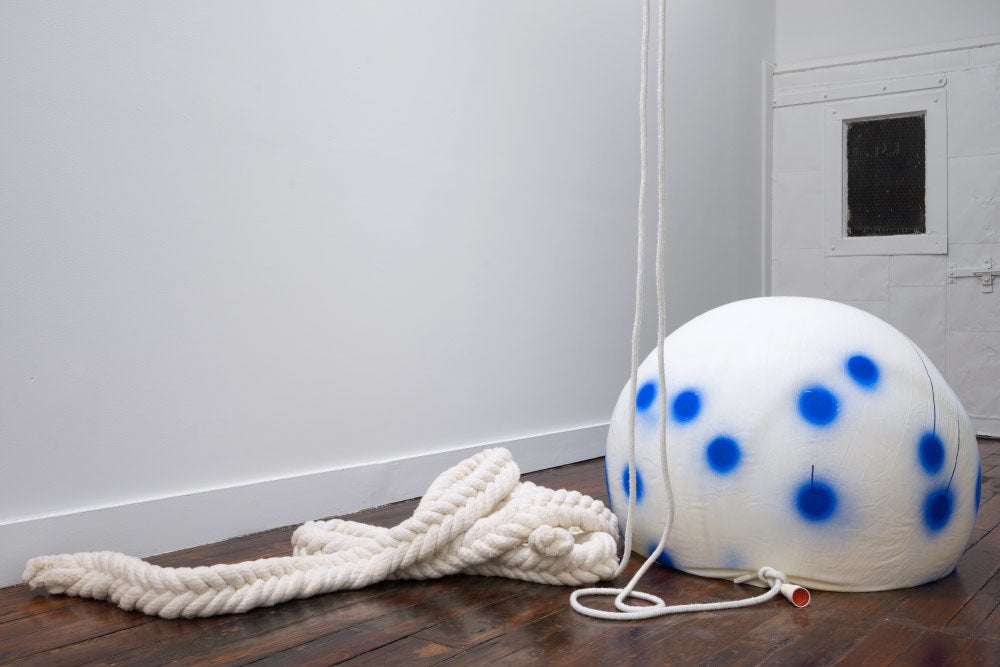 Before You Go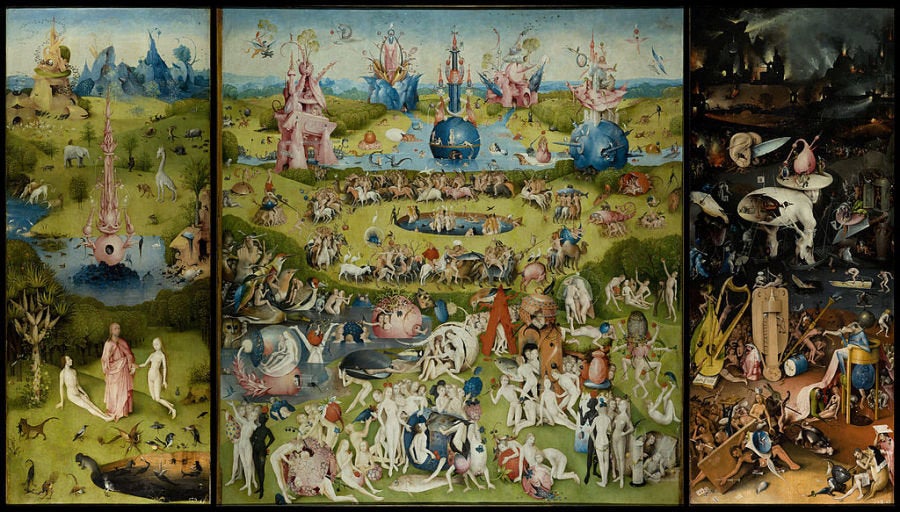 30 Artist Names You Are Probably Pronouncing Wrong
Popular in the Community