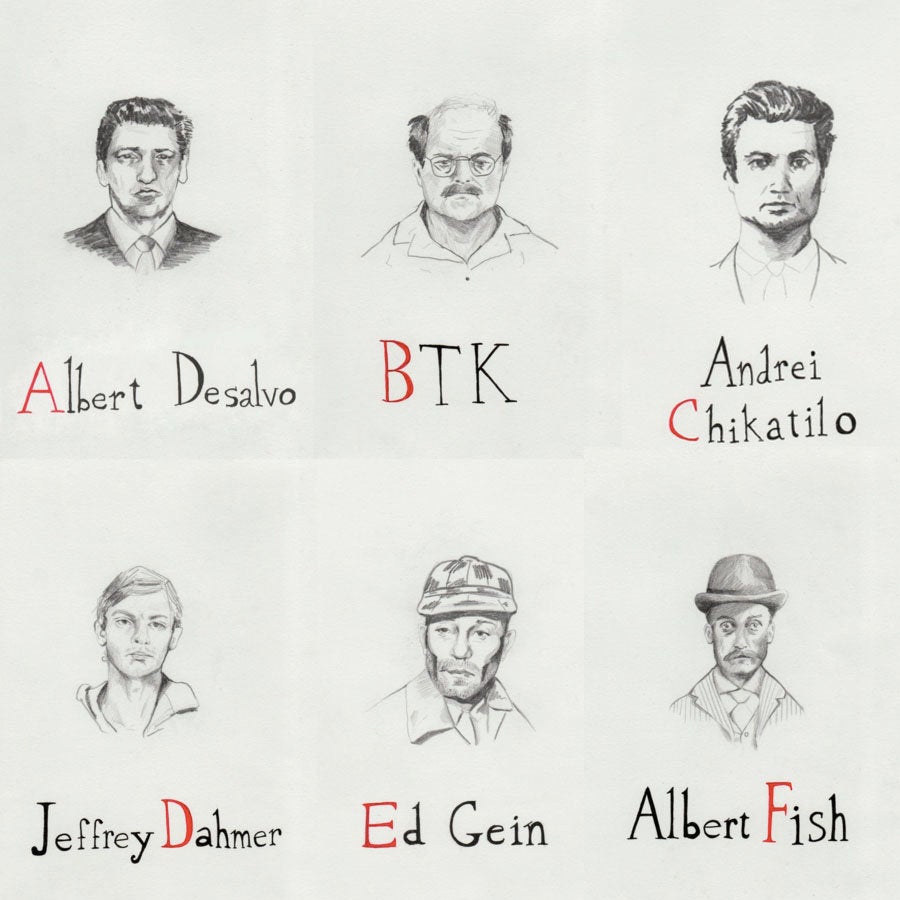 A is for Albert DeSalvo, also known as the "Boston Strangler." He killed 13 women in the Boston Area. B is for BTK, or "Bind, Torture, Kill," as he was known. He, well, you can probably infer. C is for Andrei Chikatilo, the "Butcher of Rostov," or the "Red Ripper," who confessed to 56 murders of women and children. 
Welcome to the "Alphabet of Serial Killers," where each new letter introduces you to a new gripping tale of violence and and horror. Prepare to fall into 26 terrifying Wikipedia holes and never sleep again.
Your dreams will be haunted courtesy of New York-based artist Maggie Dunlap, who renders her selected killers with soft intensity. The simple pencil drawings, eerie in their cleanliness, seem almost as if pulled from a diary recalling crushes, acquaintances and lost friends. "I really like playing around with hard and soft, pretty and ugly," Dunlap explained to The Huffington Post. "I think the most powerful emotion is the one that teeters on the edge of repulsion and intrigue."
"Last year in my drawing class at school, we were given the assignment to create any sort of alphabet we wanted," the artist continued. "Sadly, there is an abundance of serial killers -- definitely more than 26. I've always had immense curiosity in murders and true crime, and spend countless hours listening to podcasts and documentaries on the topic while I work. It was only a matter of time before they made their way into my art."
Excluding her Serial Killer phase, the majority of Dunlap's work combines traditional feminine crafts with radical feminist politics. She illustrates the "Ask a Porn Star" segment of sexuality and relationship site Slutever's blog and created blood-spattered illustrations for Angela Carter's The Bloody Chamber. Her embroideries are adorned with handcuffs, her weavings intertwined with chains and hair. Much of her work feels like a no-boys-allowed sleepover party that's taken a sinister turn.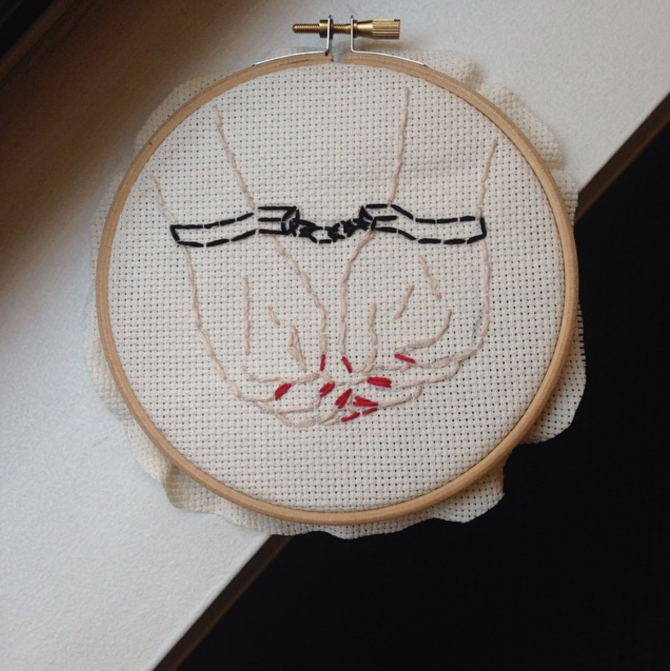 Bondage gear and bloody panties are one thing, but delving into the sick minds of history's most notorious violent criminals is quite another. Dunlap is very aware of the complex factors that contribute to such grisly compulsions. "My morbid obsessions have definitely been something that I've had to reconcile and unpack in regards to being a feminist," she said. "Both have been an integral part of my work and life for as long as I can remember."
"Obviously, my fascination with crime and killers does not equal any sort admiration," Dunlap continued. "Western society is so obsessed by death and simultaneously removed from it. Stories of serial killers appeal to people's dark curiosity, it is human nature. If it wasn't so prevalent, then there wouldn't be a million shows on TV like 'Dateline' or 'SVU' or 'CSI.' It feels like we're accessing a sort of danger that is disconnected enough from our daily lives -- like watching a horror movie. Except these villains are real, making their stories all the more terrifying."
Dunlap is far from the first artist whose work scrutinized the darkest of criminal minds. Mike Kelley's "Pay for Your Pleasure" comes to mind; the 1988 installation takes the shape of a narrow hallway made of rainbow panels, each depicting a renowned thinker with a quote relating art to crime. (Piet Mondrian's line, "I think the destructive element is too much neglected in art," is one.) At the end of the hall sits a work of art made by a vicious criminal; in one case, serial killer clown John Wayne Gacy.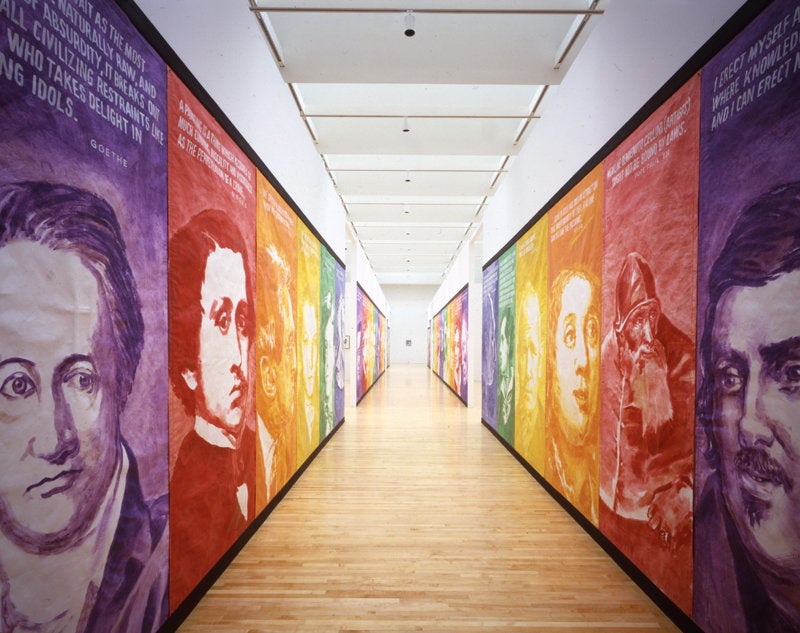 The stomach-turning piece ridicules the romantic notion of art as a soul-cleansing method of self-expression. "Almost laughably, art in the prison context is promoted as useful sublimation -- as 'therapy,'" Kelley wrote. Rather, Kelley sees the roles of criminal and artist as closely connected -- both explore the darkest aspects of human nature and invite an audience to take a peek. In Kelley's words: "We are not interested in Gacy's brushwork or images, we are interested in the man behind them, the person capable of incredible atrocities. The paintings allow us to stare safely at the forbidden."
Another artist in this vein is painter Joe Coleman, who has, like Dunlap, created portraits of Ed Gein and Charles Manson. The hyper-detailed portraits, made with a one-hair brush, delve into the dirty details that shaped Coleman's subjects into the monstrous icons they've become.
For Coleman, these grim figures play a crucial role in contemporary society; they're figures of morbid fascination, both repulsive and magnetic. "I'm not trying to free anyone or lessen the atrocity," Coleman said in an interview with The Huffington Post. "What I'm trying to do is exorcise the pain and the horror and the suffering." Although the victims of violence suffer, the perpetrators, Coleman stresses, clearly face demons as well. His work investigates and hopes to alleviate their pain. 
For Dunlap, as a young woman, there is an additional layer of fraught intrigue. "I was talking to a friend, Alissa Bennet, recently," Dunlap said, "and she said she believes women are especially drawn to serial killers, mysterious deaths, gore, etc. because it's the only place that we are able to access violence, through this kind of remote channel where it's disconnected from our bodies."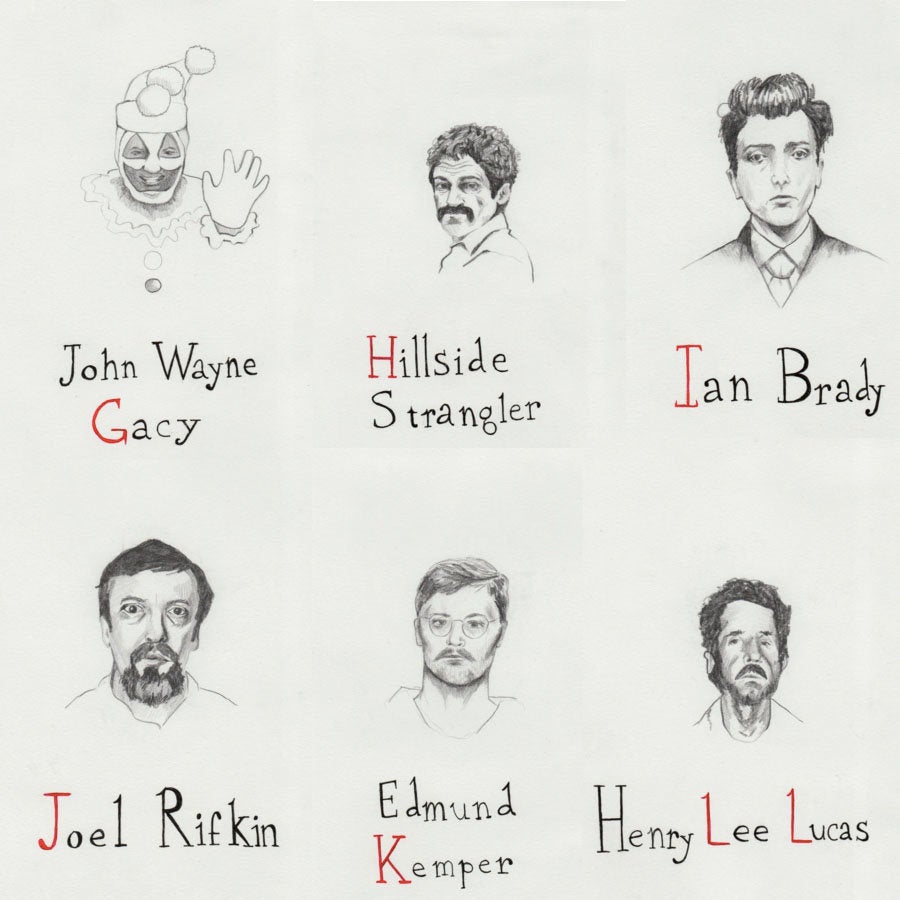 In fact, for women, who have all either experienced or feared being victims, targets, and prey, violence becomes deeply imprinted on the female psyche. "Being a woman can be (and, unfortunately, usually is) a violent experience," explained Dunlap. "From daily aggressions like catcalling and other systematic oppressions, to the fact that physical and sexual violence is something always right around the corner, looming on the horizon. Girlhood is inextricably linked with violence, and it makes perfect sense to me that many women are bloodthirsty themselves."
And yet, although women may be the ones glued to their televisions, fascinated by the horror unfurling onscreen, they are rarely the ones committing the acts themselves. "When you see them all together, you start to connect the dots -- many of them were white, privileged and male," said Dunlap. 
Dunlap's pencil drawings are simple, unembellished, almost sweet. There are no weapons, no blood -- if you weren't familiar with the legendary names, you may not find their faces quite so menacing. But type their names into your search bar and stories of mangled bodies and lost lives invade the imagination. The violence that's omitted from the page proliferates wildly in the mind.
"You can't draw serial killers without imagining their crimes and the destruction left in their wake," Dunlap explains. "In the same way you can't represent things like bones, teeth, hair, and even BDSM paraphernalia (as I often do in my art) without thinking about their connection to the human body. These are universal themes that everyone can relate to, because we all have bodies with an expiration date, and we all interested in the macabre to some extent."
PHOTO GALLERY
30 Artist Names You Are Probably Pronouncing Wrong
REAL LIFE. REAL NEWS. REAL VOICES.
Help us tell more of the stories that matter from voices that too often remain unheard.