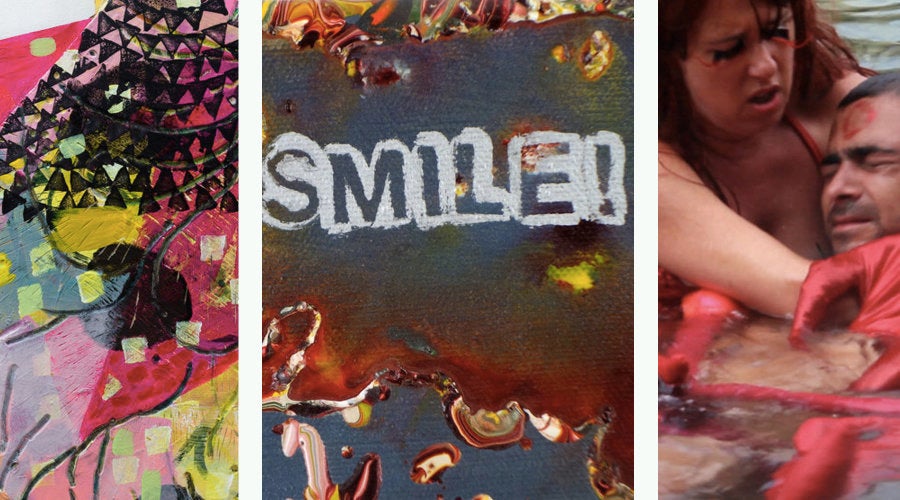 The night was March 15, 2016. Hillary Clinton had just swept the primaries in Florida, North Carolina and Ohio, thus moving one step closer to becoming the next president of the United States of America; you know, the leader of the most powerful nation in the world.
And yet, despite the epic night in Clinton's campaign, the main takeaway was: smile. 
Joe Scarborough's casually misogynist tweet was not shocking or unusual, but just another unsolicited quip expressing what most women already know, that they're first and foremost recognized as pretty faces -- even when they're about to govern the free world. 
When curator Jenny Mushkin Goldman caught word of the incident, her first reaction was immediate disbelief. "That that degree of disrespect would be leveled toward, hopefully, our future president -- it makes me angry," she told The Huffington Post. "A man would never be asked to react that way."
The patronizing nonsense Clinton was forced to endure on the day of her win is something many women face on their daily commutes. "I've lived in Manhattan for 15 years," Mushkin Goldman said, laughing with exasperation. "Just walking down the street, it's so commonplace to hear catcalls like that. You're going about your business, thinking about your day, and suddenly a man you do not know calls out at you to smile."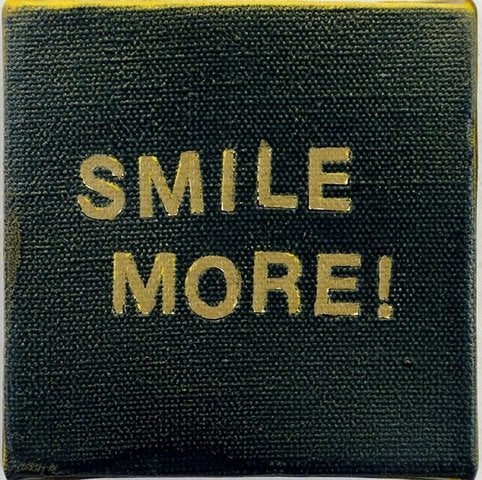 The catcall is insidious, in part, because it can be well-intentioned -- meant to be playful or complimentary. "They don't realize how condescending it is," Mushkin Goldman said. "I'm not trying to blame individuals; it's a societal problem. What's underneath the statement is the idea a woman exists to perform, to entertain -- for a man."
So, as a grand middle finger to Scarborough, Brit Hume, that annoying dude on your walk home, and every man who ever felt the need to comment on a woman's demeanor or decorum, Mushkin Goldman organized an art show. It's called, appropriately enough, "Smile!" The all-woman group show features feminist artists united by their valiant gumption, a refusal to create or perform -- or, yes, smile nicely -- for anyone other than themselves.
As Mushkin Goldman put it: "My reaction to all of this is: 'Yeah, I'll smile, but, buddy, this is not for you. I smile because I want to smile, because I'm happy with myself.'"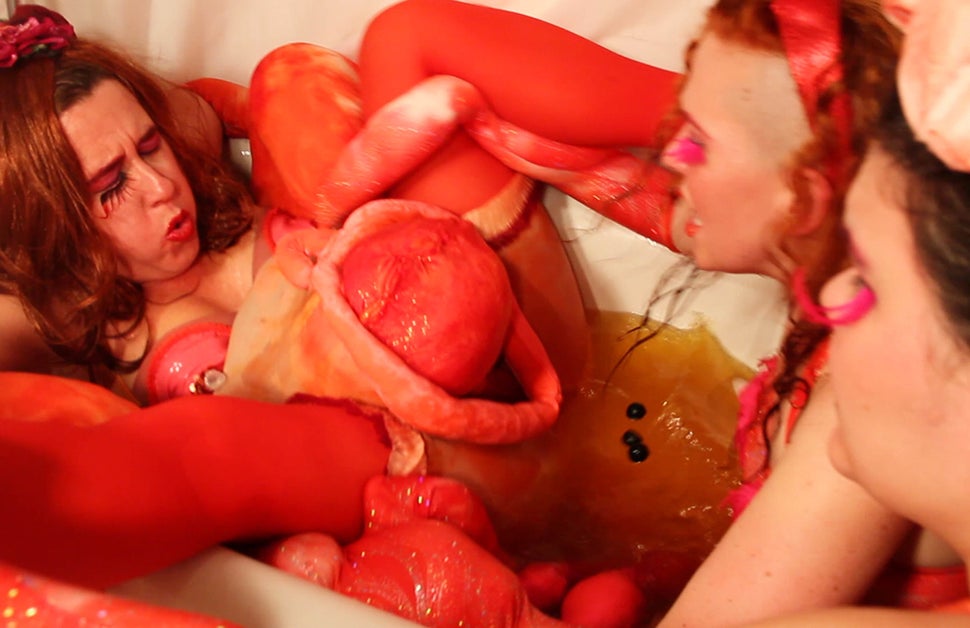 The exhibit will soon take over New York's Shin Gallery thanks to the enthusiasm of owner Hong Gyu Shin. "He wanted to do an all-female show," Mushkin Goldman said, "when I told him this idea he was immediately on board." 
"Smile!" features six artists who care too much about their work to give a f**k about what you think. One such artist is Rebecca Goyette, who always appears to be having more fun than anyone else. Goyette is known for her feminist brand of absurd pornos, in which traditional tropes and gender roles are eschewed in favor of delicious weirdness, and in this case, lots of lobsters. 
In her short NSFW film "Lobstapus/Lobstapussy," Goyette takes over an uninhibited Greek island as a hybrid human-lobster sex goddess, where she proceeds to make sweet, strange love to her crew of barnacle boys and girls. "She's taking the traditional notion of female sexuality and turning it on its head," Mushkin Goldman said. "Goyette is putting a woman in charge, following her own desires, having a sexual adventure without shame."
Goyette brazenly embodies the spirit of sex positivity that runs throughout the show, a frame of mind pioneered over 40 years ago by fellow "Smile!" artist Betty Tompkins. Tompkins is most well known for her "Fuck Paintings," massive black-and-white reproductions of porn clippings zoomed in on the naughty parts, which she's been creating since the 1970s.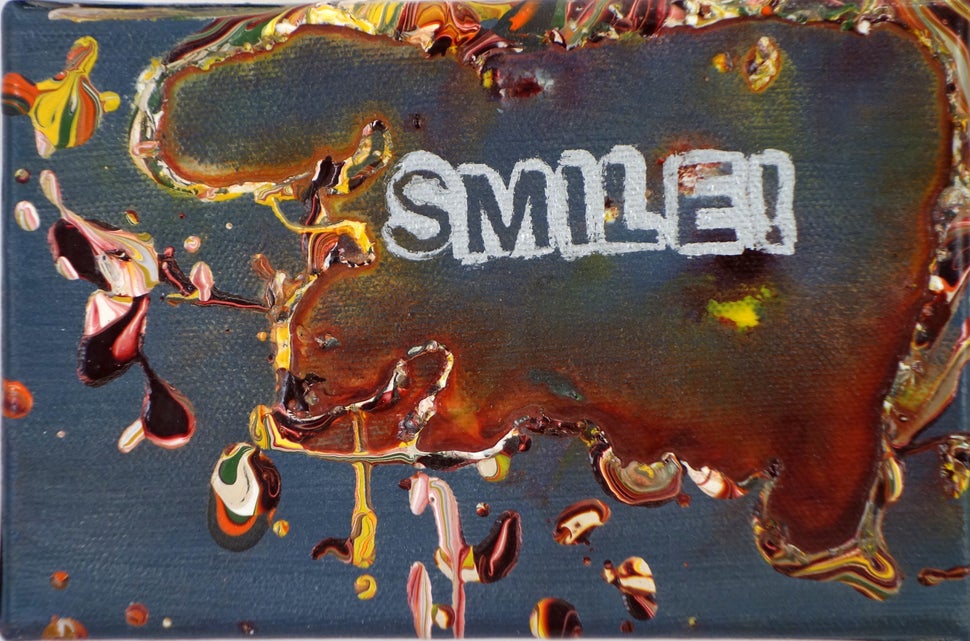 For "Smile!" Tompkins contributed a series of "Word Paintings," each image featuring crowdsourced words all too often used to describe women. Beginning in 2002, Tompkins invited women to participate in her project creating "images of women comprised of words." Some of the final products include "c**t," "honey," "c**ksucker," "slot," "slut," "basket case," "hot tomato" and "amateur Latina p***y."
Another iconic feminist artist, Deborah Kass, brings text-centric work to the show with her piece "C'Mon Get Happy," quoting the 1970s "Partridge Family" theme song. The image combines cheery nostalgia with the more serious undertones of promises unfulfilled. "There's this sense of darkness, a commentary about the failed promises of the 1950s," Mushkin Goldman said. "These beliefs that women can have it all, be super powerful business people and also wonder moms, that never came to be." 
Two artists, Emily Noelle Lambert and Emily Weiskopf, channel a similar force of energy. Mushkin Goldman describes Lambert's art as an abstract response to Kass' image, a sort of "jubilant punch in the sky." Weiskopf's "My Mona" is her take on Mona Lisa's smile, transforming the iconic, coy grin into a geometric landscape of pink, red and fuchsia, the softness of the fleshy hues met with the cool harshness of straight parallel lines. 

One of the darker works in the show is a piece by Hyon Gyon, made specifically for the exhibition. "It is, in a sense, an altar. Basically the pedestal men put women on," the curator explained. The throne has distinct tiers for first, second and third place, and comes complete with a set of chains, communicating the tension of being simultaneously elevated and restricted, placed on a pedestal with no ostensible mode of escape. 
However even Hyon Gyon's work uses humor as a primarily vehicle for dissent and liberation. "I come from a Jewish background -- so humor is essential to survival," Mushkin Goldman said. "We remain strong and positive through humor. It is crucial to remaining strong in the face of adversity."
"Smile!" curated by Jenny Mushkin Goldman, opens May 4 at Shin Gallery in New York.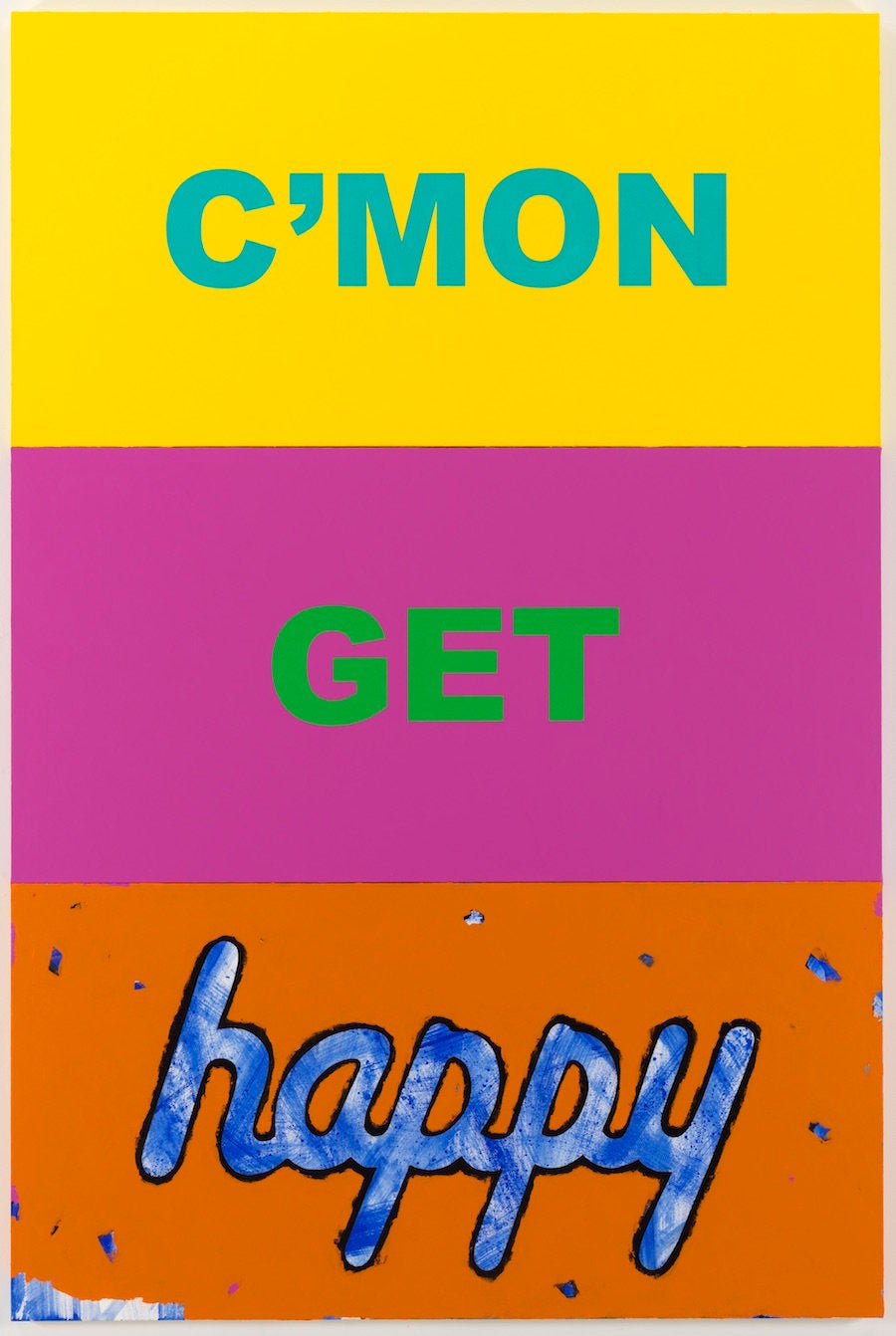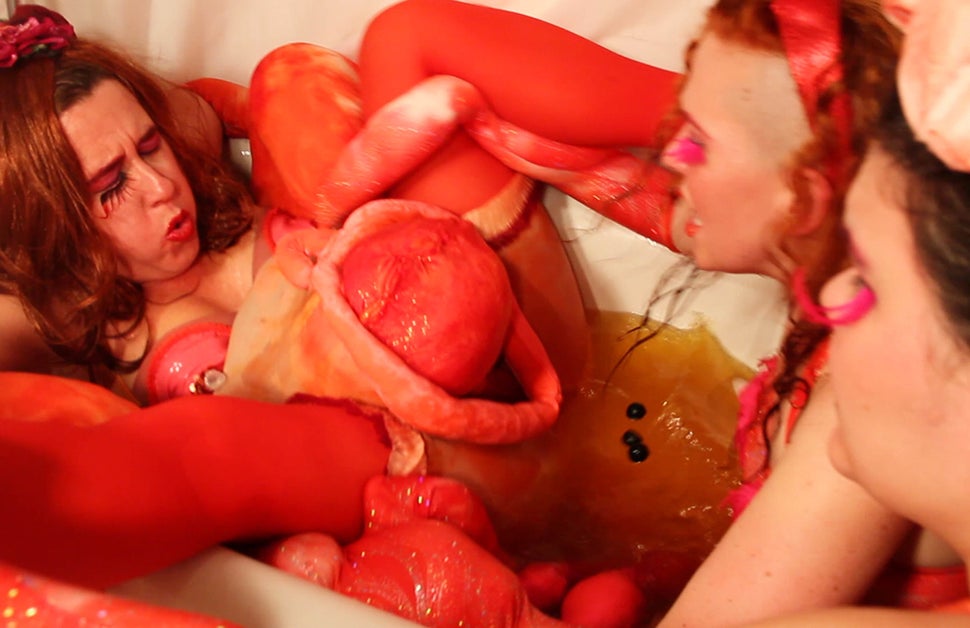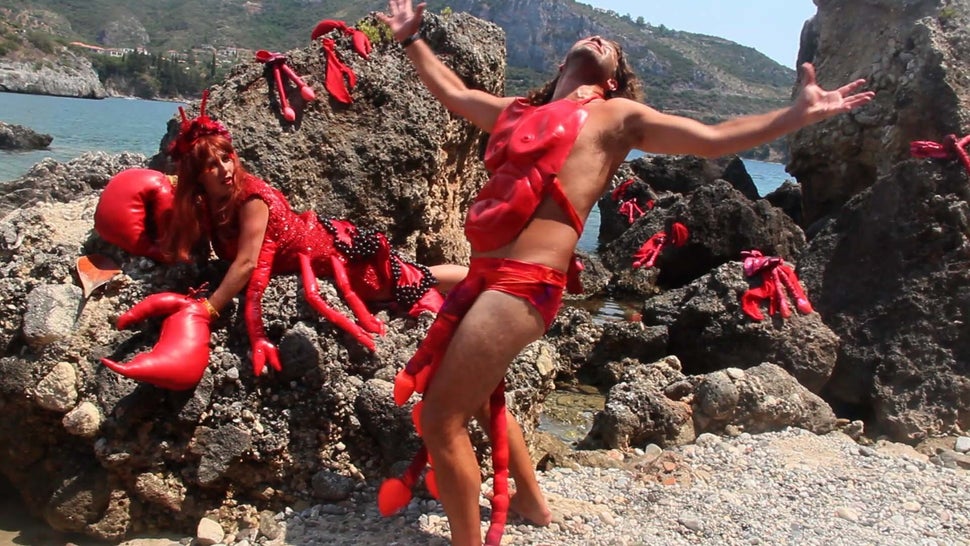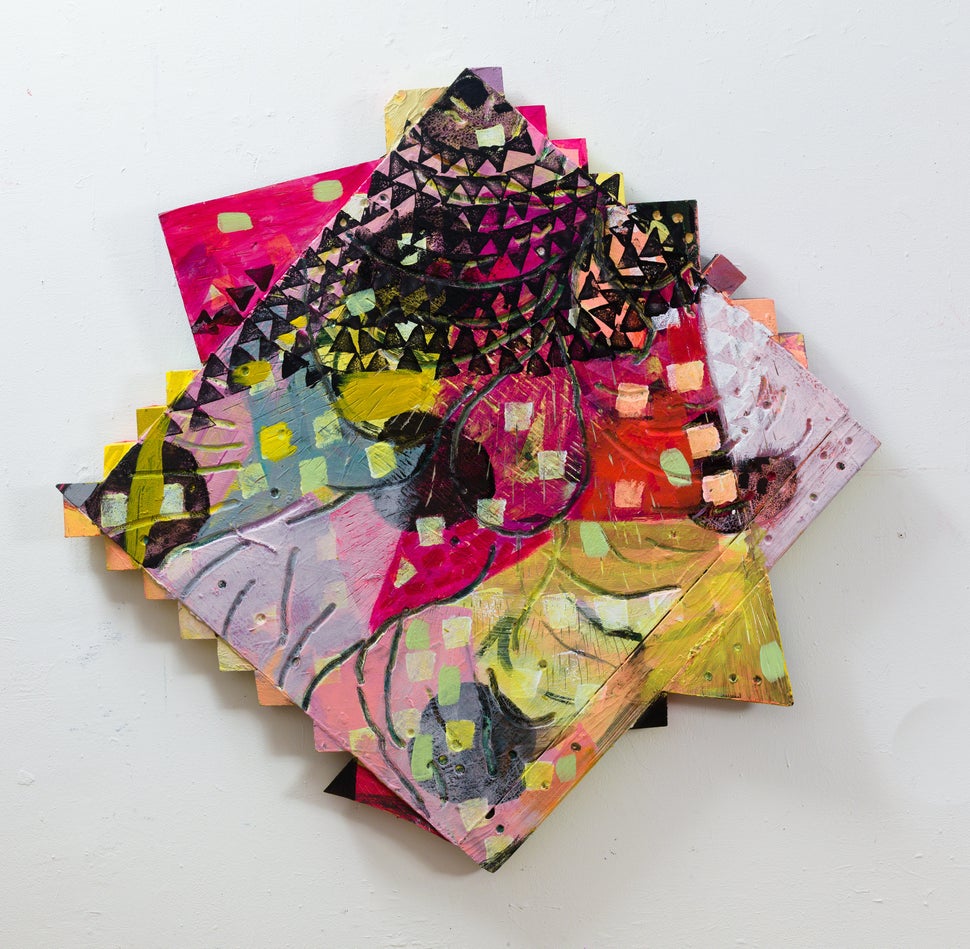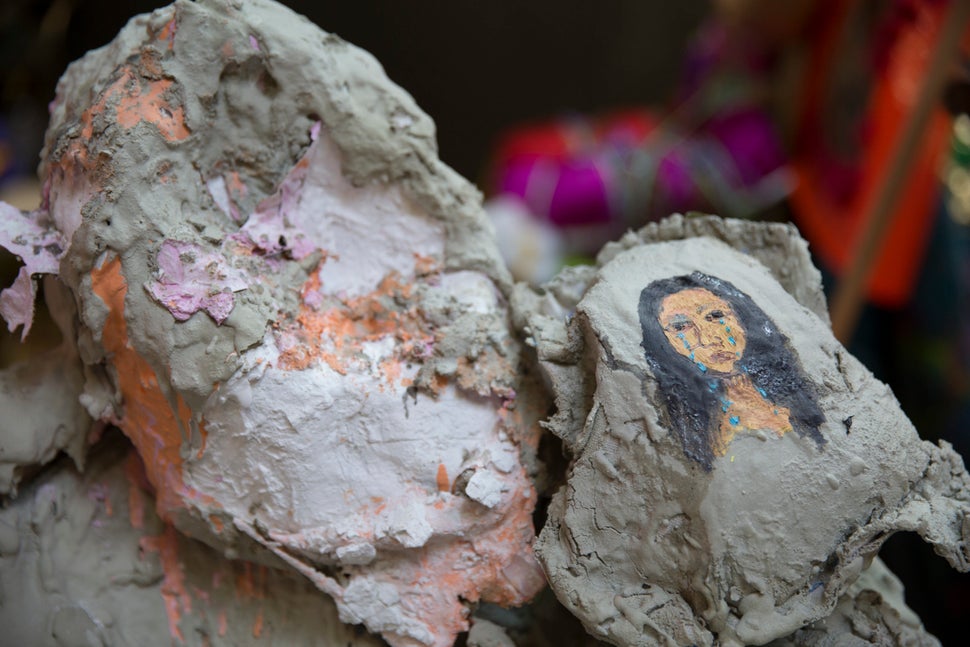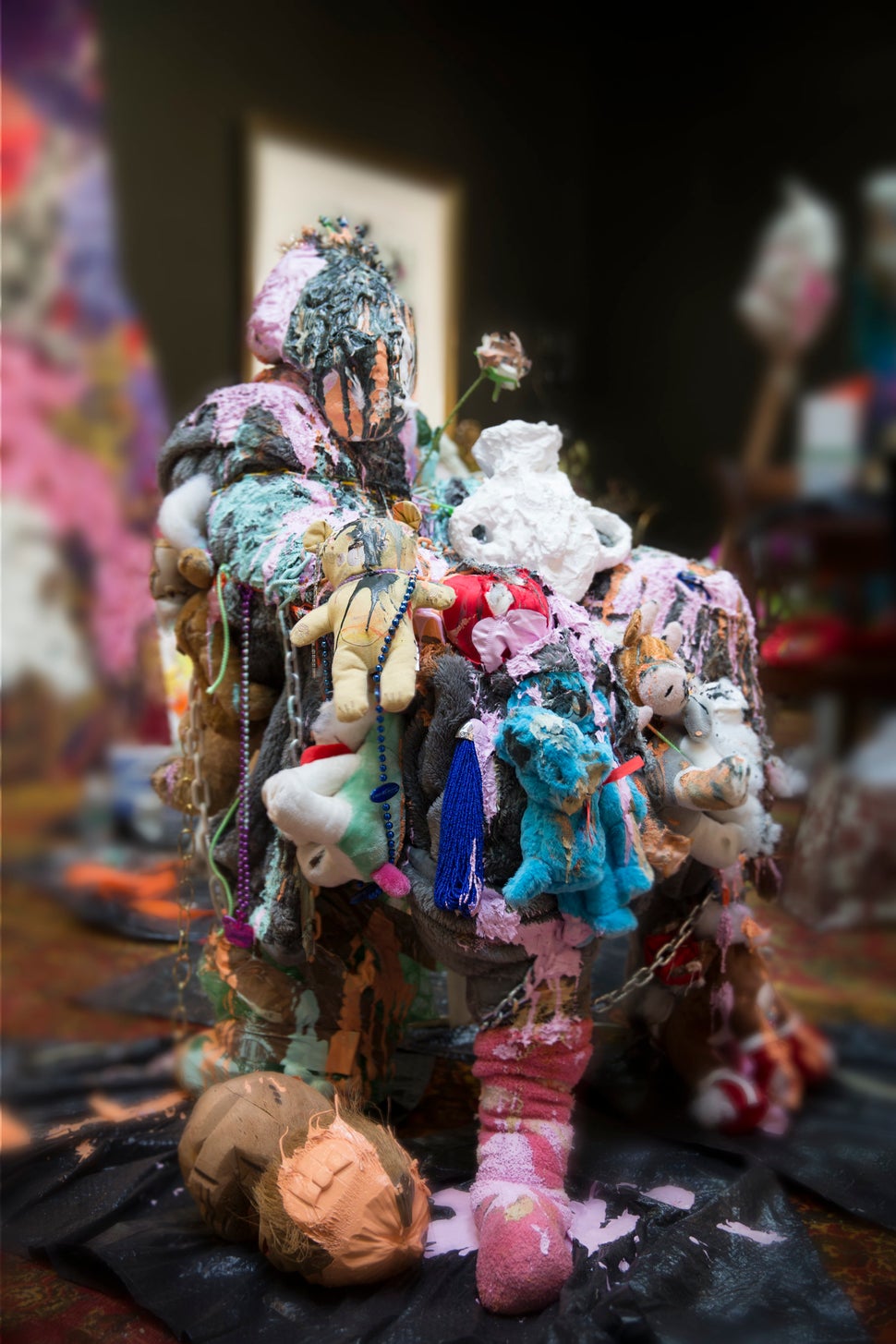 Calling all HuffPost superfans!
Sign up for membership to become a founding member and help shape HuffPost's next chapter
BEFORE YOU GO
PHOTO GALLERY
Super Natural Women Artists