Imagine it: You -- a self-professed feminist and capable member of a flawed society -- are babysitting.
After a rousing at-home screening of "Frozen," you and your young protege are assessing the film's merit. Of course, your tiny pupil's criticisms take the form, mostly, of running away from the screen in search of her Olaf toy. Yours though, are rich and full of depth: "My biggest critique of 'Frozen'? Zero people of color."
Welcome to the world of an intersectional feminist babysitter, as captured by comedians Soojeong Son and Ginny Leise -- aka SJ And Ginny -- in their new three-part video series dubbed, yes, "Feminist Babysitter."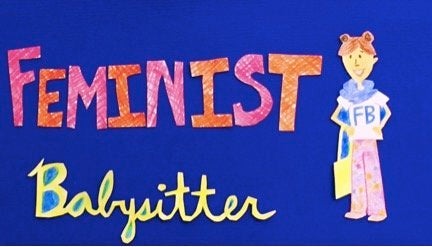 "Feminist Babysitter is here to take care of your little tike the only way she knows how -- talking nonstop about dismantling the patriarchy with fun games and songs! Don't be surprised if your tot starts quoting Lean In (or 'Truffle Butter'). Femme Babe may not be great at being appropriate. But, hey! nobody's perfect."
Throughout the series, Femme Babe, played by a delightfully small human named Ahri Son, learns about equal pay, representation in mainstream media, the division of domestic labor, and gender fluidity. You know, all the things a budding feminist should know! 
"The inspiration for Feminist Babysitter came from my part-time babysitting job, a pretty common job among comedians and artists," Ginny added. "My favorite part of the gig, aside from the flexible hours and snacks, was the opportunity to teach these kids things that they may never learn in their fancy UES [Upper East Side] private school. I relish in dropping knowledge and molding the future of America."
Watch out, Millennial parents. You never know where the next Feminist Babysitter is lurking. Chances are, she's educating your offspring on the reality of the glass ceiling right now.
PHOTO GALLERY
15 Times Famous Women Shut Down Sexist Bullshit In 2015
REAL LIFE. REAL NEWS. REAL VOICES.
Help us tell more of the stories that matter from voices that too often remain unheard.