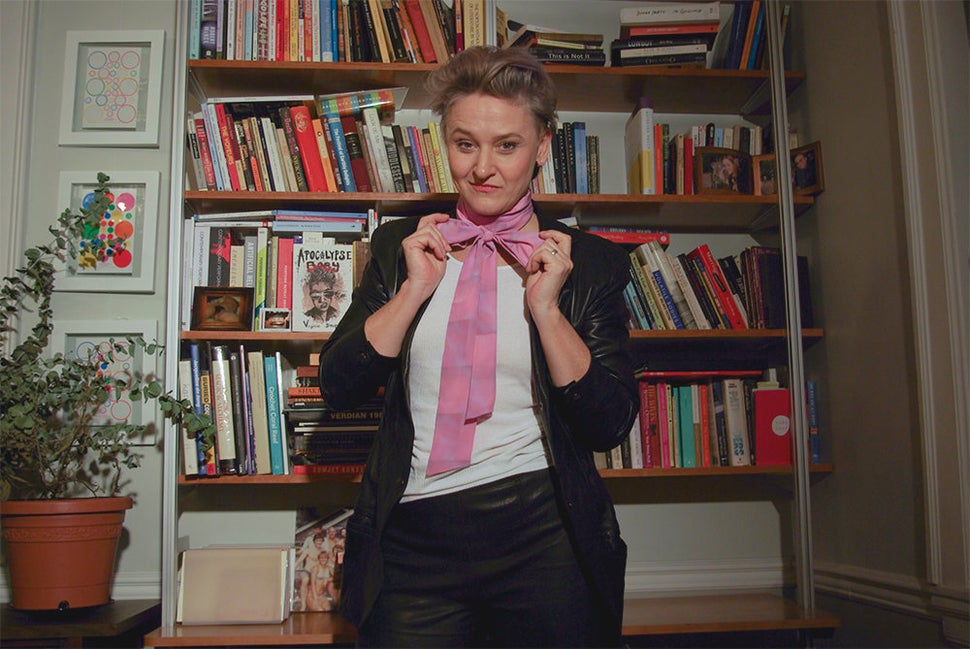 Earlier this month, Pantone announced its highly awaited choice for the official color of 2016. In an unusual turn of events, it actually announced two: Rose Quartz and Serenity, as Pantone calls them. (Also known to color plebes as pink and blue.)
The two shades, presented softly bleeding into each other like a vivid sunset, also bear a striking resemblance to something else. As artist Christen Clifford kindly observed: "The colors of 2016 are fluid and changing, like vaginas."
Clifford, of all people, has keen insight into the pigmentation of a woman's interior. She is the artist behind the "Pussy Bow," the furtive piece of office wear that allows your to surreptitiously don the insides of a vaginal cavity while presenting your latest Power Point presentation.
"I like to think that just by showing the inside on the outside, it's a bit rebellious," Clifford explained to The Huffington Post in an interview. "A feminist action disguised as a fashion accessory."
The project started after Clifford purchased a vibrator/internal camera from a Japanese sex toy website. "The device is supposed to be an internal camera/vibrator, but every time I used it I was just trying to get the shot, I felt like a photographer," she said. "It wasn't sexy time."
Clifford selected an image depicting the vaginal muscle near her cervix, with some vaginal mucus. Turns out, the interior of a vagina looks a lot like a lava lamp, or a sunset as seen from underwater. "I love the colors, how the warm fluid turns to an almost cool blue," she said. "And I think it is hilarious that Pantone released their colors of 2016 the same week."

Following her Ace performance, Clifford played around with the digital image of her vagina by printing it onto fabrics. Then she thought of the "pussy bow," and, in a lovely variation on the typical epiphany moment, burst out laughing.
For those unfamiliar with the pussy bow, it's a garment of clothing that's been around since the 1600s. You may know it by its tamer moniker, the tie-neck blouse. The item of clothing is basically a female alternative to the necktie -- a silk strip meant to be loosely tied around the neck. Originally named because of their resemblance to the ties worn around cats' necks, pussy bows have been associated with feminism since they were titled as such in the 20th century. 
As Meg Whitman, CEO of Hewlett-Packard, explained in a segment on PBS: "We used to dress in suits with a skirt and a jacket with button-down shirts and a little bow tie, because that was sort of our interpretation of the man's tie … It was our attempt to be feminine but fit into what was then a male world." 
For Clifford, she just really liked the style of the bow. "It can also be a good butch/femme look for genderqueer and or trans bodies, as it has both stereotypically masculine and feminine styles combined," she said.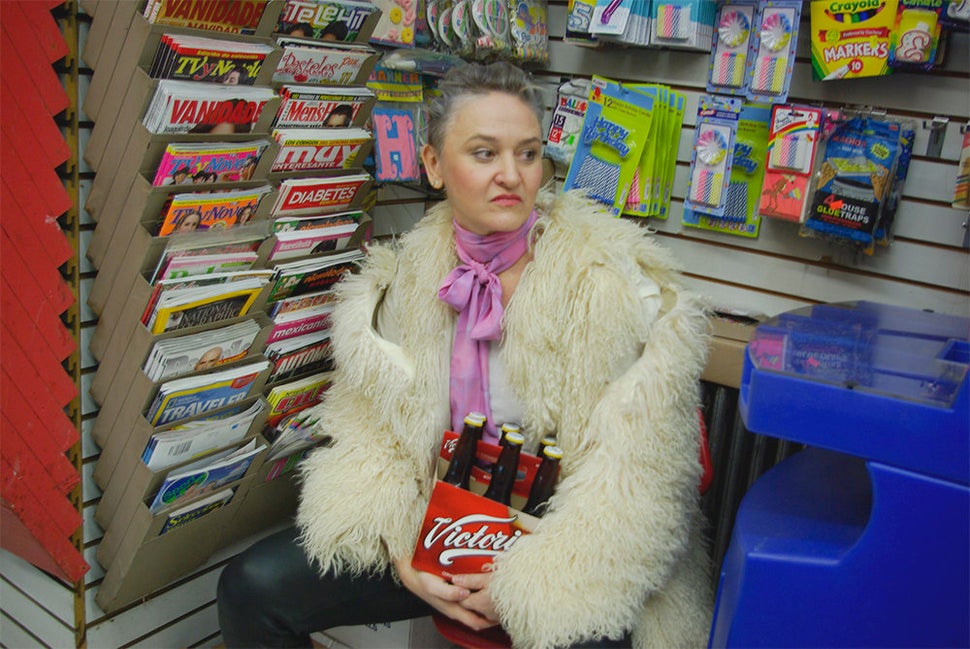 Also, the double entendre was too good to pass up. "I want to make people laugh. Laughter is healing and fun. I mean, can't it be feminist art and have a laugh at feminist art at the same time? Most people think seriousness and vaginas when they think of feminist art. Remember Julianne Moore in 'The Big Lebowski'?" 
Clifford's project, aside from looking damn good, challenges the status quo of office professionalism, which all too often serves as an indirect way of prompting employees to look as heteronormative as possible. As photographer Endia Beal, who dissects the racial and gendered implications of business casual wear in her work, put it: "It felt for me, when I was in a corporate space, that I was performing, kind of a theatrical performance."
The "pussy bow" sparks a variety of conversations regarding women in the workplace, including how Freudian symbolism can be lurking in your coat closet. "Somebody said [to me], 'I hope we don't start seeing dick pics on ties!' and the old school Freudian in me came out and I thought, 'But aren't ties already shaped like dicks?'" Clifford mused.
"Maybe I'll use the camera in another orifice and make an Asssssscot. Or a Cravag. Vagshion," she added.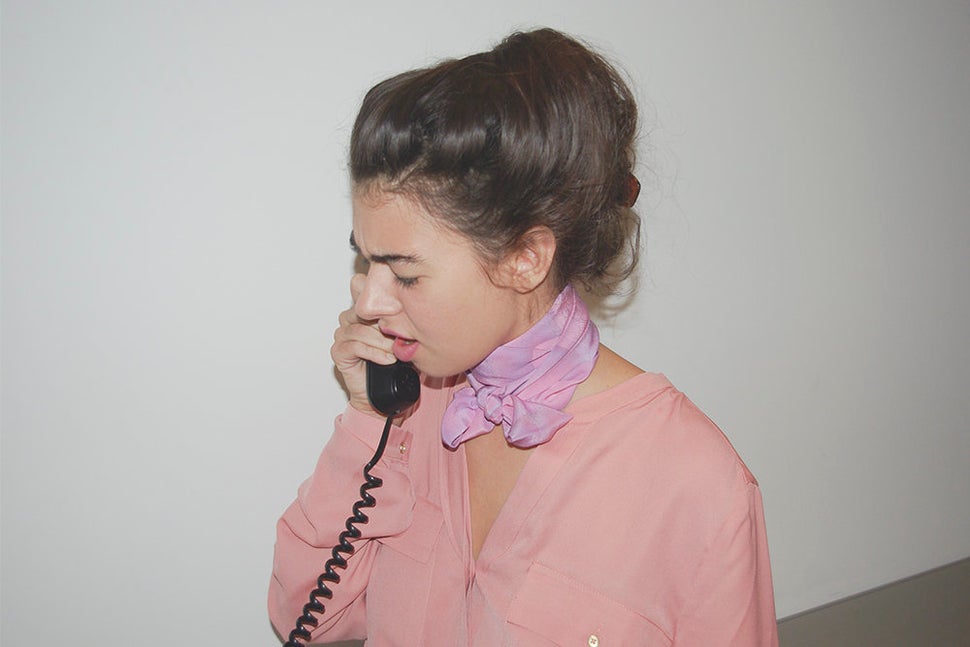 The artist also hopes her piece will encourage women to wear their own vaginas on their sleeves, or at least be more comfortable sharing related stories, triumphs and fears. "My vagina has changed a lot in 44 years," Clifford said. "I loved exploring it as a space for potential pleasure as a child. I was raped at 15 and didn't tell anyone for years and years. Later I had a lot of great sex and a lot of mediocre sex. I birthed two children through this vagina. It became a space of love and potential. And injury! Every woman has a story of her life through her relationship to/through/for/with her vagina. Every. Woman."
If you were not already smitten with Clifford's bow, she is donating 10 percent of all its proceeds -- they sell for $50 each -- to Planned Parenthood. "Reproductive rights are under attack like never before, and I am sick of going to the same protests to support Women's Health that I started going to when I was 18 years old. I'm 44! Why has this country not accepted women as individuals in society with control over their own bodies?"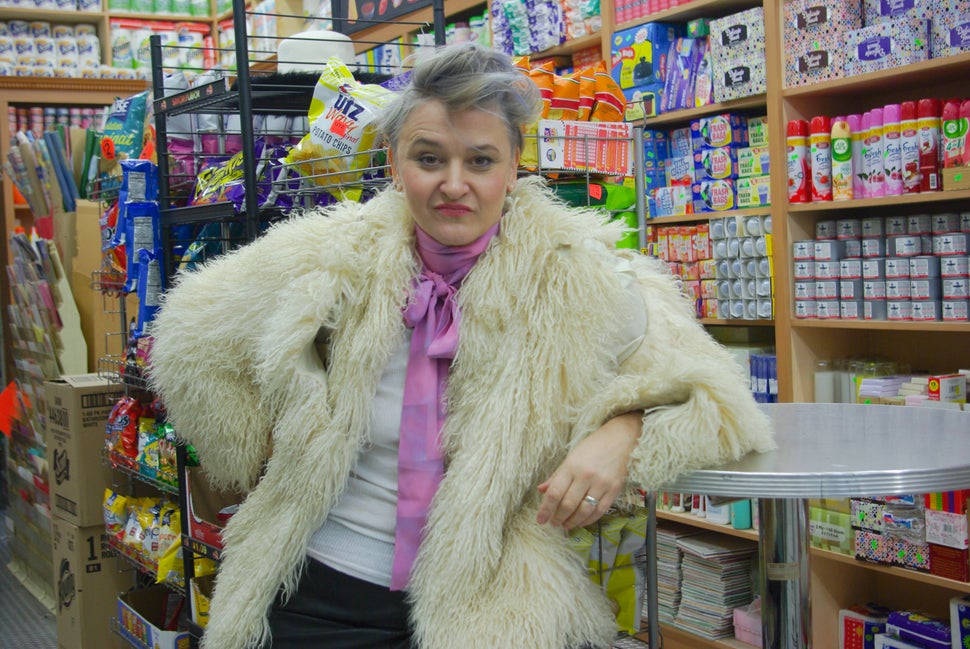 PHOTO GALLERY
Feminist Gift Guide 2015
Calling all HuffPost superfans!
Sign up for membership to become a founding member and help shape HuffPost's next chapter