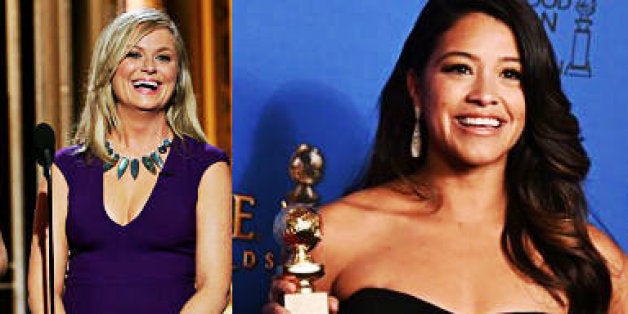 If the 2015 Golden Globes taught us anything, it's that women's stories matter -- and girls truly do rule. This year's Globes gave us one badass feminist moment after another. (We are convinced that allowing people to eat and drink at an awards show makes everything better.)
There were some less-than-ideal parts of the show (i.e. Kevin Hart calling Salma Hayek "aggressive," Jeremy Renner's creepy joke about J.Lo's breasts, the entire North Korea bit), but overall it delivered serious lady power -- after all, four out of five of the shows nominated for Best Comedy have female showrunners -- and some deeply powerful acceptance speeches.
We rounded up the 11 most feminist moments of the night:
1. Tina Fey poked fun at the props given to male actors who undergo physical transformations for roles -- and simultaneously got in a jab at bullsh*t beauty standards."It took me three hours today to prepare for my role as a human woman," she quipped.
2. Patricia Arquette gave a beautiful shout-out to single mothers and all that they do."You placed in my hands the part of Olivia, an under-appreciated single mother," she said. "Thank you for shining a light on this woman and the millions of women like her and for allowing me to honor my own mother with this beautiful character."
3. Amy Poehler and Tina Fey threw some serious shade at Bill Cosby.Our girls didn't hold back when alluding to the more than 20 women who have come forward with allegations against Cosby. When describing the plot "Into The Woods" Poehler joked, "Cinderella ran away from her prince, Rapunzel was thrown from a tower... and Sleeping Beauty just thought she was getting coffee with Bill Cosby." Fey then proceeded to impersonate Cosby, quipping: "I put the pills in the people! The people did not want the pills in them!" Zing.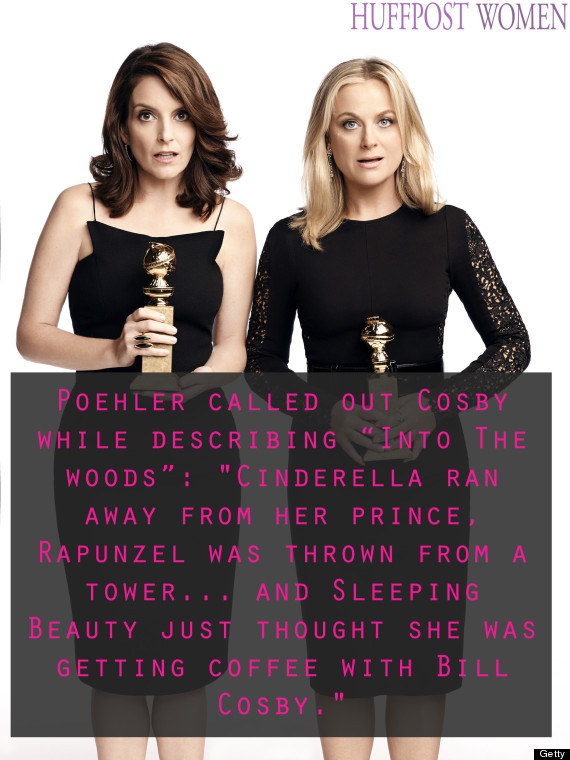 4. Joanne Froggatt used her acceptance speech to elevate the voices of rape survivors."I received a small number of letters from survivors of rape," she said. "One woman summed up the thoughts of many by saying she wasn't sure why she'd written but she just felt in some way she wanted to be heard. I'd like to say, I heard you and I hope saying this so publicly in some way means you feel the world hears you."
5. Amy Adams reminded us just how much female role models matter."It's just so wonderful that women today have such a strong voice. And I have a 4-and-a-half-year-old and I'm so grateful to have all the women in this room; you speak to her so loudly. She watches everything and she sees every thing. And I'm just so so grateful for all of you women in this room who have such a lovely, beautiful voice."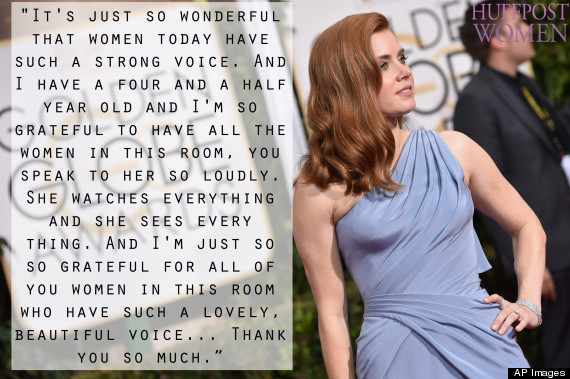 6. Gina Rodriguez made it clear why having diversity on TV matters -- specifically positive representations of the Latino community."This award is so much more than myself. It represents a culture that wants to see themselves as heroes," the "Jane the Virgin" actress said. "My father used to tell me to say every morning: 'Today is going to be a great day. I can and I will.' Well, Dad. Today is a great day. I can and I did."
7. Tina Fey pointed out just how damn impressive Amal Clooney is. (George is a total trophy husband.)Fey pointed out that Amal is a "human rights lawyer who worked on the Enron case, an advisor to Kofi Annan on Syria and was a appointed to a three-person commission investigating rules of war violations in the Gaza strip. So tonight her husband is getting a lifetime achievement award."
8. "Transparent"-creator Jill Soloway drew attention to the discrimination still faced by trans people on a daily basis. Everyone deserves to live their truth regardless of their gender identity."This award is dedicated to the memory of Leelah Alcorn and too many trans people who die too young," she said. "And it's dedicated to you, my trans parent, my moppa. You're watching at home right now. I just want to thank you for coming out because in doing so you made a break for freedom, you told your truth, you taught me how to tell my truth and make this show. And maybe we're going to be able to teach the world something about authenticity and truth and love. To love."
9. Lily Tomlin and Jane Fonda put to rest the "woman aren't funny" line once and for all."It's nice that men at last are getting the recognition they deserve for being good at comedy!," said Fonda. "We can put to rest that negative stereotype that men just aren't funny," remarked Tomlin. (We really could not be more excited about their upcoming Netflix show.)
10. Maggie Gyllenhaal broke down the idea that all great roles for women have to depict "strong" women. Complicated women FTW."I've noticed a lot of people talking about the wealth of roles for powerful women in television lately," she said when accepting her award. "And when I look around the room at the women who are here and I think about the performances that I've watched this year what I see actually are women who are sometimes powerful and sometimes not, sometimes sexy, sometimes not, sometimes honorable, sometimes not, and what I think is new is the wealth of roles for actual women in television and in film. That's what I think is revolutionary and evolutionary."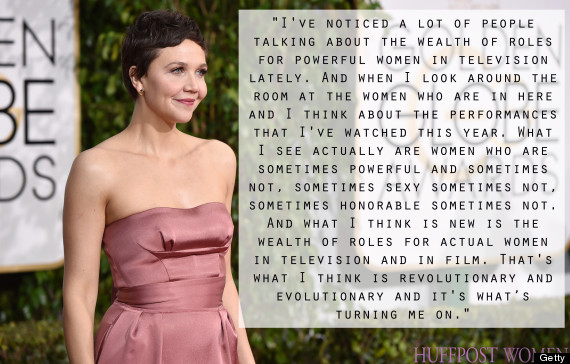 Related
Popular in the Community