Author Jo Piazza explores the spirit of activism within the Catholic sisterhood in her new book If Nuns Ruled the World: Ten Sisters on a Mission. Having spent time with nuns as a reporter, Piazza told HuffPost Live's Nancy Redd on Monday that she "kept meeting women with these amazing stories that hadn't been told yet," which inspired her to write a book about nuns' history of feminism.
"Catholic sisters were some of the first feminists in America in so many ways," Piazza said. "They were leading hospitals, they were leading schools, but no one thought of them as feminists because they were kind of this 'other' in between man and woman. And they were out there. They were the boots on the ground for the Catholic Church for the past 100 years."
Also joining the HuffPost Live conversation was Sister Maureen Fiedler, host of NPR's "Interfaith Voices," who said her Catholic upbringing helped her discover her own passion for equality at a young age.
"I became a feminist at age 17 in a Catholic high school where a priest was the principal," Fiedler recalled.
It began when the priest called Fiedler to his office to say that even though her grades qualified her to be valedictorian, she would not be allowed to give the speech at graduation because she was a girl.
"I was stunned. I mean, here I was, 17 years old, this guy was probably in his 50s and wearing a Roman collar," Fiedler said. "I remember I went home and asked my mother what to do, and she said, 'Do not get in a fight with a priest!'"
Not one to turn away from an injustice, Fiedler marched back into the principal's office and didn't back down.
"Even then I could see that I was beginning to think about ways to change systems. I went back to him and I said, 'Father, this is wrong, this is unjust, and it's gonna look perfectly terrible on the front page of our local newspaper,'" she said.
She triumphed, and with her victory came not only the opportunity to give the speech, but a new purpose.
"It was at that point that my interest in the equality of women and men began to grow, and I later became an advocate for the Equal Rights Amendment," she said.
Sign up here for Live Today, HuffPost Live's morning email that will let you know the newsmakers, celebrities and politicians joining us that day and give you the best clips from the day before!
Before You Go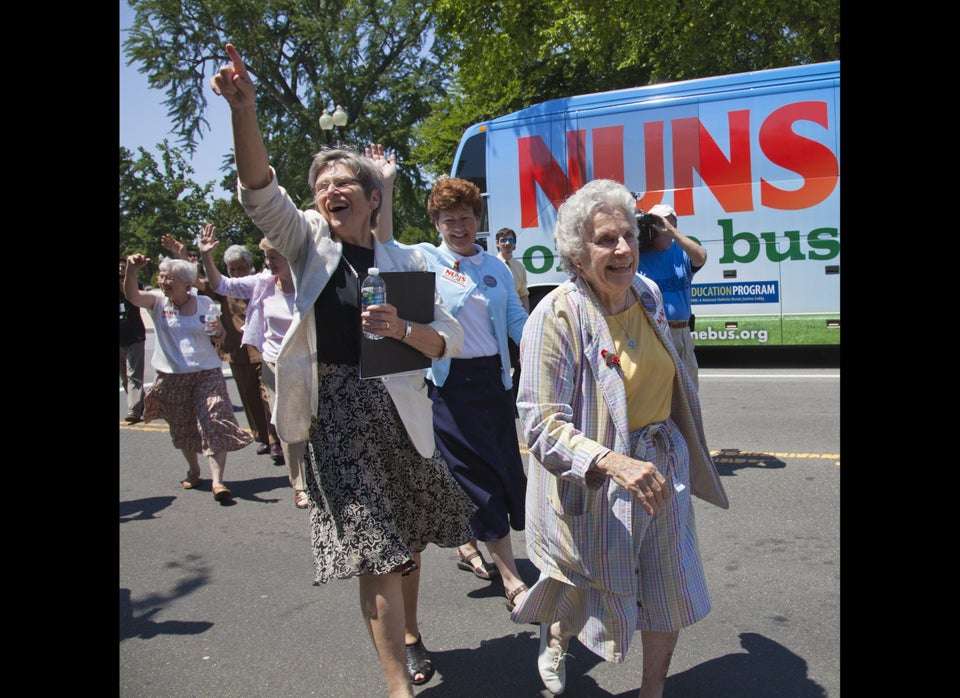 Nuns on the Bus Tour
Popular in the Community