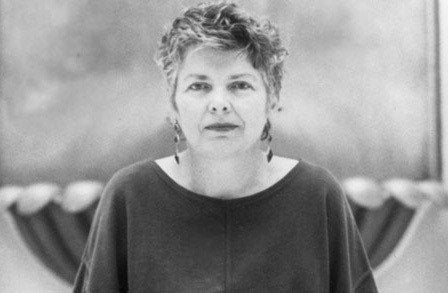 The Sound of One Fork was my first book of poetry, published in 1981. These poems and I emerged together from the women's liberation and lesbian/gay liberation movements of the 1970s.
I had written poetry in college but had stopped writing when, barely turned 20, I had married a poet in 1966. Like so many other women of my generation, I married the person I wanted to be—and then had my world turned upside down when I had two children in quick succession, 18 months apart.
At the same time, while in graduate school at the University of North Carolina, I got to know feminists and lesbians involved in early women's liberation in Durham and Chapel Hill—a movement then developing from both the anti–Vietnam war movement and the Black civil rights movement.
The range of women's organizing was wide—from forming Marxist study groups to publishing nonsexist children's literature, from fighting for pay equity in university teaching positions to doing support work for prisoner liberation and for Joann Little—a Black woman who had defended herself, killing a prison guard who attempted to rape her.
In this productive ferment, I began reading feminist theory and writing short book reviews for a local movement publication, the Female Liberation Newsletter—begun in 1969 and sold at a women's liberation lit table for two cents in mimeo.
And then I began to write poetry again in 1975, when I fell in love with another woman. I returned to poetry not because I had "become a lesbian"—but because I had returned to my own body after years of alienation. The sensual details of life are the raw materials of a poet—and with that falling-in-love I was able to return to living fully in my own fleshly self.
By 1979 the Female Liberation Newsletter had evolved into Feminary, first a quarterly feminist community magazine and then a literary publication self-described as a "feminist journal for the South emphasizing lesbian visions," which had both a regional and a national readership. That year, while living in Fayetteville, North Carolina, I became part of the Feminary editorial collective based in Durham. Others in the collective during the time I was a member were Susan Ballinger, Eleanor Holland, Helen Langa, Deborah Giddens, Raymina Y. Mays, Mab Segrest, Cris South, and Aida Wakil.
We were a group of anti-racist, anti-imperialist Southern lesbians—Black, white, Jewish, Arab. All of us had to work for our living—some held blue-collar and some white-collar jobs—and we struggled as explicitly with issues of class inequality as we did with racism, especially in the matrix of the U.S. South, and with anti-Semitism, toward both Arabs and Jews.
Inspired by the U.S. Women in Print Movement, different members of our collective learned all aspects of book production—from editing, page design, and layout to burning text into the metal plates required by our old printing press; from the actual printing to hand-collating, stapling, and trimming the magazines. We worked with huge, clumsy equipment borrowed from Lollipop Power, a feminist press that published nonsexist children's books. And when we finally held the copies of the printed journal in our hands, then we had to tackle distribution.
The Women in Print Movement had emerged in the 1960s as a countrywide effort to make the ideas and art of women's liberation, including lesbian lives, available to the widest possible audience. In a brief online history of the movement, Mev Miller says: "Women in Print was a strategy to build solidarity and to create actions for change." The movement included writing retreats and groups, newsletters, magazines, newspapers, political and literary journals, book publishing, bookstores, distribution networks, and national conferences taking up practical and theoretical issues.
This larger movement developed both consciousness and skills. I, along with others, began to make our own books in that collective context. When I published The Sound of One Fork in 1981, the illustrations were drawn by local artist Sue Sneddon, the printing was done by Feminary collective member Cris South, and the poems were written, typed, and then burned onto the printing plates by me.
By that time my children were 10 and 12 years old. When I had come out as a lesbian, I lost custody of them to their father. (I later wrote about this struggle in the poems of Crime against Nature.)
The lightning bolt of that loss etched into me an indelible understanding of the economic and political system I lived inside. I was living in Fayetteville, North Carolina, at the time—where de facto segregation was enforced by the white majority, where the country-club set still excluded people who were Jewish, and where the state sodomy laws declared any lover of her (or his) own sex to not only be committing a "crime against nature" but also a potential felon.
I struggled to stay connected to my children, even as their father moved them hundreds of miles away. My favorite memory from making The Sound of One Fork is how I stood next to my two sons, facing a long counter workspace in the cavernous Lollipop Power warehouse. We worked together collating and stapling the pages of the book, then took turns putting stacks of books into the trimmer and swinging its giant, guillotine-like arms.
Over the next two years, I got in my little red Volkswagen Bug and drove myself all over the South—to see my children in Kentucky, and to do readings from this first book of poetry. In 1983 I visited 10 cities in 14 days. I read from my work in the homes of lesbians in Knoxville, Nashville, and Memphis, Tennessee; at a conference on violence against women in Little Rock, and at a women's cultural center in Fayetteville, Arkansas; at an MCC church in Jackson, Mississippi; at an abortion clinic in New Orleans; for college students in English and women's studies at universities in Huntsville and Tuscaloosa and at Lodestar, the first women's bookstore in Birmingham, Alabama.
My travels were not unusual. All over the United States, women in general, and lesbians in particular, were engaging in a creative whirlwind of political and cultural work.
And the Women in Print Movement was not unique—all political liberation movements must bring forward suppressed ideas and often develop cultural, literary, and journalistic organizations. The Women in Print Movement was necessary because, not surprisingly, national mainstream publishing corporations were not interested in encouraging independent women's liberation or lesbian grass-roots organizing through germination and distribution of our work.
Locally, when we produced art and writing that directly addressed certain crucial issues—sexuality, women's bodies, and our health—the companies that we paid to print our journals or newsletters frequently refused to do so once they saw our content and politics—sometimes claiming it was "pornographic," sometimes because company owners held to patriarchal domination and so deemed us "unnatural women."
These were not isolated, individual acts of bigotry, but the continuation of limits on public communication that had been accelerated by the passage of U.S. federal and state laws linked to the 1873 Comstock Act. That federal legislation made it illegal to send "obscene, lewd, and/or lascivious" material through the U.S. mail. Prohibited items included contraceptive devices, any information on abortion or prevention of pregnancy, and, of course, any materials or devices related to same-sex/gender love.
The provisions of the 1873 "Comstock laws" were still in effect in 1954 when an issue of the gay magazine One was seized from the U.S. mail in Los Angeles. The U.S. Post Office and the FBI used the authority of the Comstock Act to try to shut down the magazine, a publication that had spun off from an early gay rights group, the Mattachine Society. One official reason given for the censorship? A short story "Sappho Remembered," condemned as "cheap pornography," that described a lesbian woman's affection for another woman.
The subsequent court battle for One magazine, won by lesbian, gay, bisexual, and trans (LGBT+) organizing, culminated in the 1958 U.S. Supreme Court ruling that granted free press rights to discussions about "homosexuality" for the first time.
It was this ruling that won the Feminary collective the right to send our laboriously assembled literary journal out through the U.S. mail—that enabled us to do more than hand-carry copies to our readers.
But the bigotry that had generated the Comstock laws was still firmly in place in other legal and social structures in the 1970s. For instance, "crime against nature" statutes continued to be on the books in two-thirds of the U.S. states, criminalizing LGBT+ people, our lives, and our loves. My husband used the anti-sodomy laws in North Carolina in 1975 to take my children away, arguing that as a lesbian, I was engaging in illegal, felonious behavior. My "unorthodox" belief in the equality of women within heterosexual marriage—seen as an attack on the "role of the father in the family"—was the final proof I was an "unfit mother."
So when Women in Print activists Nancy Blood, Leslie Kahn, and others in Durham, North Carolina, decided to expand the Female Liberation Newsletter into Feminary, a magazine, in the mid-1970s, they were not simply launching a literary or journalistic project. They were organizing against an entrenched anti-woman, anti-lesbian, anti-sexual current that raged, deeply embedded, in all economic and social structures in the United States.
They chose the name for the magazine from a passage in Monique Wittig's Les Guérillères. The women in that novel had small books called feminaries, made of pages of text and of blank pages where the women wrote as they pleased.
In Wittig's novel, several women say to a "great gathering of women": "There was a time when you were not a slave, remember that. . . . You say you have lost all recollection of it. . . . You say there are no words to describe this time, you say it does not exist. But remember. Make an effort to remember. Or, failing that, invent."
What kind of woman, what kind of person is she who has not been imagined yet? We knew only—from memory and scraps of story and flimsy pages—that we were the daughters of the great mass liberation movements of the United States in the 20th century. We knew that living on within us were the people who had fought the labor union battles of the '30s, the people who shaped the Black civil rights and other national liberation movements of the '50s and '60s, the anti–Vietnam war and women's liberation movements of the '60s and '70s.
We were creating in a space that had been cleared by these people, those struggles, a space into which we were writing our lives and histories.
And we knew also that there was a time, almost within living memory, when some women's grandmothers' mothers were enslaved, and some were not. We asked ourselves, what does it mean to recover memory and history under these circumstances? We knew that anti-racist work and writing, political struggle and art, were inextricably intertwined.
In 1980, in response to an interviewer asking about my "lesbian aesthetics," I answered:
I started writing poetry again because I became a lesbian and a feminist and because I came to see, to understand, the need for a radical, transformative change in the human world I live in. I became a poet because I became a revolutionary, and I have always felt that my writing was only one part of my work, no more or less important than starting a C-R [consciousness-raising] group on racism and feminism, or marching by the Washington Monument for lesbian rights, or any one of the actions that I do. . . .

In so far as theory about revolutionary poetics, the only person that I've read that has said anything that helps or confirms my ideas [is] Frantz Fanon—a Black revolutionary [who was part of the anti-colonial Algerian struggle against France]. . . . He says that as a people becomes less colonized, their writers produce a fighting literature, a revolutionary literature. The writer becomes an "awakener of the people." He says, "During this phase a great many men and women who up till then would never have thought of producing a literary work, now that they find themselves in exceptional circumstances—in prison, with the Maquis, or on the eve of their execution—feel the need to speak . . . to compose the sentence which expresses the heart of the people. . . ." In speaking of poetic form Fanon says, "The present is no longer turned on itself but spread out for all to see."
My heart resonated to the hope and resistance in Fanon's words as I struggled to survive the loss of my children, the criminalization of my sexuality, and the rejection by my family. I wrote in 1980 that Fanon's words were "very true of my feeling of urgency and immediacy in beginning to write again." As a white Southern-born woman working to become an anti-racist, I grasped in my deepest self the necessity to act in conscious solidarity with liberation struggles other than my own.
I was coming to consciousness in a century when worldwide liberation movements of colonized peoples, from Algeria to South Africa, from India to the Philippines, were fighting to free their countries. These movements infused other liberation struggles with hope and new ideas, and intertwined the issues of national oppression and racism, oppression because of gender and sexuality, and class inequality. Graphics collectives in U.S. women's liberation movement made "Women hold up half the sky" posters in solidarity with the women of the National Liberation Front of Vietnam. The Gay Liberation Front (GLF), formed in New York City immediately after the Stonewall uprising in 1969, named itself in solidarity with that same anti-colonial struggle.
These and other struggles have shaped my path and my poetry. I have expanded the understanding of the link between my life, my poetry, and my body—my woman's body, my lesbian body—and the bodies and lives of other people, other peoples.
And now, every day, I continue to work to know what it will take to have "a radical, transformative change" in this world, to understand the deeply material basis for a socialist revolution that can overthrow capitalism and the oppressions kept in place by that economic system—and to act in the struggle for that change—to act and to write as a poet.
Popular in the Community