Women against abortion are descending on Washington, D.C., for another march on Friday. For those among them who identify as feminists, it's a chance to stake out their identity in the era of President Donald Trump. 
The March for Life, an annual demonstration against abortion scheduled near the anniversary of the Roe v. Wade decision, kicks off in the capital Friday morning at the Washington Monument and heads toward the Capitol. Some of the women going to this week's march also attended the Women's March on Washington or one of its sister marches last weekend ― despite its organizers making "open access to safe, legal, affordable abortion" part of its platform and removing an anti-abortion group as an official partner of the march.  
Women attending both marches told The Huffington Post that their interactions at last week's demonstration were mostly positive and that they hope to carry that sense of unity over to the March for Life. But given Trump's history of derogatory comments about women, it will be hard to keep discussion of him out of a protest they view as pro-women. 
Lisa Twigg of Spotsylvania, Pennsylvania, the social media coordinator for the anti-abortion group Life Matters Journal, marched in the D.C. Women's March wearing a sweatshirt reading "This is what a pro-life feminist looks like." She's participating in the March for Life and expects Trump will factor into many women's protests.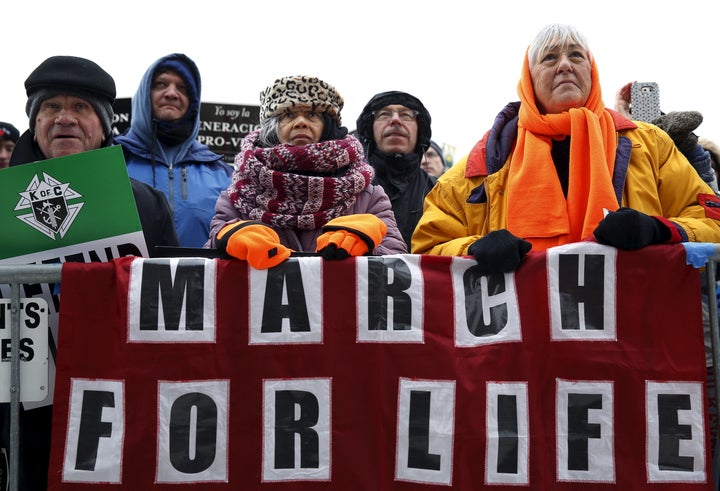 "I hope this march will perhaps get him to respect women more and work with prolifers to provide non-violent choices for women in need of reproductive care," she said over email.
"I hope to see many prolifers to be calling on him to be compassionate and caring towards women in crisis just as I will be doing," she continued.
Destiny Herndon-De La Rosa of Dallas is the founder and president of New Wave Feminists, the group that Women's March organizers removed as an official partner. She went to last week's event anyway and will march again on Friday.
"I found [Trump's] past misogyny incredibly disturbing," she told HuffPost. She marched with signs describing torture, war and the death penalty as not being pro-life and had an "overwhelmingly positive" reception from other women despite their disagreements on reproductive rights.
In anti-abortion circles, she said, taking a stand against Trump has led to some tension ― even though Trump's position on the practice changed by the day leading up to the election. 
"I wouldn't say I was excluded, but there is definitely a lot of animosity about the fact that I was a #NeverTrumper," she said. She expects Trump to be part of the conversation during Friday's march but hopes everyone can find common ground. 
"I'm already seeing a lot of red [Make America Great Again] hats out here, so I'm sure Trump will come up," she said. "But I look at everything not as a chance to argue politics but rather an opportunity for open dialogue about creating a better culture for all of us."
Terrisa Bukovinac, the West Coast coordinator for Secular Pro-Life and president of Pro-Life Future of San Francisco, hopes for similar unity at Friday's march. She attended the Women's March in San Francisco last weekend wearing a "This is what a pro-life feminist looks like" shirt and carrying a sign that read: "Atheist, feminist and pro-life. Humans for all humans." She said she felt welcomed by the vast majority of the crowd.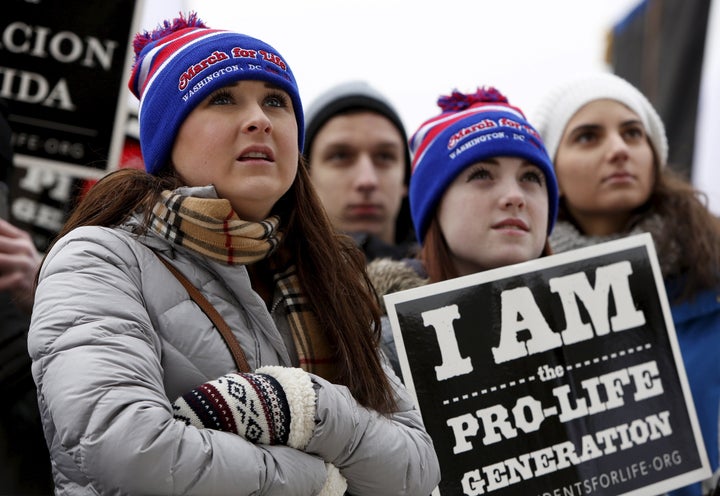 She attended a San Francisco march against abortion earlier that day and didn't feel that Trump's presidency affected its tone.
"The consensus of the pro-life movement overall is very skeptical about Trump, but hopeful," she said.
"There's some of us that are a little more concerned than others, but I would say as a whole, the pro-life movement is concerned solely with ending abortion, and Trump being a little bit incoherent on the topic is not really part of that conversation."
She's attending the D.C. March for Life for the first time this year and expects there may be some more focus on Trump. His vice president, Mike Pence, and counselor, Kellyanne Conway, are scheduled to speak at the rally. 
"There's going to be people that are conservative, people that are liberal, but the main focus of the movement is to end abortion," she said. "So everybody for the most part in the pro-life movement is looking to unite on that factor. They know that we can't end the practice of abortion in the United States with just conservatives. We can't end it with just liberals. We need everyone to care about this issue." 
Calling all HuffPost superfans!
Sign up for membership to become a founding member and help shape HuffPost's next chapter
BEFORE YOU GO
PHOTO GALLERY
The 4 Most Important Abortion Storylines On TV In 2016