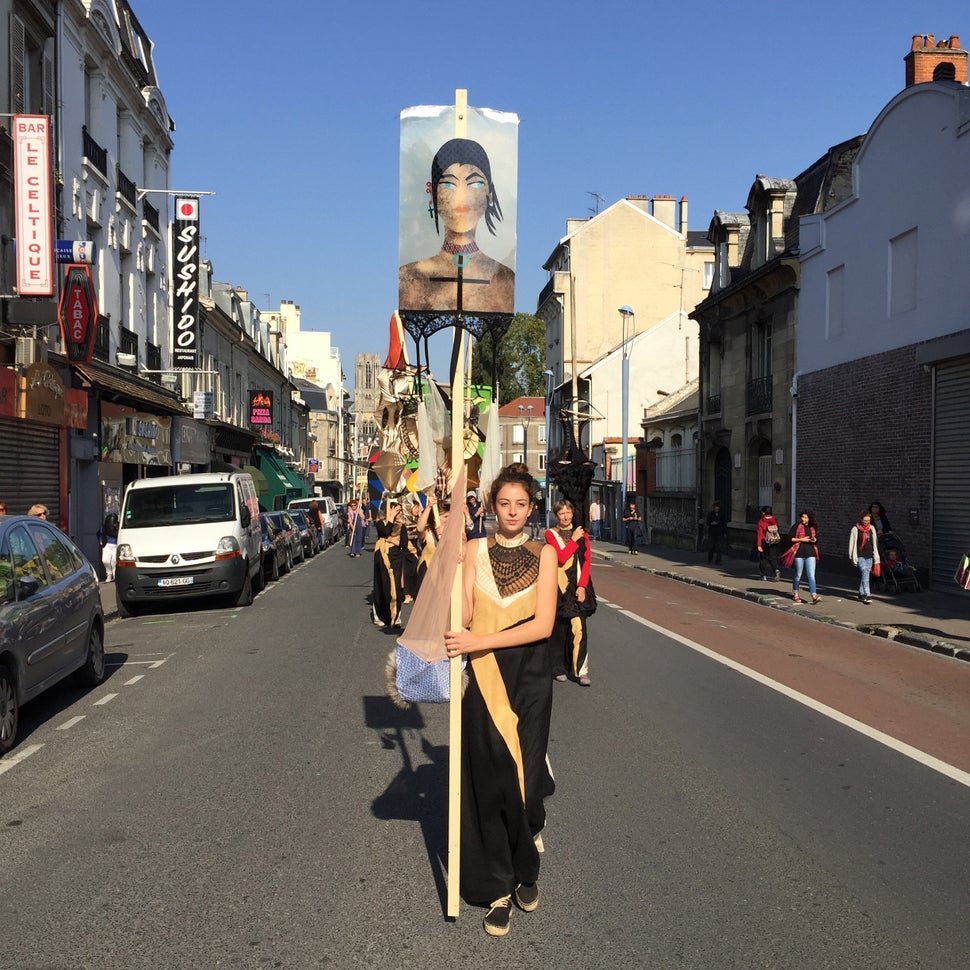 Calling all women, girls, butches, femmes, witches, mothers, daughters, grandmothers, lesbians, queers, and feminists of every age and gender. It's time to march for women's rights. 
When artist Lara Schnitger began preparations for her feminist procession "Suffragette City," she partly expected the performance would take place just after the first woman was elected president of the United States. Of course, that did not happen, and instead the nation elected a man with a history of objectifying and demeaning women. This only makes Schnitger's project more necessary than ever. 
This weekend in Los Angeles, Schnitger will lead a feminist march through the neighborhood of Westwood, Calif. Beginning at the Hammer Museum, the procession will feature the artist's sculptural "Slut Sticks," sculptures made from sticks, bras, strings and "as little fabric as possible." The works address the misogynist misconception that provocative clothing invites unwanted male attention or assault. 
The feminine, totemic sculptures speak to the longstanding relationship between women and the clothing they wear. From a pantsuit to a "Nasty Woman" tee to nothing at all, women's clothing can serve as a vehicle for self-expression, creativity, dissent and protest. 
"So, it's interesting how the language of clothing and the way to protest has changed so much over the years, from being completely dressed to completely naked. I wanted to mix together this procession idea and create more of a protest parade for female rights. So all those different elements, combined with my frustration about being a woman in the art world, kind of made this procession possible."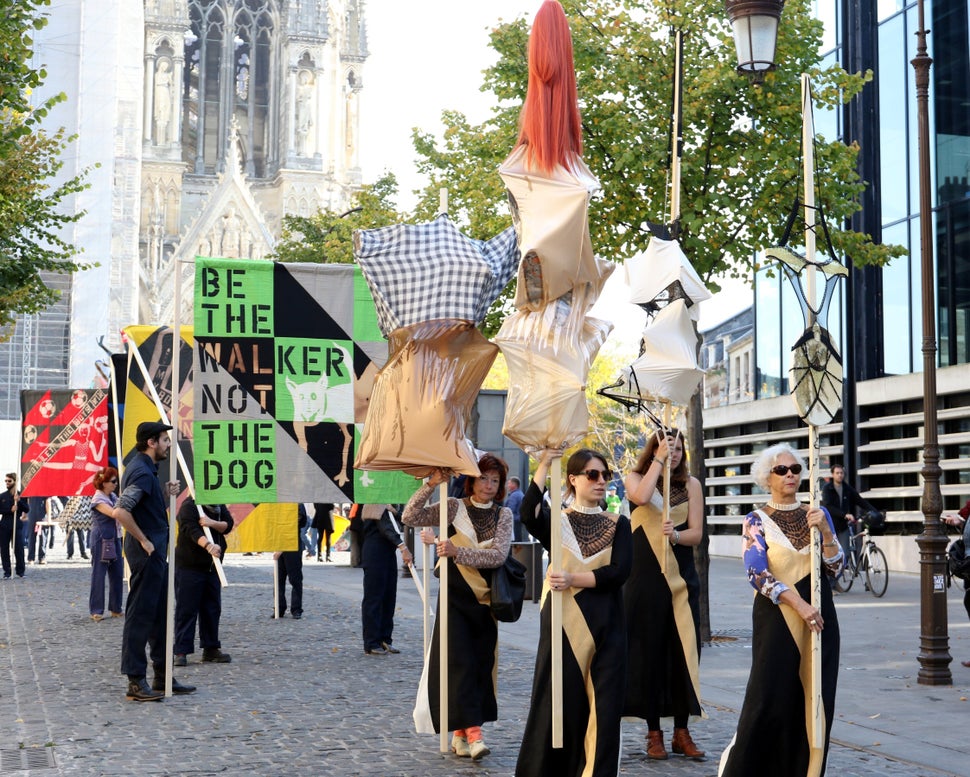 The protest parade will also feature an array of signs with painfully relevant messages including "Don't Let The Boys Win" and "No Means No. Yes Means Yes."
The procession will take place Saturday, Nov. 12, followed by a community gathering and open mic back at the museum, added to the program to give women a chance to address the recent election. After the conversation will be a concert by Miya Folick. On Sunday, the feminist programming will continue with two film screenings: "Don't Need You: A Herstory of Riot Grrrl" and "Inez Milholland: Forward into Light."
The weekend will conclude with a lecture and performance by artist and practicing witch Amanda Yates Garcia. The presentation will address the history of witchcraft, its contemporary manifestations, and how magical practices can be used to combat capitalist patriarchy. 
"More and more people, particularly women, and especially artists, are aligning themselves with witchcraft today because at its most fundamental level, witchcraft is about power: who has it, how they get it, and how they wield it," Garcia wrote in an email to The Huffington Post.  
"Power is the ability to affect change in the world according to one's will. Our power as witches comes from within, from our resistance to the dominant forms of power, which use force, coercion, and fear to motivate change. Witches understand that true power comes from within, through self-mastery, but also through collaboration with our loved ones and with the environment. When we focus our efforts on collaboration and bringing joy and flourishing to all beings, everybody wins. Fear disappears like a shadow exposed to sunlight."
Yates will lead a ceremonial performance called "Yes Means Yes!" meant to celebrate sexual consent and the ever-present importance of intention. As the artist explained: "Here our intention is say yes to love, yes to collaboration, yes to the power of women, yes to women controlling their own bodies, and yes to women's taking pleasure in themselves, their partners and their world."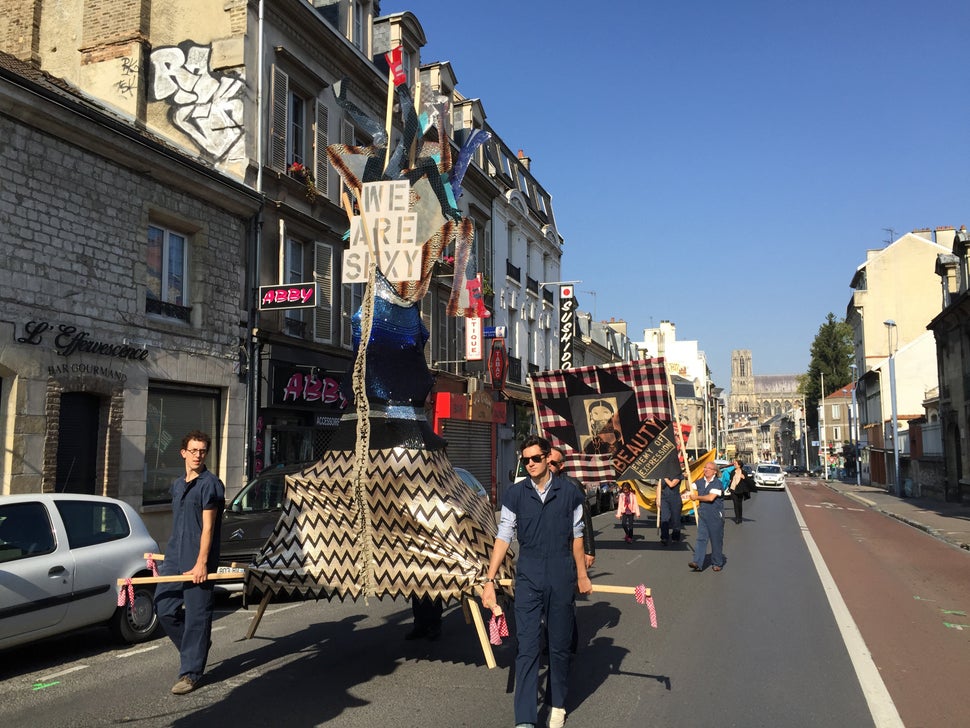 If you are a woman hurting in Los Angeles right now, join forces with other powerful artists and activists to fight for what is right. Yes, many women are heartbroken and angry and so very tired. But it remains more important now than ever for women and girls to stand up together for our freedom, our rights, our bodies, our education, and our respect. 
Noon: Procession leaves Hammer (route here)
1:30 p.m. Procession arrives back to Hammer
2 p.m. Community gathering with open mic to share thoughts and reflections regarding the recent election; courtyard concert by Miya Folick
1 p.m. Welcome
1:15 p.m. Screening of "Don't Need You: A Herstory of Riot Grrrl" (TRT 40 min)
2 p.m. Screening of "Inez Milholland: Forward into Light" (TRT 13:30 min)
2:30 p.m. Amanda Yates Garcia, the Oracle of Los Angeles: Lecture on witchcraft + Q&A
3:30 p.m. Closing ceremony in the Hammer courtyard 
Calling all HuffPost superfans!
Sign up for membership to become a founding member and help shape HuffPost's next chapter
BEFORE YOU GO
PHOTO GALLERY
Donald Trump Win Sparks Protests Nationwide