A T-shirt sporting a feminist message has been removed from stores amid allegations that it was produced in a sweatshop where female workers are underpaid and reside in cramped living quarters.
U.N. Goodwill Ambassador Emma Watson graces the cover of the December issue of Elle UK, and she, along with a number of A-listers, has sported the shirt for the campaign. Watson said that getting involved in women's issues has helped her to put her celebrity to meaningful use and is "something I really believe in."
The Mail on Sunday reporter Ben Ellery toured Compagnie Mauricienne de Textile (CMT) factory in La Tour Koenig, north Mauritius, where the shirts were made, and found that the workers earn 6,000 Mauritian rupees a month (about $190) and the managing director said employees put in the legal 45-hour workweek limit.
One worker told Ellery that she works about 12 hours a day and struggles to live on her salary.
By law, workers in Mauritius can't be forced to put in more than eight hours a day, six days a week and must be compensated one and a half times their normal salary if they work additional hours, according to the U.S. State Department. Ellery was told that the workers are paid overtime.
The T-shirts cost 9 British pounds (about $14) to make and were sold for 45 pounds (about $72). All proceeds were supposed to support the Fawcett Society, according to the Mail on Sunday.
The irony of the T-shirt's statement wasn't lost on the workers.
"How can this T-shirt be a symbol of feminism when we do not see ourselves as feminists? We see ourselves as trapped," one worker said.
But Neitzert reassured supporters that the claims were unfounded and that the group will thoroughly investigate the issue.
"At this stage, we require evidence to back up the claims being made by a journalist at the Mail on Sunday," Neitzert said. "If any concrete and verifiable evidence of mistreatment of the garment producers emerges, we will require Whistles to withdraw the range with immediate effect and donate part of the profits to an ethical trading campaigning body … we remain confident that we took every practicable and reasonable step to ensure that the range would be ethically produced and await a fuller understanding of the circumstances under which the garments were produced."
Related
Before You Go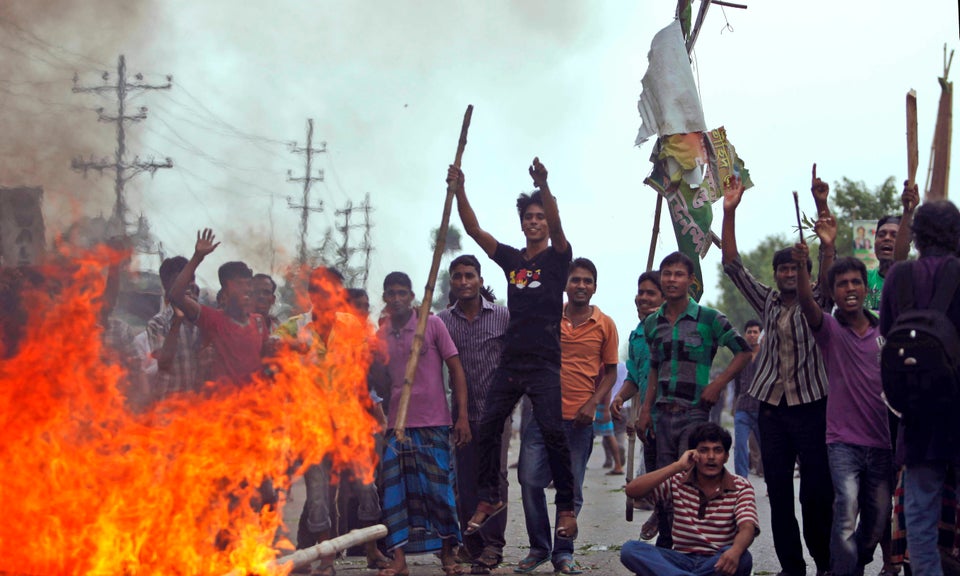 Bangladesh Factory Collapse (UPDATED)
Popular in the Community