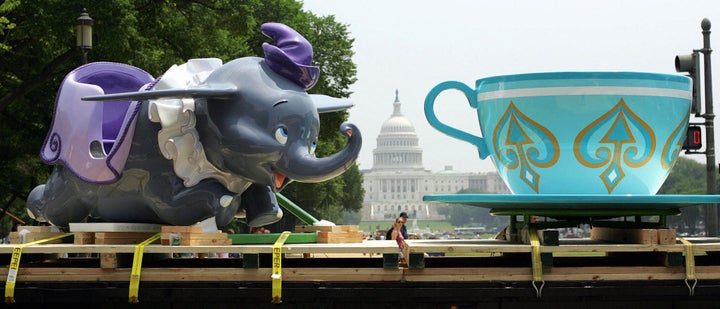 At "Ask Me, I Will Tell," a panel sponsored by the Women's Caucus for Art's LIVEspace at the College Art Association's Annual Conference, in the unlikely space of a narrow hotel conference room, Rueter and Stroebe offered panelists and the assembled audience of dedicated feminist women of all ages (and two hardy men!) a proper high tea complete with porcelain cups, slices of lemon, miniature pink-iced cupcakes, strawberries, and ginger cake. As always for these occasions, they were dressed in elegant 1950s clothing to slyly poke fun at the Tea Party movement's apparent nostalgia for a time when women were still ladies, and women's liberation was still but a gleam in their mother's eye.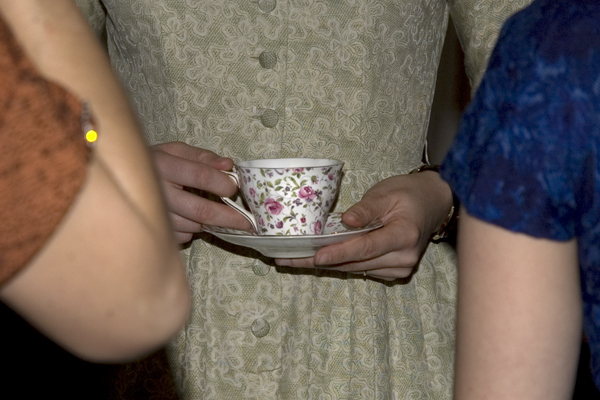 In the face of the bizarre "Mama Grizzly" equation between feminism and shooting moose, Rueter and Stroebe began their "A Feminist Tea Party" project last year as a response to the provocation of the Tea Party Movement protests. "I would love to have a conversation with a tea partier, which I've never have had the chance to do," Rueter told me. She and Stroebe were also motivated by Sarah Palin's occasional assertions that she's a feminist. While they support her or anyone else's right to be able to self-identify as a feminist, they wonder what it means for the feminist movement if the mainstream media or general public accept this identification, given that Palin's policies and those of the Tea Party movement are so often against the interests of women, including their position on abortion rights, education, healthcare, and environmental concerns, among others.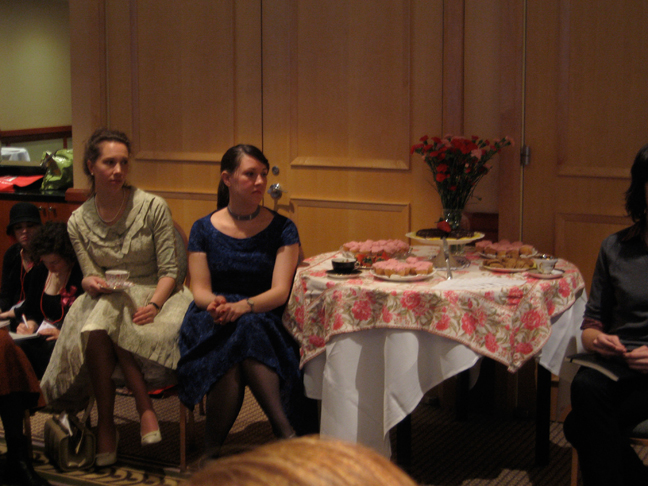 They debuted their project with a Tea Party roundtable discussion about feminism and art held at Winkleman Gallery in New York last winter as part of the experimental exhibition, #class, curated by Jennifer Dalton and William Powhida, followed by similar events at Governor's Island Art Fair and in Miami during the art fair this fall.
"Ask Me, I will Tell" included panelists involved with various types of community outreach and feminist activism, emerging from the art world but extending into other community organizing. Panelists included artists Elaine Kaufmann and Danielle Mysliwiec who represented The Brainstormers, artists who first met as MFA students at Hunter College and who have continued the critique of unequal representation of women in commercial galleries and major museum exhibitions begun in the 1980s by the Guerrilla Girls, using similar techniques of combining appalling statistical data with humorous agitprop theater; other panelists included Lauren Denitzio, of the Brooklyn-based radical alternativeFor the Birds Collective and Petrushka Bazin, independent curator and Program Manager of The Laundromat Project, which brings cultural activities and opportunities to where working women might congregate, in this case inner city laundromats. The panel was organized by curator Yulia Tikhonova.
This event had personal meaning for me: I've been involved with feminism since, as a graduate student, I was a participant in the CalArts Feminist Art Program and its legendary Womanhouse project. But I've often felt quite lonely in the intervening years, particularly since the 1990s. Women artists of my own generation remained steadfast in its politics, but young women artists would frequently tell me that feminism wasn't necessary anymore because everything was fine, there were no more problems, they had every opportunity. Phrases such as "I'm a feminist but," or "I'm not a feminist artist," or "I don't want to be considered as a woman artist" were so frequent as to become a kind of running joke, although it seemed pretty clear that if being considered a feminist or a woman artist was so dangerous that you would avoid it at any cost, then clearly there was still a problem.
But in recent years something has changed. Crocuses are blooming through the snow cover in the winter garden. Younger women again seem to be interested in feminism. They have entered an art world and art education influenced by conceptual art and others 1960s and 70s movements and by more recent movements such as Relational Aesthetics that encourage the construction of sociality and community as art and where more fluid art identifications pertain: artists feel free to draw on performance art, data presentation, political analysis, and traditional crafts, and to shift from showing in high art spaces to working in situations located outside the artworld.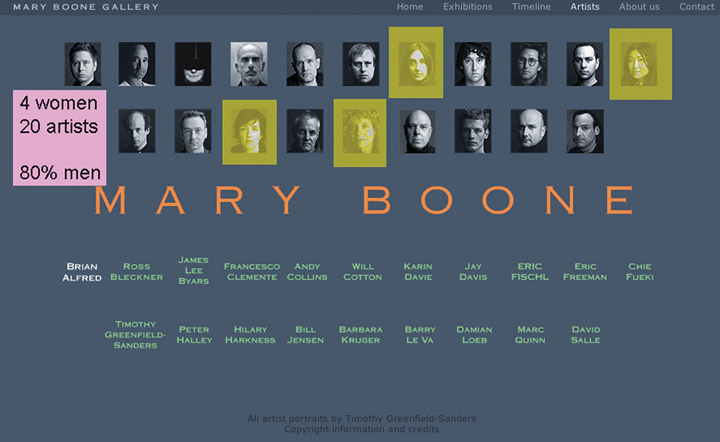 I first met The Brainstormers a few years ago and have written about their work in relation to feminist activism, taking note of the courage it takes to be engaged without resorting to the cover of anonymity (a necessity for the Guerrilla Girls, who were hunted by some of the major figures in the art world who they had exposed). Rueter and Stroebe were my students in the MFA Program at Parsons the New School for Design. Each group has encountered their own problems and resistances. Rueter and Stroebe mentioned their interest in speaking to younger girls, who seemed to be more open to feminist ideas because they were not as worried about the implications to career of identification with feminism.
The hopeful sense of energy, modesty, and humor, and a genuine desire to work with community displayed by all the panelists really cheers me up.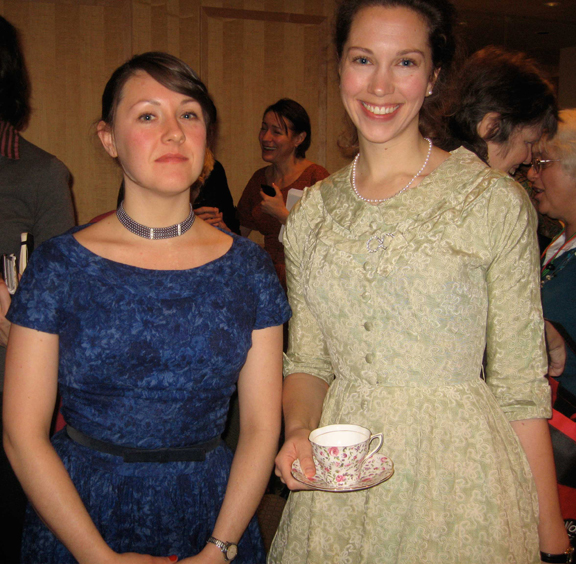 Final bit of personal meaning: today, for her Feminist Tea Party costume, Stroebe wore a cinch waist blue print wool dress from the 1950s which I recently gave to her. It had belonged to my mother Resia Schor, an artist, a smart, independent woman, with left politics, the mother of two feminist daughters, and, by the way, an inveterate tea drinker.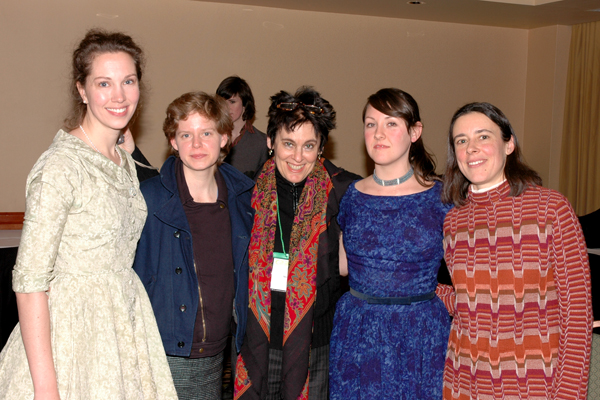 Popular in the Community