The wedding industry is full of frothy gowns, heavily iced-out bling, slinky draped column dresses and layers of lovely lace. But what if you don't want all that on your body on one of the happiest days of your life? Even if your mother, grandmother and aunt are insisting that you should wear a dress, you can say no. No to a gown, and yes to pants. Brides, no matter their sexual orientation, should have the right to consider wearing pants on their wedding day, and know that they can still be considered a bride -- or at least know that pants are a viable, acceptable option. That's what Meg Keene, editor in chief of "A Practical Wedding", wants you to know. She's even launched a photo-submission campaign called "1,000 Brides in Pants" to support the mission.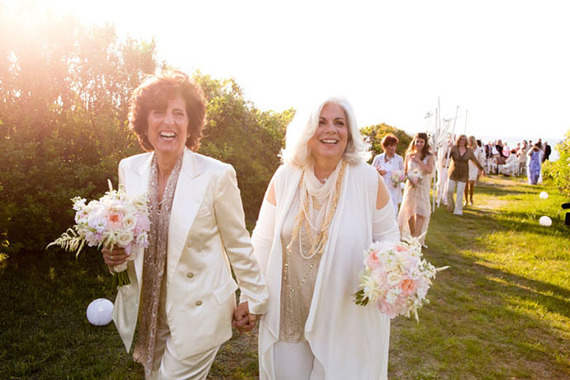 Holly and Nancy married in Dennis, Mass. Read about their wedding on EquallyWed.com. Photography by Ralph Alswang Photography
"Many of the most prominent feminist voices have given into the idea that weddings are simply not worth the fight -- that feminist weddings can't be a thing," says Keene, "but I believe that weddings are an excellent entry point to feminism. Many women get engaged and find themselves facing traditions like being given away, traditions that they may not have thought twice about before, but that are suddenly very discomforting." It's Keene's aim to prove that weddings can indeed promote feminism. "A Practical Wedding's" newly minted project aims to break the commonly held belief that a bride is only a bride if she's wearing a dress.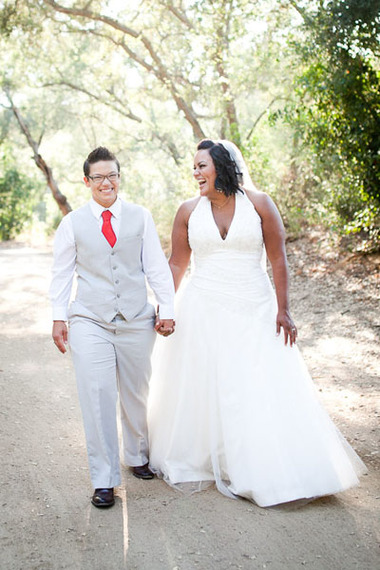 Gina and Ana married in Escondido, Calif. Read about their wedding on Equally Wed. Photography by Kaysha Weiner
At Equally Wed, we primarily serve same-sex couples, and our gay and lesbian female readers run the gamut from feminine brides, to sporty, tomboy brides, to butch brides, to butch "brooms". The broom term came along as a shortened version of bridegroom when our editor in chief and publisher married in 2009, and Maria absolutely didn't want to be called a bride, nor did she identify as a groom. And the word broom was born. (Although we also heard it later in the Sex and the City movie.) In many of our two-women weddings we've featured, more than half of the couples have at least one woman wearing pants, whether they're of the masculine styles from the likes of Express for Men, Armani and Men's Wearhouse, or feminine looks from Sarah Jassir, Theia or Lazaro.
"1,000 Brides in Pants was born of a bit of a verbal bar-room brawl," says Keene. She was discussing APW's mission of promoting feminist weddings over some whisky, and a friend asked: "How can feminist weddings even be a thing, if women don't feel like they can wear pants on their wedding days?" Challenge accepted, and "1,000 Brides in Pants" was born. "One of the early feminist fights was getting women the right to wear pants," says Keene. "As hard fought as that right was, most of us don't think about when we pull on our jeans in the morning. On our wedding day, however, different rules apply. Outside of the queer community, very few women even consider pants to be an option when getting hitched. You may not own a single skirt, but when it comes to shopping for your wedding outfit, the only acceptable option seems to be a dress."
"One of the (many) blessings of the marriage equality movement is the way that the queer community has made all of us question and re-shape the traditions around weddings," Keene continues. "A very visible example of this is women getting married in pants. That ground has been broken by people more masculine of center, who would never consider wearing a dress on their wedding day. But for those of us who are more femme (queer or not), we still feel like a dress is our only real option. The best way to honor the progress that's already been made is to keep moving the conversation forward. So you self identify as a bride? Great. How would you rock pants on your wedding day? Our aim is to make a frothy wedding dress, or a lacy jumpsuit, or a sexy pants suit all equally viable alternatives for wedding wear. Or, hell, jeans. After that, the sky is the limit."
To celebrate the re-launch of "A Practical Wedding" (it used to be a pretty blog for planning a practical wedding while staying sane, and now it's a gorgeous online magazine still offering tons of wedding advice for all couples), Meg Keene and her team of editors have launched the "1,000 Brides in Pants" project. They aim to collect inspiration to prove that you can wear a (hot as hell) pants ensemble, and still feel as bridal as you want.
They'll be sharing photos of women who wore pants to their weddings, along with information about that First Wave Feminist fight to give us sartorial options. The goal is not to convince women that they should wear pants to get hitched (because many of us still love a good dress), but to start a conversation about why we feel like our wedding options are limited to dresses. Beyond that, we hope to discuss the basic rights that the feminist movement has gotten us, and where we can go next.
Kirsten Ott Palladino is the editor in chief and co-founder of Equally Wed, the world's leading gay and lesbian wedding magazine, where this post first appeared.
Related