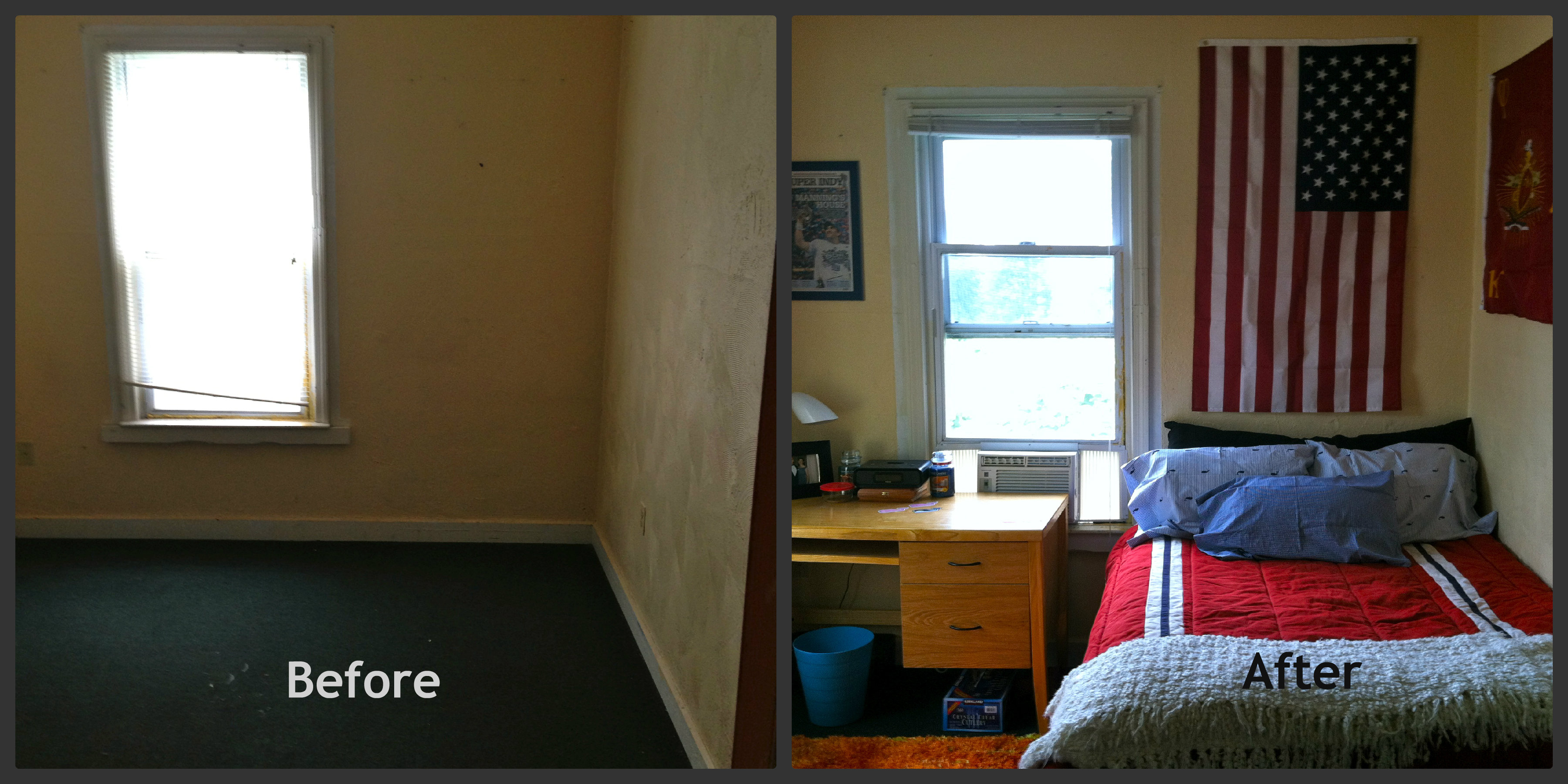 I help people with their interior design and Feng Shui in the most non-traditional and interesting places all over the world, but this was a first: son Connor, a rising sophomore at the University of Massachusetts Amherst, moved into his frat house and asked for help setting up his room.
Connor wanted his room to reflect his fraternity's motto: "Pi Kappa Alpha's members strive to be Scholars, Leaders, Athletes and Gentlemen, and they seek excellence in everything they do." Trying not to cry the first time I saw Connor's new frat room, I knew this was not going to be easy.
As a mother, I was hoping the fraternity house would be in better shape, although to be fair, the concept of living with a bunch of college-age male friends appeals to Connor. As an integrative interior designer, I had plenty to do. Armed with my tool kit, clean linens, a hygienic bedbug mattress cover, a comfy Isotonic mattress topper, a bucket of cleaning supplies, some ancient Feng Shui necessities and my cleaning crew, composed of husband Robbie and daughter Molly, we set to work.
With the intention of creating a peaceful sanctuary, a personal safe haven, within the walls of the frat house where God-only-knows what goes on, here are some steps I took to Feng Shui my son's frat room:
1. Windows represent your eyes and views to the outside world so we immediately opened the windows wide, cleaned them to a sparkle, washed the sills and removed needless nails and screws used by the room's former occupants. Lighter and brighter already! We also bought a patchouli scented Yankee Candle, giving the room a pleasurable, subtle, masculine smell, because pleasing scents contribute to relaxation and better focus.
2. The floor represents the foundation, the base of our existence, and this floor was filthy. The fraternity already instructed us not to remove the old, stained, blue, indoor/outdoor carpet, so after completely vacuuming, I got down on my hands and knees, and with good old-fashioned elbow grease, spent several hours shampooing the carpet until clean. To complete the floor/foundation makeover, I set down a vibrant red and orange rectangle area rug because red and orange colors are grounding and at the same time energizing and uplifting.
3. Beds represent rest and rejuvenation. (Of course, beds also represent sexuality and reproduction, although as a college student's mother, I didn't want to go there). On Connor's bed we placed a cardinal red comforter for him to feel powerful and protected, attributes of true red. Also, to keep Connor's ch'i (life force energy) high and his body grounded, I placed a red sheet between the box spring and mattress of his bed.
4. Walls metaphorically contain our spirit, just as our physical body is the frame around our soul. Connor's frat room walls were old, dirty, chipped, pocked and peeling. Again, not allowed to paint, we scrubbed down everything and hung large, vibrant pictures, posters and flags that both inspire Connor, cover the pock-marked walls and add bright and elevating colors to the room.
5. Clutter can get out of hand in small rooms, so after cleaning, we focused on installing adequate storage, structure and organization to this small space. Clutter is distracting, anxiety provoking and creates pockets of dust and grime, which as any mother knows, won't be touched for months, maybe never. First, we organized his two tiny closets for maximum efficiency, installing Command hooks and fastener strips for his hats, hoodies, towels, posters and other items. Shirts, pants and coats were lined in the closet; and after spending a few weeks refurbishing an old chest of drawers from my childhood, we stored the remaining clothes, including socks, underwear, t-shirts and sweaters. Although placing storage under a bed is traditionally not considered good Feng Shui, as space was at a premium, we bought and filled several functional under-bed storage systems from the local Bed Bath & Beyond.
6. Design elements in any room are important, and optimally, you want to be sitting at your desk with a view of the door. This is called the commanding position. When out of commanding position, such as having your back to the door, or your bed not facing the door, or standing in the kitchen with your back to the room, you will feel anxious and edgy, not knowing who may come up behind you. Metaphorically, you are blind, both to approaching trouble or opportunity. In Connor's small room, we had no choice but to place his desk against the opposing wall from the door, placing him out of commanding position. To improve this situation, on his desk I placed a small mirrored ball, allowing Connor to see behind him without turning around.
7. Finally, just before leaving our son to spend his first night in his colorful and improved frat room, our family stood in his doorway facing in, intentionally sending Connor abundant blessings for a successful, safe, harmonious and productive sophomore year in his new home away from home.
The frat room Feng Shui seems to be working. Connor's happy, excited about the new year, proudly serving as a member of PIKE's leadership team, and relieved that many frat brothers think his revived room is "awesome."
What have you done to resuscitate a dorm, sorority, fraternity or off-campus college room or apartment?