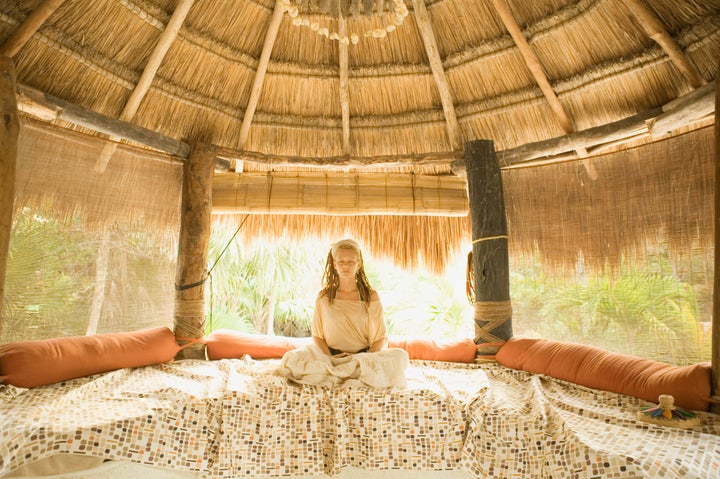 A good friend of mine toils away in a sterile office space, full of cramped cubicles and lit by head-pounding, eye-straining fluorescent bulbs. The furniture is drab, musty and uninspiring. The natural light, nonexistent. The vibe is a bit like a Greyhound bus station. And yet, she's expected to produce vibrant work, have some semblance of balance, and relish clocking in every day. It's absurd. And pointless. And unproductive. I speak from shared experience. Like my pal, I spent two decades in corporate America, and dealt with job burnout and the stress from excessive business travel, early morning calls with AsiaPac and Europe, back-to-back meetings and late nights in a dreary office. I reached my breaking point and did the once unthinkable: I said goodbye and reinvented myself as a certified feng shui master to be able live my life with purpose. Sadly, job burnout isn't a myth perpetuated by quack doctors. The
calls it "a special type of job stress -- a state of physical, emotional or mental exhaustion combined with doubts about your competence and the value of your work." I have read astonishing statistics that as many as
of U.S. workers blame stress for job burnout. Perhaps not surprisingly,
often report experiencing more stress than men, given their responsibilities both at work and at home. Some women are also part of what's known as "the sandwich generation," taking care of their children and of their parents in multi-generational households. I first became aware of this term in May 2009 when
Working Mother
reported that one of the biggest challenges for women is
. As the single mom of a 3-year-old daughter, I know the pressure to get everything done in a day, while raising a healthy, well-adjusted child. Does that make me an "open sandwich"? Another movement I've noticed in recent years has been for women's special interest groups (SIGs) within corporate America and women entrepreneur networks to take their health and stress levels into their own hands. My clients have brought me in to teach them to integrate at home and at work some of the oldest principles for overall well-being known to man: feng shui. "Feng shui" literally translates to "wind" and "water," because thousands of years ago in the mountains of China, in order to survive, people needed to be protected from the wind and to have access to water. Today, in order to survive, we need to protect ourselves from stress. To be our best at work, we need to make sure that we can rejuvenate and rest at home -- one of our best defenses against stress. After all, if your home does not provide peace and harmony for you, where else are you going to find it? We also need to make sure that we are living our lives with purpose. Life happens to you no matter what. Why not design it and go after what you really want? Another great way to reduce stress is to live your life with intention. Your physical space is a metaphor for your life. All aspects of your life are represented spatially: career, wealth, health, relationships, children, family, helpful people, personal development and reputation. Your home and your work space are either already supporting or conflicting with your goals. There are five steps to getting the life you want and deserve:
Set personal and professional goals. Only you know what you really want. You need to be clear about your aspirations and intentions before you go out and get them. Pick the one or two things that you want to change or improve in your life in the next few months. Do you want a more meaningful job? Do you want to get a promotion? Do you want to get married? Do you want to sleep a solid seven or eight hours per night? Do you want to lose weight?
Align your physical space to support your goals. If you want to get married, make sure that you aren't sleeping on that single bed from your dorm room in college. Get a double or queen-sized bed (but not a king -- it's not good feng shui for the relationship!) to attract and welcome your spouse. It's best to purchase a bed with a wooden frame and attached headboard for good support and rest.
Get rid of disorganization. First, organize the areas of your home that are most connected with your goals. If you want to lose weight, make sure that your kitchen is well-organized to make it more inviting to prepare healthy meals. That means the refrigerator, the pantry as well as your dishes, silverware, and, pots and pans.
Set aside time to disconnect. No matter what your goals, make sure that you have time for yourself where you disconnect from everything. Read a book, take your dog on a walk, or just sit on a park bench and watch the people go by. My dad and I like to play a game and wonder who people are and what they are doing. Often we see people who aren't present or who seem to otherwise be unhappy. If you walked past us, what might we guess about you?
Add a mirror in your entrance. The front door of your home represents your life path, possibilities and opportunities. Adding a mirror creates expansion. It's also not a bad idea to check yourself before you leave the house, how you present yourself to the world.
Every space already has feng shui. It's a question of reconciling it with your life goals and intentions. In the corporate world, feng shui can help employees improve their energy and focus, productivity and success as well as promote effective leadership and teamwork.

And that's where the experts come in. To help you make sure that there is an appropriate balance of the five elements of nature and yin and yang energies in your space for your goals. I see people every day who put their surroundings to work for them, to reduce stress and have the most authentic, happy and healthy life.