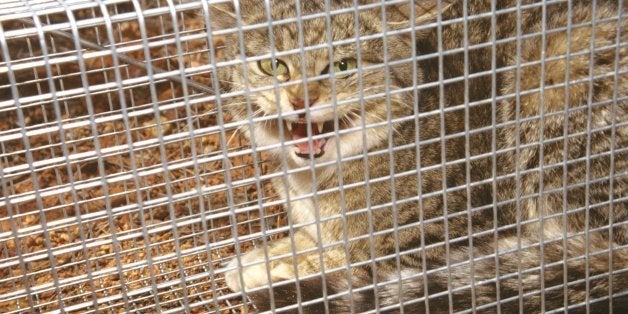 Australia has a feral cat problem -- and that's bad news for quite a few animals.
According to a new study, the wild felines, which kill an estimated 75 million native animals per night, are responsible for the extinction of several species of mammals. Feral cats in Australia pose a problem for about 100 species of mammals, particularly those that have been classified as "threatened" by conservationists.
"At least one, and probably two, Australian mammals have been made extinct in the last decade, and if current trends continue many of the 55 threatened species will disappear within our lifetimes," study co-author John Woinarski of Charles Darwin University told the Agence France-Presse.
"Everybody knows about iconic species like platypus, echidna and koala, and the fact that the Tasmanian Thylacine is extinct. But there's much less public knowledge and understanding of small nocturnal mammals," Burbidge, who serves as chair of the Western Australian Threatened Species Scientific Committee, told The Australian. "We have an almost unbelievable ­extinction rate, yet it's not high in the minds of the public. That's one of the reasons for this book."
While the researchers identified feral cats as the biggest threat to vulnerable species, other wild mammals, such feral foxes, also pose a problem. Additionally, the team included wildfires, habit loss and climate change on their threat list.
Cats were first introduced to the continent by British settlers in the late 18th century, the AFP notes. Over the years, the wild animals, which were initially intended as pets, spread across the country and currently number around 15 million, the Australian Broadcasting Corporation reports.
Based on the sheer amount of Australian animals feral cats are killing each evening, researchers recommend that conservationists focus on what can be done to tame the country's population of wild felines.
"If we had to choose one key action to conserve Australia's biodiversity it would be the control or eradication of feral cats, which currently threaten at least 100 mammal species," Woinarski told AFP.
It seems the Australian government is throwing its weight behind the team's recommendation. Responding to the release of the comprehensive study, Environment Minister Greg Hunt said the government supports an eradication program. He also called for research into a viral biological control capable of safely exterminating wild felines.
"In many cases the feral cats are domestic cats which have escaped and over one or two generations morphed into a far more savage beast," Hunt told ABC Radio, adding: "We have to make sure that anything we do is safe and targeted because there are plenty of examples of biological controls which have not just failed but have been deeply counterproductive."