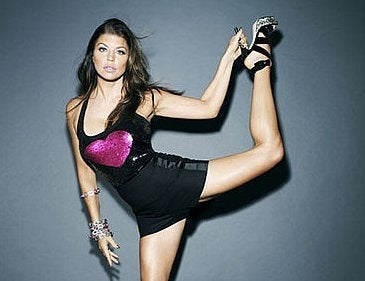 Fergie shows off her newly slim body on the cover of Cosmopolitan UK's 'Body Confidence' issue, and in the interview she talks about gaining weight for 'Nine' and husband Josh Duhamel, though she does not get into the stripper incident. Here are some excerpts:
On her universal appeal:
"You know, in Italy, Catholic boys are raised to believe there are two types of women: the Madonna and the whore ... And me? I'm both."
On not knowing whether Josh Duhamel was "the one":
"At that stage of my life, I don't think I'd have thought that about anybody. I'd made my lists of qualities that I wanted, and you can't find out if someone has those in a week. It was learning what he was made of that made me fall in love with him."
On how Josh reacted to her weight gain for her 'Nine':
"When I came home from filming, he was excited. He enjoys having both: the extra meat to grab when it's there and the tight stomach when that's there. He always gives me compliments."
On having kids:
"You can be a mother and still completely sexy ... Right now, I don't want anything clouding my focus. Right now, I'm living in the present."
See more photos from Fergie's shoot here.
Popular in the Community