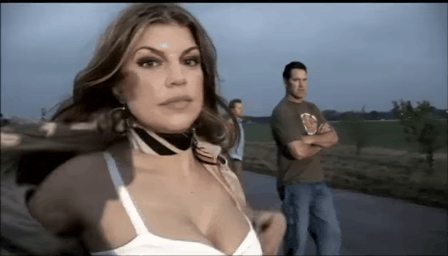 In the DVD bonus footage for the 2007 film "Grindhouse" — which consists of the Tarantino-directed film "Death Proof" and the Robert Rodriguez-directed "Planet Terror" that Fergie starred in — the singer and actress recalled Tarantino getting a little too into his character as a zombie.
"We kept having to redo the scene because he was getting so into being this creature that he was making all these noises," Fergie said (in the video above). "And he was blaming it on the other guys, but really Quentin was making all the noise."
Jezebel resurfaced the clip Thursday just days after the director faced criticism in the wake of Thurman's interview with the New York Times in which the actress revealed that a stunt from the 2003 film "Kill Bill" left her with permanent damage to her neck and knees. Thurman also alleged that Tarantino choked and spit on her during the filming of the movie.
In the companion footage, Tarantino can be seen running behind Fergie and then tackling her with other actors who are playing zombies.
"So I'm doing the scene, right," Fergie continued. "And he starts biting me!"
After Tarantino pushes Fergie to the ground in the behind-the-scenes footage, she can be heard laughing and saying: "You fucker, get off me."
"It wasn't that bad," Rodriguez said in an interview that follows the footage. "It wasn't like a bite, she wasn't bleeding or anything. Certainly you felt some teeth on flesh. But it happens, people get into their role."
During the next scene in the clip, Fergie shows a bruise from Tarantino's bite and says: "Quentin fucking bit me. And by the end of this shoot, I will bite him back."
"McGowan writes that for all the praise Tarantino receives for depicting strong female characters in his films, he also 'beats the s—- out of them for his enjoyment,'" according to an excerpt from the article.
And although actress Diane Kruger recently defended Tarantino, she did tell Parade in 2009 that the director insisted on choking her himself for her character's death scene in "Inglourious Basterds." According to Kruger, Tarantino wanted to use his own hands for a close-up shot of the strangling scene instead of Christoph Waltz, the actor whose character was supposed to kill her in the movie.
"What I said to her is, 'I'm going to be the hands, and I'm going to just strangle you, all right?'" Tarantino recalled on "The Graham Norton Show" in 2013. "'I'm going to cut off your air, for just a little bit of time, we're going to see the reaction in your face, and then we'll cut, okay?'"