FERGUSON, Missouri -- As authorities assess the widespread destruction this week in the wake of the grand jury's decision not to indict the police officer who killed Michael Brown, local residents hope that the damage done will not set back discussion about the need for police reform in both Ferguson and St. Louis County.
On Wednesday morning, a mile-long stretch of West Florissant Avenue -- the main roadway near where Brown was shot by Ferguson Police Officer Darren Wilson on Aug. 9 -- was still being treated as an active crime scene more than 24 hours after several buildings were burned down. Overnight the area had been cordoned off by heavily armed members of the National Guard, but it was back to being protected by police on Wednesday morning.
Nearby on Canfield Drive, a burned-out car that had been stolen from a photojournalist on Tuesday evening sat about 30 feet from Brown's memorial, as a handful of residents looked on. The main roadway leading to the apartment complex where Brown's grandmother lived was blocked off by police.
Across town on South Florissant, where demonstrators had squared off with police outside the Ferguson Police Department on both Monday and Tuesday nights, the manager of a Meineke auto repair store looted overnight was overseeing a crew boarding up his smashed windows.
Nearby, 17-year-old Molly Rodgers, who lives about a 10-minute drive away in Hazelwood, was painting boards outside Cathy's Kitchen. She had already helped clean up the street Tuesday.
"I think there's a lot more love out here than people realize, so yesterday I went out and bought a bunch of paint, and today I'm here painting up the boarded-up windows," Rodgers said. She planned to stay most of the day and said that she regularly came to South Florissant.
"I think it's unfortunate, I think it's really rough, but I think a lot of love has come out of it, a lot of community," she said. "It's been really weird, because it's like my home even if I live in Hazelwood."
Blocks away on Church Street, the shattered windows of Ferguson City Hall were boarded up as well. A police car stationed outside the building had its windows smashed and was briefly set on fire overnight.
Karen Gold, owner of Honey and Sweeties, was outside her resale shop just a few doors down from City Hall. She didn't want to board up last night, but reluctantly did so because so many windows had been smashed in the area and hers were "big and old and expensive." Now, she was standing on a ladder, painting a winter-themed mural with the phrase "Peace on Earth."
"I just wanted to make it beautiful and know that we're still here and that we still support the community," Gold said. "We hope for a peaceful resolution."
A couple of cleanup volunteers who were running out of work expressed frustration that they couldn't do anything for the businesses still standing over on the cordoned-off part of West Florissant. Emily Davis, a 38-year-old Ferguson resident, had brought her children out to help clean up the streets.
"We'd really like to go over there and help and show some support," said Davis, who has been interviewed so often that she pre-emptively disclosed her age before this reporter even asked. "The kids yesterday, they're like, 'Can we go to the Ferguson Burger Bar for lunch?' and I'm like, 'I don't even know if it's there.'" (The Burger Bar was actually one of the few businesses on West Florissant to survive unscathed despite not boarding up its windows.)
Davis said it was "really hard" to know whether the destruction in Ferguson would harm efforts to reform law enforcement and the messy municipal court system in the St. Louis County area.
"Efforts were really underway, people were really starting to come together to demand significant change here in Ferguson a month ago, and those same people are still going to be demanding the same changes," Davis said. "Unfortunately, it drives a bigger wedge in the community, so it's harder to convince some people that were difficult to convince to begin with. But there are enough people who want significant change."
Davis, who is white, said that in the months since August, she has learned a lot of things she didn't know before. "Like, if you're African-American, you can't go to Walgreens after 10 o'clock," she said somewhat rhetorically. "I didn't know that, and I was in a group of four white people and four African-American people, nobody knew anybody else, and all the African-American people were like, 'Oh yeah, you don't go to that Walgreens,' and I was like, 'What?' I had no idea."
A short walk from the Ferguson Police Department, at the Corner Coffee House on North Florissant, several elderly white men were discussing what happened in town this week. They feared their homes could be next.
"I'm sure that when they're done with the businesses, they're going to start in on the houses. All the good stuff that they want is inside the houses," one said. He mentioned that he sleeps with a shotgun.
"You know this s**t's probably organized," said another man.
"I think it's just opportunity," said a third.
"You think these are local kids doing this?" asked the first man.
"Some of them," the other replied.
Soon, a fourth man entered the coffee shop and joined the conversation. "The government isn't protecting us, so we're going to protect ourselves," he said. He claimed that he was out on the street last night with a large weapon and that nobody bothered him. He told this reporter that he "wasn't doing no f**king interviews."
Outside, three women were painting the wooden boards placed over windows that had been smashed after the grand jury announcement on Monday evening.
Mel Smith, a 32-year-old resident of nearby Clayton who serves as pastor of Ladue Chapel Presbyterian Church, said that she came to help out and that the coffee shop had provided the paint to decorate the boards. The women searched Google for phrases about hope and settled on this one from former South African archbishop Desmond Tutu: "Hope is being able to see that there is light despite all of the darkness."
"As dark as it might look, as hard as it is, that's not all there will be," Smith said. Despite all of the destruction, she said, there can still be productive discussions about the relationship between law enforcement and the community.
"I think, if anything, more and more people are willing to talk," Smith said. "I think that this is opening conversation and not shutting it down. I'm actually more hopeful."
Before You Go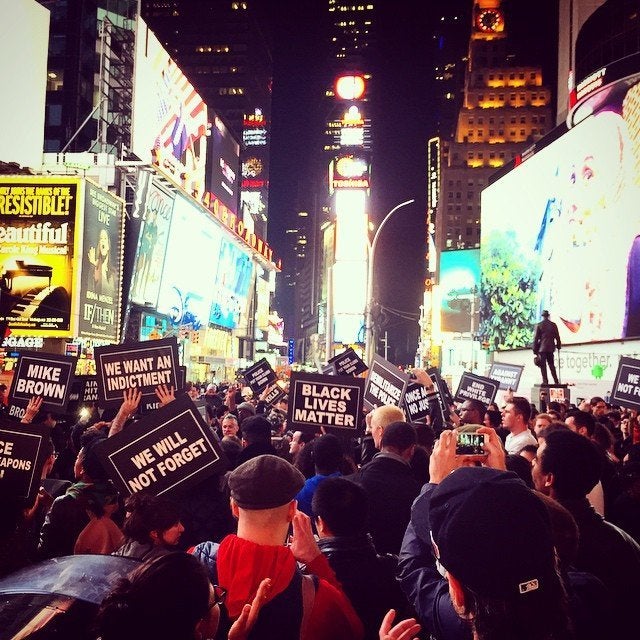 Ferguson Protests Around the Country
Popular in the Community