WASHINGTON -- At least 16 people were arrested during the protests in Ferguson, Missouri, Thursday night, including a St. Louis politician, a filmmaker and two journalists. Meanwhile, the police officer who shot Michael Brown has not yet been identified or charged.
Since Saturday, when a Ferguson police officer shot and killed the unarmed African-American teenager, members of the African-American community have been turning out each night to speak out about the incident.
Anger in this St. Louis suburb has continued to grow over frustration with the police's handling of the situation, including that they have not yet released additional details about the shooting. Officers have been out in Ferguson each night dressed in full riot gear and using tear gas and rubber bullets.
If you or anyone you know was arrested Wednesday night, let us know.
Here are four people who were detained and have spoken out:
Antonio French, St. Louis Alderman French has been tweeting nonstop about the events in Ferguson, criticizing the police response to the largely peaceful protests. Word of French's arrest came late Wednesday night, when his wife tweeted that he had been arrested.
According to the St. Louis Post-Dispatch, French said police pulled him from his car Wednesday night and arrested him for reportedly failing to follow their order to disperse. At 7 a.m. Central time, he was released without having to post bail.
"Inside that jail is nothing but peacekeepers," he said after his release. "They rounded up the wrong people ... reverends, young people organizing the peace effort."
Frank, a local filmmaker, was documenting about 100 people peacefully protesting outside the Ferguson Police Department on Wednesday night when a SWAT team came up, "pointed guns" at everyone and told protesters to leave. Frank told KSDK that he sat down on the sidewalk to watch what was going on.
"I was charged with failure to obey a lawful order and noise violation," Frank said in his interview with KSDK, adding, "I felt that it was our right to stay and observe what was happening, and we weren't breaking any laws. So we sat down on the sidewalk, and they came and arrested us."
Wesley Lowery, Washington Post Reporter
A McDonald's a few blocks from where Brown's shooting took place has been a frequent resting place for journalists who are covering what's going on in Ferguson and need a place with outlets and Internet access to file their stories. On Wednesday evening, police officers came into the McDonald's and told everyone to leave. Lowery, who was filming what the officers were doing, was (illegally) instructed to stop doing so.
According to Lowery, when he didn't leave quickly enough, multiple officers grabbed him.
Lowery was released Wednesday night and not charged with a crime.
Ryan Reilly, Huffington Post Reporter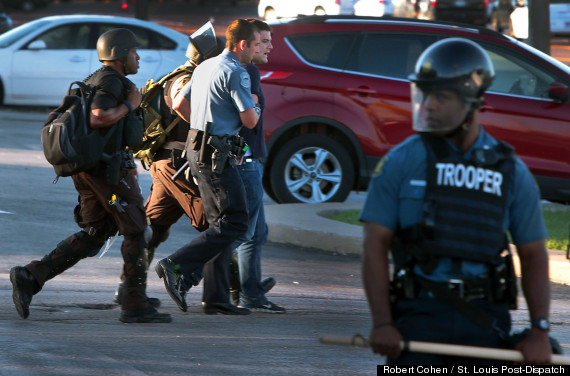 Like Lowery, Reilly was working at the McDonald's when officers came in and tried to kick everyone out. Reilly took issue when the police officers demanded to see his ID and told him to pack up.
"Evidently, I was not moving quickly enough," Reilly said in a Wednesday night interview with MSNBC. "At that point, I was given a countdown. I was told I had 45 seconds, 30 seconds to pack up all my stuff and leave, at which point the officer in question who I have not -- I repeatedly later would ask for his name and was never [told], or his batch number. He has never given it. [He] decided that he was going to help me pack, and he grabbed my things and shoved them into my bag. And, I was then, when I -- basically, he arrested me. He handcuffed me. He used his finger to put a pressure point on my neck, and it was just a very difficult experience."
Reilly said one of the police officers also slammed his head against the glass, on purpose, and then "sarcastically apologized for it." He was released with Lowery without any charges.
Want more updates from Amanda? Sign up for her newsletter, Piping Hot Truth.
See updates on the situation in Ferguson below:
Calling all HuffPost superfans!
Sign up for membership to become a founding member and help shape HuffPost's next chapter
BEFORE YOU GO